Which beer style appeals equally to men & women, can be slightly hoppy and features all the exciting flavors modern consumers crave? It's wheat beer, the O.G. of craft beer. The second largest beer style in craft is the perfect canvas for brewers to showcase popular fruit flavors.
And the fruit beer category is up 11%.
Blue Moon Belgian White is America's best-selling national craft. It made its debut back in the '90s before IPAs dominated the category. Now, one quarter of all the craft beer sold in the country is some kind of wheat ale, also called wit or weisse, among other names.
Only recently have brewers turned their full creative prowess on this style with the same intensity given to IPAs.
Nuanced, tasty and refreshing, fruit-forward wheat beers are usually very sessionable (many with ABVs in the 4.5% range) devoid of palate-wrecking bitterness and funky yeast esters that some people find objectionable.
These are but a few examples of wheat beers your customers will find irresistible in the warm months to come.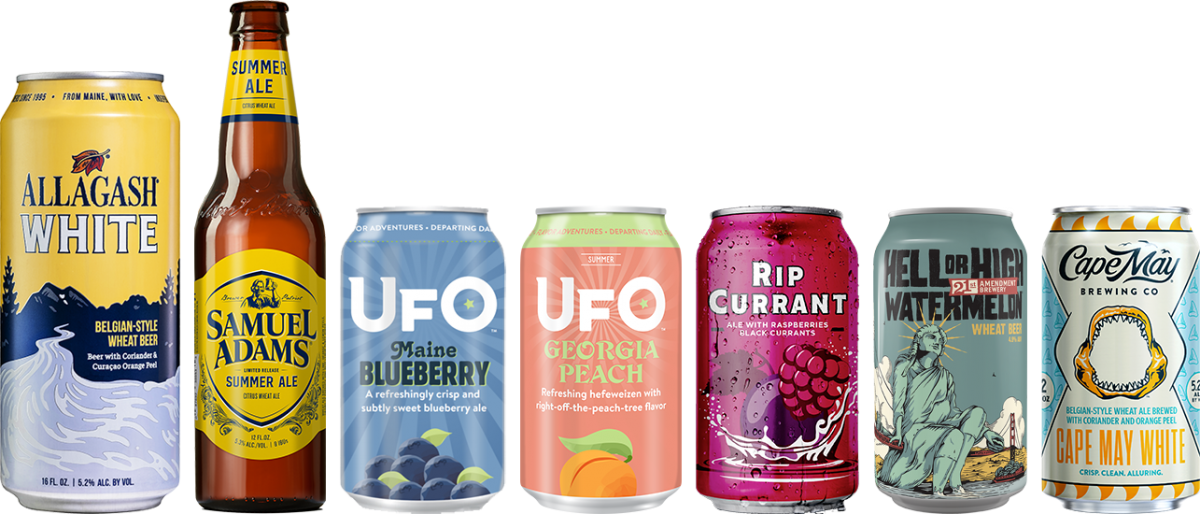 ALLAGASH WHITE
Brewmaster Rob Tod's original flagship White is the beer by which all others in the category are judged. It remains his favorite creation and best seller.
SAMUEL ADAMS SUMMER ALE
Golden, hazy and thirst-quenching, this summer ale is back with orange, lime and lemon peel creating a refreshing citrus aroma.
UFO BY HARPOON
Refreshing with the right amount of sweetness, these easy-drinking hefeweizens will make you think you just picked the fruit yourself.
HEAVY SEAS RIP CURRANT
New to the Heavy Seas portfolio, Rip Currant offers waves of raspberry and black currant to give this beer its sweet and bright juiciness.
21ST AMENDMENT HELL OR HIGH WATERMELON
Brewed with real watermelon, this American wheat beer is crisp, dry and refreshing.
CAPE MAY WHITE
Brewed with orange and lemon peels, coriander, grains of paradise and Belgian witbier yeast, this traditional, Belgian-style wheat ale is made in the heart of the East Coast.