This exciting new addition to Yuengling's year-round portfolio, Bongo Fizz is a tropical-inspired treat from liquid to label.
When you pop open a can of Yuengling Bongo Fizz, tropical relaxation and refreshment are just a sip away. This smooth, refreshing premium beer, which delivers a juicy burst of natural mango, is the Pottsville Brewery's latest innovation and is available year-round.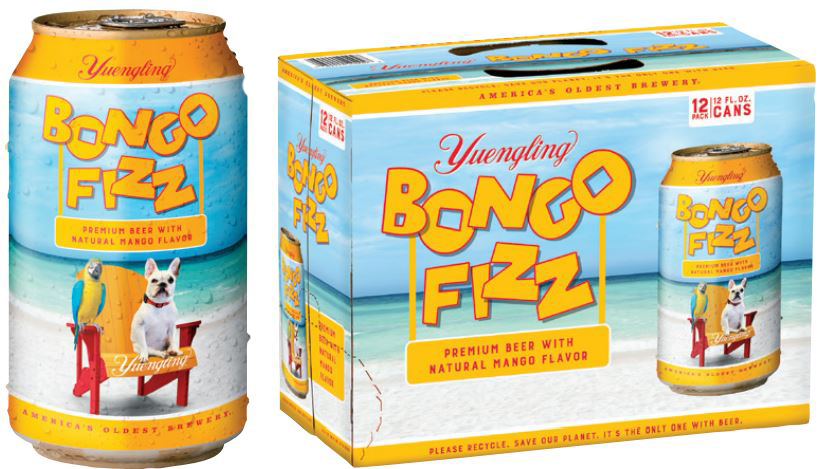 Even before taking your first sip, the label art designed for this tropical treat signals that Bongo Fizz is, shall we say, a different animal from the rest of Yuengling's outstanding products. The playful, eye-catching label features a quirky French Bulldog and a vibrantly colored parrot both perched upon a beach chair that's sinking into the sand.
This imagery suggests that the beer you are about to enjoy will metaphorically transport you to a tropical location where fun and relaxation are guaranteed. While holding a can of Bongo Fizz, brewery president & owner Dick Yuengling quipped that "the package is cute, but the beer is better."
Yuengling may be "America's Oldest Brewery," but their brewmasters never stop searching for ways to delight their customers and recruit new afficionados. Their foray into fruit-forward beers is a perfect example. Using what they learned from their first fruit beer, Raging Eagle, Yuengling's Bongo Fizz has a new & improved, delightful mango flavor.
"Keeping with our tradition of brewing a beer for everyone's taste, we are always looking for ways to provide our customers with premium, great-tasting drinking experiences for social occasions," said Dick. Bongo Fizz is available in 12 oz. 12-pack cans. This delightfully light, crisp and refreshing beer is ideal for all drinking occasions, especially those in the warmer months. Consumers will find this fruit-flavored brew pairs well with a variety of foods, including fresh seafood and Mexican cuisine. As summer ushers in hotter days, one thing is for sure – Yuengling Bongo Fizz fits the bill for ultimate refreshment.