According to Wine Intelligence, a global leader in wine consumer research and insights, the growth in the sparkling category is coming from the under 45 consumer – mostly millennials and Gen-Z cohorts – looking for an authentic, affordable luxury to enhance their casual lifestyles. Like a pair of sexy sunglasses, these Italian imports are liquid luxuries that "accessorize" any occasion.
The winner of 23 Impact "Hot Brand" awards, Verdi has become one of the top ten sparkling beverage brands in the US. Riding the wave of champagne's resurgence and consumer interest in drinking (and gifting) premium products, sparkling wine sales grew in 2021 and they're forecasted to increase yet again in 2022. Data shared by Drizly confirms this trend. The share of sparkling wine sold on that platform continues to rise year over year. And the customers are more likely to be male rather than female.

Deliciously sparkling with natural fruity flavors, Verdi and Sparkletini technically aren't wines since they are malt based, but that fact has little bearing on the brand's cachet. Available in a variety of crowd-pleasing flavors that are delicious alone or as wonderful mixers, these imported beverages made with an Italian sensibility, add "ready-to-drink" ease to the preparation of cocktails like mimosas and sangria.
And not to be overlooked are the elegant packaging and Verdi's resealable cork closure. The product already captures the look of a bottle of champagne, but consumers may order personalized labels in either silver or gold to further enhance its upscale look. The patented resealable cork, introduced in 2004, keeps the product fresh and bubbly for up to seven days.
This versatile, sparkling Italian beverage with a sessionable 5% ABV, is fun & favorable for sipping, gifting and celebrating la dolce vita.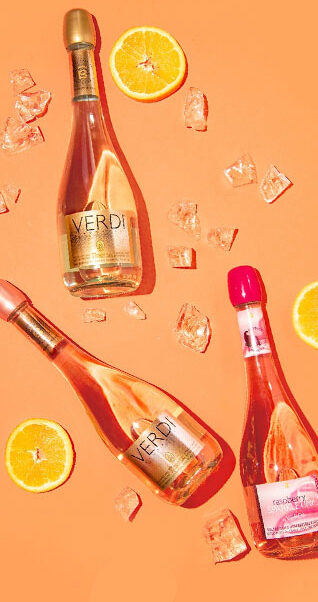 Verdi – Casual Lifestyle done the Italian Way
Winner of 23 Impact "Hot Brand" awards
One of the top 10 sparkling beverage brands in the U.S.
Available in Spumante, Peach, Watermelon, Strawberry and Raspberry flavors
Resealable cork keeps the product fresh up to seven days
Sessionable 5% ABV
Customized labels make for perfect party favors
Made with natural fruit flavors
Wonderful as mixers or additions to cocktail recipes
Available in various bottle sizes to fit every occasion