Heady Times sat down with two of our favorite beer reps, Allagash's Suzy Woods and Katie Tella, to find out more about them, how their brewery pivoted in response to the pandemic and why retailers should be excited by Allagash's plans for 2021.
Heady Times (HT): Can you tell us how you both got into the beer business?
Katie Tella (KT): After college, I moved from Philly back to my home state of Massachusetts where I started an office admin job. I promptly discovered that was not for me and took a job at a small, local brewery, Jack's Abby Craft Lagers. Fast forward about a year, and the brewery was getting ready to launch in the Philly market. The owners asked if I wanted to be the Eastern PA sales rep – and the rest is history!
Suzy Woods (SW): In 1999 not many college seniors could say the first beers they tried were Sierra Nevada Pale Ale and Dogfish Head Raison D'Etre. I was an enthusiast out of the gate. In 2003, I was fortunate enough to become part of the sales team at the craft giant that is Boston Beer. (I still remember launching Twisted Tea). I sang the Sly Fox song for five years, then in 2011 I signed on as an Allagasher.
HT: What can retailers/consumers be excited about from Allagash in 2021?
KT: CANS CANS CANS! Cans now make up 46% of our overall business and 64% of our business in the off-premise. Retailers and consumers have appreciated the drop in per-ounce price [in cans vs. bottles]. We've even doubled Q4 bottle sales compared to last year with some top retailers. And we've refreshed our seasonal/specialty beer release calendar for 2021. It features some exciting innovation and some annual favorites. Besides the new and exciting, you can always count on Allagash to pump out a steady supply of the beloved Allagash White. 
HT: Allagash has always been known as one of the strongest on-premise craft brands. How did your focus shift during the 2020 shutdown?
KT: 2020 was a year of change and re-imagining. It was obviously not the year we expected, planned or hoped for. In March, we lost 75% of our business overnight due to the pandemic shutdowns. At that point, Rob [Tod] made the decision to accelerate our five year off-premise growth plan into five months. We released a number of new Allagash White pack sizes, as well as a few innovative packaged beers. For years, White was only available in 4-pack bottles. We now offer it in four different packages – 6-pack bottles, 16 oz. 4-pack cans, 12 oz. 12-pack cans and 19.2 oz. cans. As for new beers, we launched two year-round offerings, Little Grove fruited sparkling session ales (Peach + Kombucha and Black Currant) and North Sky, a great stout that has already proven to be a winner. 
By the close of 2020, we made tremendous progress increasing our off-premise presence, growing an astounding 75% within that channel. We learned a lot last year and are confident that we are well-positioned for 2021 (and beyond) with a better package portfolio, an improved off premise presence and a strong draught flagship brand with White.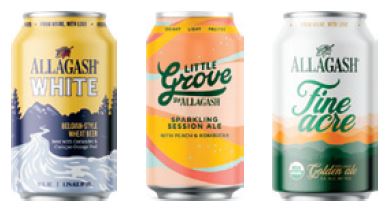 HT: What makes Allagash such a winning brewery for the grocery and off premise?
SW: We have new brands, package sizes and price points to speak to a wider audience. We'll have gone from a one shelf brand of 4-pack bottles to one that can fill a full cooler door and deliver the revenue and margin to earn that space.
And we've got great data now. We wrapped up 2020 with White 12-packs ranking #2 for new craft single 12-packs nationally. High-end 12-packs that are $18.99 and up are growing dollars at 44%. With the launch of Little Grove and Fine Acre as well as Nowaday on the horizon, we now have a beer for virtually any drinker. Hopefully this brings new consumers to the brand.
HT: What do you like best about being on Allagash's PA team?
KT: Working for Allagash is a dream. I feel so incredibly lucky that I get to work for the one and only Rob Tod, selling world class, delicious beers to great people! Philly is such a fun city to sell beer in. The creativity, ingenuity and passion of our accounts never ceases to amaze me.
SW: I love that Rob loves Philly. The area truly embraced Allagash White early on. The first 10 years were tough, and he always remembers the markets that knew what he was trying to do. So of course, one of my favorite parts is working for him and a brewery who appreciates us and supports us in all we do.