The Need to Sell a Premium Light Beer Has Never Been More Pressing.
It was time to "Raise the Bar for Light Beer."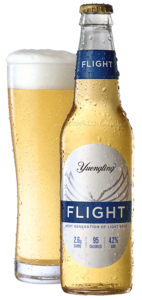 Dubbed the "next generation of light beer," FLIGHT by Yuengling is a crisp, refreshing, 95-calorie premium light beer. With only 2.6g of carbs and 4.2% ABV per 12 oz. serving, FLIGHT is perfectly positioned to attract consumers looking for a beer that complements active lifestyles.
Younger drinkers are more health-conscious than previous generations – the majority of millennial and Gen Z consumers care about their well-being and are willing to pay for it. In fact, 80% of millennials say that when buying food and beverage, quality is important to their purchase decision, and 68% will spend more for it.
As an upscale light beer, FLIGHT by Yuengling is in a unique position to attract these consumers. And nearly 50% of FLIGHT drinkers trade up from a domestic premium beer, helping drive higher basket rings and check totals. When compared to other mainstream light beers, FLIGHT is trending faster in both dollar sales and velocity. Additionally, FLIGHT is introducing new consumers to Yuengling's entire portfolio.
Giving FLIGHT even more lift this summer, Yuengling has teamed up with multiplatinum, Grammy award-winning rock band Imagine Dragons. As pop culture plays a bigger part in today's marketing strategies, this collaboration has the potential to reach a huge audience. "Yuengling and Imagine Dragons are 'raising the bar' when it comes to summer fun and creating one-of-a-kind music experiences for our fans," said Wendy Yuengling, Chief Administrative Officer. "It's an amazing collaboration for FLIGHT by Yuengling to align with such a great band that is known for their high-energy, entertaining performances."
The partnership brings music and beer lovers together for a once-in-a-lifetime opportunity to win an epic VIP concert experience with Imagine Dragons and instant win prizes all summer long. For the off-premise, in-store signage will guide shoppers to the specially marked Imagine Dragons 12-pack FLIGHT cans where they will scan a QR code to enter. Fans can enjoy more Imagine Dragons with the limited-release cans inside the pack which feature a QR code linking to the hit band's latest music. Bars and restaurants carrying FLIGHT by Yuengling will have signage, coasters and table tents available to them with a link to enter an on-premise-exclusive VIP experience sweeps.
As part of the FLIGHT by Yuengling summer collaboration, Yuengling will also be joining the band in donating to the Tyler Robinson Foundation, which aims to strengthen families who are financially and emotionally impacted by a pediatric cancer diagnosis.