Welcome to the light side of the moon.
For some time now, we've known that consumers are seeking better-for-you options, especially from brands they know and trust. Consumers are living healthier lifestyles, looking for food and alcohol choices that are low in calories and carbs, but still taste good. And Blue Moon LightSky fits the bill. According to a Nielsen survey, 85% of consumers are regularly buying/consuming alcohol beverages that are "better-for-you" or are open to it.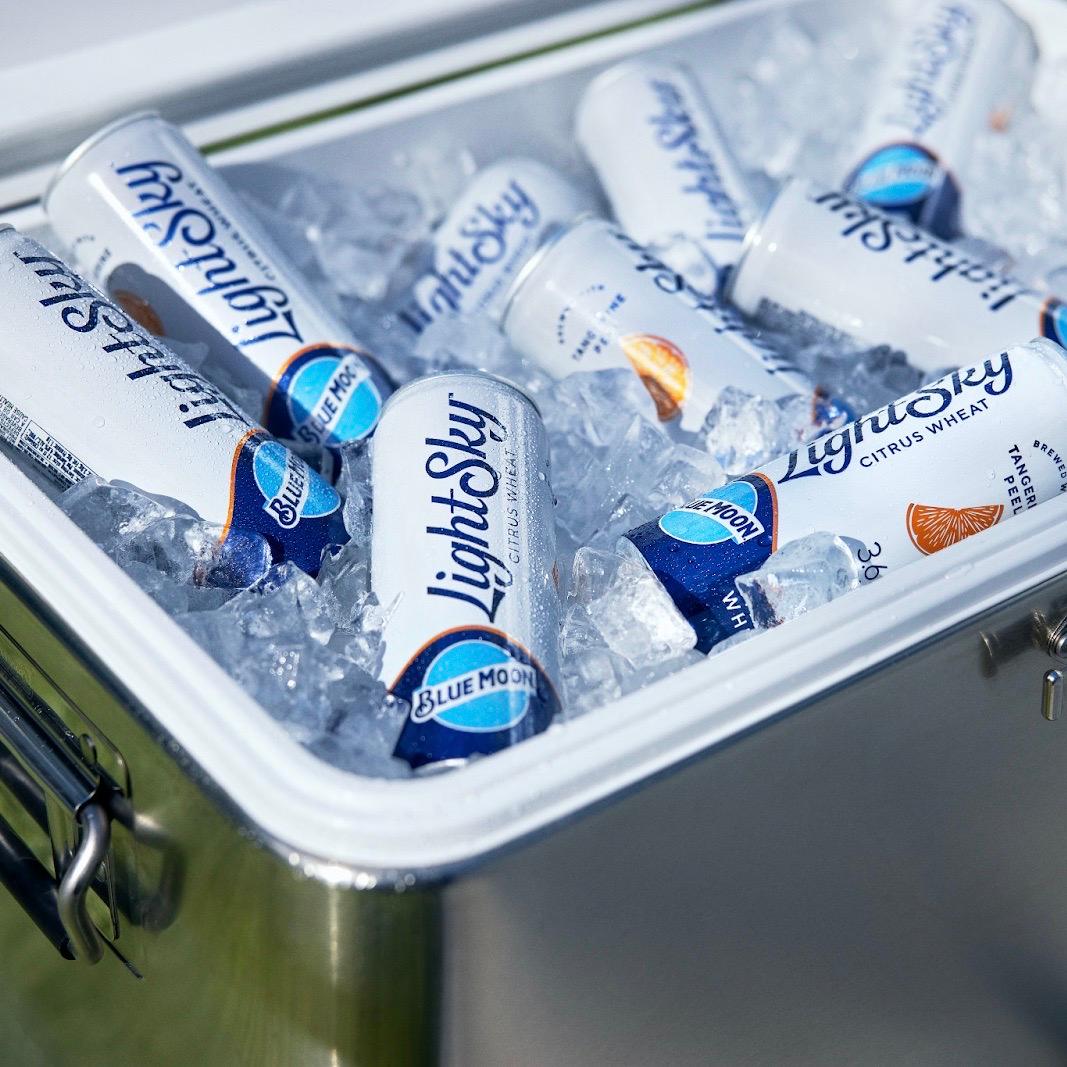 According to Molson Coors' beer blog, Beer & Beyond, the Blue Moon franchise, led by flagship Belgian White and fast-growing Blue Moon LightSky, is up more than 15% so far this year, fueled by strength in the on-premise. On top of that, it's growing by more than 16% for the year in the off-premise, according to IRI data for the week ending July 25.
LightSky is a light and refreshing wheat beer brewed with real tangerine peel for a lighter, exceptional taste at only 95 calories. Released in early 2020, LightSky quickly became the #1 selling craft innovation. Currently, it is the top craft share gainer in dollar and volume sales, according to IRI data. LightSky has benefited from the Blue Moon "halo effect" as consumers turn toward trusted beer brands, making it Blue Moon's number two seller behind flagship Belgian White.
While some Belgian White loyalists are buying LightSky, the beer is mostly attracting a different consumer, IRI data shows. Belgian White drinkers tend to be affluent, but skew older. LightSky drinkers, meanwhile, are also affluent, but younger Gen Xers and older Millennials. It's also bringing in "lapsed Blue Moon drinkers who are looking for options with fewer calories and carbs," says Rachel Boykins, marketing manager for Blue Moon. "LightSky is also attracting hard seltzer drinkers who want a beverage that is lighter and easier to drink. Having that slim can, a lighter profile and 'light' in the name, LightSky fits what the consumer is looking for," says Jackie Crouch, category insights executive for Molson Coors Beverage Company.
Blue Moon LightSky offers refreshment and flavor, while still being low-calorie, so it meets all the current needs that are driving category growth. As a trusted $114 million brand, Blue Moon accounts for 54% of all wheat beers currently in the market. Using this leverage, Blue Moon LightSky is expected to deliver upwards of $24 million in category revenues.
LightSky is already a proven player in the off-premise. LightSky shoppers are more valuable to the beer category – they spend more on average on each purchase and have higher buy rates than those who purchase hard seltzers, craft and above premium beer. Stores carrying and promoting LightSky have 35% higher craft sales than those without. Velocity is also 83% higher in stores selling Blue Moon Belgian White and LightSky in their craft section.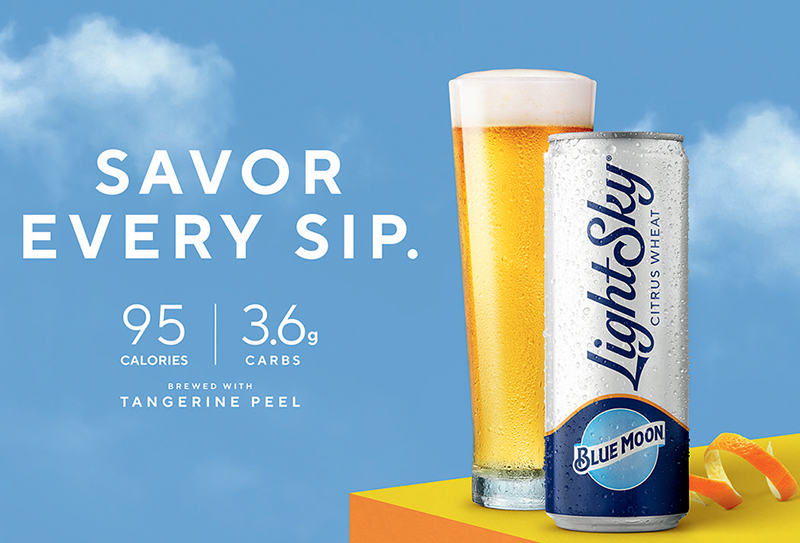 Seeking to showcase its credentials as a light beer that doesn't compromise on flavor, LightSky's first national media campaign features the brand in familiar daytime beer situations. With a new tagline "Savor Every Sip," the campaign's intent is to showcase to consumers that a light beer brewed by Blue Moon can deliver a burst of flavor at just 95 calories. Featuring actor Rachael Harris, whose credits include New Girl, Lucifer and Suits, each of the new spots use lighthearted humor to position the beer as something to be savored rather than a prop that plays a secondary role to the activity at hand.
"What we've learned about [LightSky] in its first year in the market is that a key driver of repeat purchase is that its flavor is better than [consumers] expected from a 95-calorie beer," says Rose Osial, marketing manager for Blue Moon LightSky. Perfectly balanced and crisp, this beer is bringing new drinkers to the brand, as well as unlocking new consumption occasions and high velocity in existing occasions. "We'll be focused this year on dialing up the burst of tangerine flavor that keeps drinkers coming back to LightSky," explains Osial. "We got a good boost from independent distribution and have really strong chain support coming up. Last year was an amazing launch, but we're pushing to reach new heights in 2021."