It's Popular, and Here's Why…
Best beer lists sing its praises. It's still winning medals at the Great American Beer Festival. And after 25 years, sales have never been better. Do you really need to know anything else about Allagash White, America's most iconic, Belgian-style wheat beer?
As it turns out, you do.
And for that, you can thank Ethan Peiffer. He's the brand manager at Origlio Beverage responsible for the entire Allagash portfolio. Peiffer has given the question a lot of thought. "Sure, Allagash tastes great. But there's more to it than that," he says with a look on his face that politely suggests, you have a lot to learn.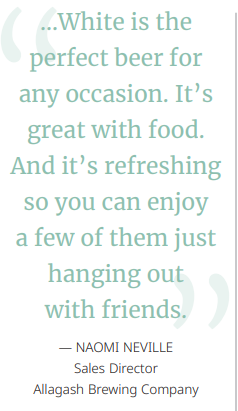 Peiffer explains, "The beer was ahead of its time. But it's the perfect beer for right now… because it has all the attributes today's consumers want – crisp, complex flavor that's also refreshing; moderate ABV (5.2%);
premium everything and a backstory that checks all the boxes for authenticity. It's been discovered by a whole new audience. That's why sales are up 10 percent."
And yet Allagash White was a tough sell back in 1995, when the brand's founder, Rob Tod, was a new brewmaster offering a taste of his exotic beer to any bartender who would give him the time of day. Back then, lagers still dominated the American beer scene and everything about Allagash White was unfamiliar. From its cloudy appearance to its aroma and taste, few people had ever experienced anything like it.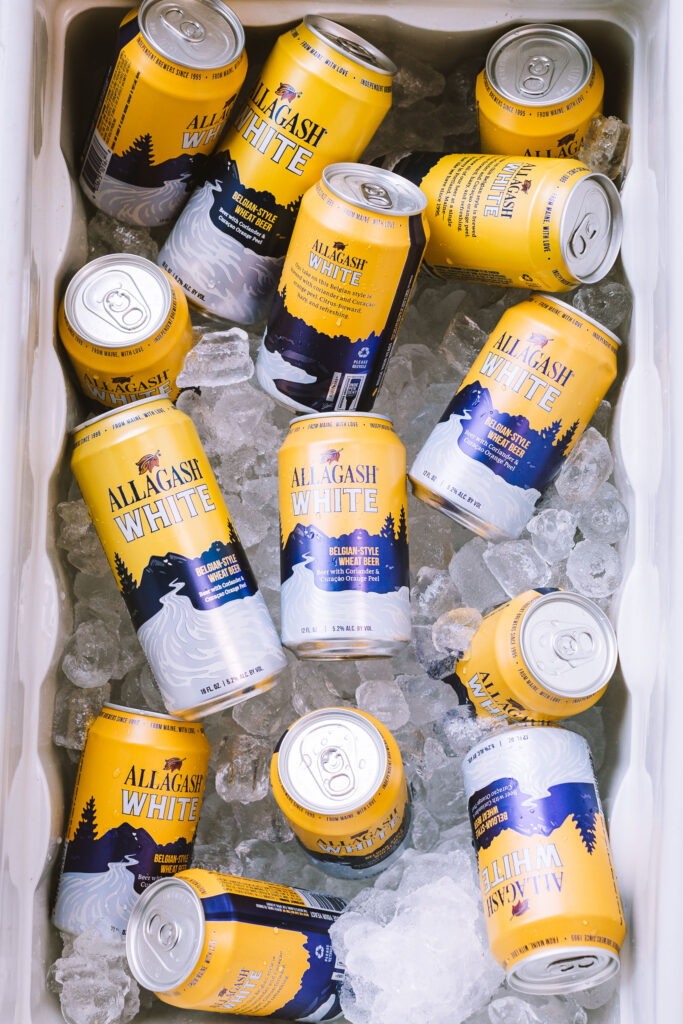 If you've never tasted Allagash White, here's a description: It's fruity but spicy, with just the right amount of citrus to make it very refreshing. It's full-bodied with little to no bitterness. And because all these flavors are perfectly balanced, it's not cloying so you can drink more. "It can be my first drink of the night and my last," says Naomi Neville, Sales Director at Allagash Brewing Company. "I might be slightly biased, but White is the perfect beer for any occasion. It's great with food. And it's refreshing so you can enjoy a few of them just hanging out with friends."
When asked why the beer is selling so well, Neville said she agrees with Peiffer, adding, "Most successful new products are made specifically to satisfy an identified consumer need or interest. They call it consumer-driven innovation. But Allagash White does this just by being the same great beer it's
always been."
Neville and Peiffer also said that putting the beer in cans was a gamechanger. Peiffer said, "For the longest time if you wanted to drink Allagash White, you had two options – you could buy a case of bottles or enjoy it on-premise. Cans encourage trial and let people drink it anywhere, anytime. You
can find it at the craftiest places and at the corner beer store."