By "serving up" your best assortment of single-serve beverages, your bottom-line wins game, set & match.
After years of declining sales, Americans have rediscovered single-serve beverages, purchasing them everywhere they are sold cold. Perfect for on-the-go & away-from-home occasions, these profit-friendly packages check all the boxes for today's busy shoppers.
To characterize the business climate of the last two years as "challenging" is an understatement. But as upending as the pandemic was, it brought into clear focus how today's consumer shops and what they expect from a successful retail experience.
The COVID lockdown and our prolonged at-home experience changed us. In fact, Google Insights, a free data analysis service offered by the search engine, says that the pandemic "redefined how we work, shop and live." For the consumer, it reset expectations more than anything else. From the safety of their sofas, consumers – some of whom had never entertained e-commerce before – saw products & flavors they may never have considered before right in the palm of their hands. Then, of course, there's the Amazon Prime effect that has stoked the flames of "I know what I want. And I want it NOW."
The lessons learned from the pandemic, according to UK retail analyst Vera Hartmuth, are that consumers are increasingly demanding convenience and instant gratification in their shopping experiences. They value the ability to buy quickly and easily. This is particularly true for millennial and Gen Z customers, who will not be loyal to retailers who do not cater to (or anticipate) their changing needs.
"It all comes down to executing a plan with the flow, space allocation and assortment consumers want."

– Leila Abdollahian, Constellation's Director of Off-Premise Sales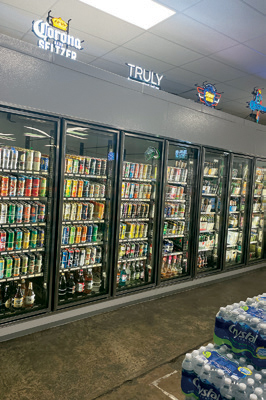 So, what's the important take-away for anyone selling beverage alcohol?
It doesn't matter how YOU define your business – distributor, restaurant, tavern, deli or bodega – unless convenience is a recognizable feature of your brand, you will lose customers to outlets offering a cold, well-curated assortment of easily shoppable single-serves.
Meanwhile on the supply side…
Brewers were also affected by the pandemic. The old adage – brands are built on-premise – no longer applied. As bars and restaurants were shuttered, millions of gallons of kegged beer languished in basements, eventually going out of code. Any manufacturer that was interested in sales outside of a tasting room had to shift its focus from draught to package, usually single-serve cans. And where was the best place to get noticed by consumers in a brick 'n mortar setting? Why, in the cold box… a.k.a. the "Centre Court" of Wimbledon-worthy, grand slam, pride-of-place competition.
Beer Business Daily characterized this competition as both a "rush to the cold box" and a "rush to convenience." The loss of the on-premise wasn't the only thing fueling the competition, though. An explosion of flavors in all categories and innovations (seltzers, ranch water, RTD cocktails, hop water, etc.) resulted in an even bigger explosion of SKUs, each one clamoring for eye-level real estate. It was the paradox of choice on steroids, causing confusion for retailers and consumers alike.
How to be the King of your Court
Of the top three money-making tennis champions who know how to handle the stress of Centre Court (Novak Djokovic, Rafael Nadal & Roger Federer), you want to be Swiss-born Federer. While Nadal and Djokovic succumb to their emotions, RF – that's his brand name – is cool, studied, methodical and always efficient. Roger makes it look easy because he's got a plan. To be the King of your Court, you need a plan based upon retail science, one that makes the most of your finite resources. Only then can you hit the passing shots that are proven winners to dominate the competition.
Constellation's Leila Abdollahian, Director of Off-Premise Sales in the company's eastern territory, might not describe herself an expert on the science of easily shoppable, singleserve shelf sets, but she's darn close. As was discussed previously in this article, the shopper has changed. Abdollahian says that shelf sets need to reflect those changes too. She has data proving that a shelf arranged to mimic how shoppers think when standing in front of the cooler provides the easy, quick and convenient experience they expect & demand. In other words, you'll sell more.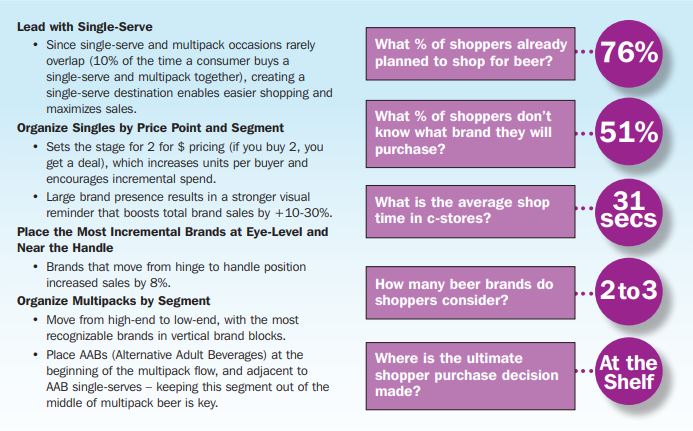 The Plan
Step One: More SKUs don't mean more sales. It's time to DQ the underperformers.
Since 2015, the number of malt-based SKUs has grown by 48%, but has your shelf space doubled? Probably not. Is it possible that you're offering your customers too many choices, making it difficult for them to A. make a decision, and B. find what they want? Eliminate anything that is redundant in favor of a smaller, curated assortment of your market's best-sellers. IRI found that by cutting 20% of the SKUs stocked (mostly declining brands and redundant packages), sales actually increase by 5%.
Step Two: What makes a shelf set easily shoppable and why does it matter?
Your assortment of single-serves (the best-sellers in your market) need to be presented in a way that reflects the way the shopper thinks to simplify & quicken the decision making process. Organize the packages by price point and segment. Create strong visual cues by grouping brands to boost sales. These things matter because the average amount of time a shopper spends in front of a cooler is 31 seconds.
Step Three: Space allocation.
Allocate space based on future sales per product segment so the set satisfies the shoppers' needs moving forward. Favor the high-end, which is driving 100% of category growth.
First Prize… The Small Format Consumer.
Small format consumers are to be prized because they are driving demand for high-end beer, flavors and high-alcohol products. Retailers can capitalize on this by becoming a destination for these products. Additionally, these consumers make 30% more shopping trips than the average beer buyer per year. Typically, they are slightly younger, more multicultural and are between the ages of 26 – 55.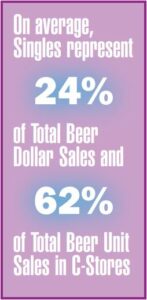 The small format consumer is largely focused on immediate and occasion-based needs like satisfying a personal craving or feeling the need for relaxation. Over the pandemic, if this customer strayed from their usual purchase, it was to try a new flavor or brand, and we know that the variety of adult beverages available in the single-serve format grew exponentially.
A loyal customer is the prize that keeps on giving. They are looking to get in and get out efficiently from a place they trust that they know has what they're looking for. While they know that variety can be limited, they will return to stores that have the brands they recognize.
"You look at the best in the world, Roger Federer," says top coach Scott Parker. "You wouldn't know if he's two sets up or down. He is levelheaded. He knows what works and sticks with the process. That's the way you win 20 Grand Slam titles."
Check out our tips for setting up your cooler, trust the process & dominate the tournament… Game, Set and Match.