In the competitive adult-beverage world, change moves at the speed of light. But there is one constant, the persistent popularity of lager beer. Crisp, clean and easy-to-drink, you might be tempted to say, "It's the right beer now."
Does that last line sound familiar? If you were around in 1988, you might remember this Coors Light slogan: It's the right beer now. And it's still true. Lager – Coors Light, for example, an American-style light lager – is the most popular, most consumed style of beer in the world. In the United States 87% of all beer sold is some kind of lager.
But with the beverage industry constantly looking for the next big thing, one may forget that easy-drinking lagers are still the core of the beer business. And while it looked like the category might never return to growth, there is data to the contrary. Last year the light beer market was reported to be worth $289.2 billion and is forecast to grow to a $338.9 billion valuation by 2028.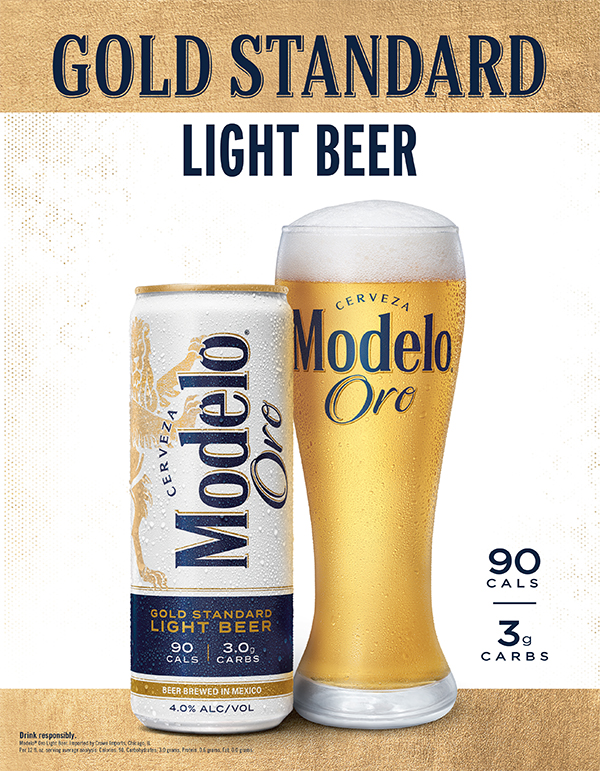 While the future of lights appears to be bright, breweries know that the key to a successful future isn't found in the past. Industry leaders like Constellation, Heineken and Yuengling are responding to consumer demands for high-quality, flavorful beverages that don't compromise their quest to live well and be healthy. The lagers produced by these companies certainly align with today's health and wellness trends better than heavy, high-calorie, high-ABV IPAs. Their refreshing, innovative lagers really are the right beers, for right now.
Constellation Leverages Their Premium Reputation
Constellation, who has already built an impressive portfolio of premium products, introduced Corona Premier as a premium, better-for-you light beer. At launch, Constellation focused on the 35 and older consumer, which makes up 43% of the light beer segment and 54% of the total U.S. light beer volume.
This smooth, perfectly balanced lager with only 90 calories and 2.6g carbs was a hit with consumers almost immediately. After just one year on the market, Premier was the number one new brand introduction in both volume & dollars and saw strong repeat purchases with consumers motivated by the low-cal, low-carb benefits – the sweet spot for premium light consumers.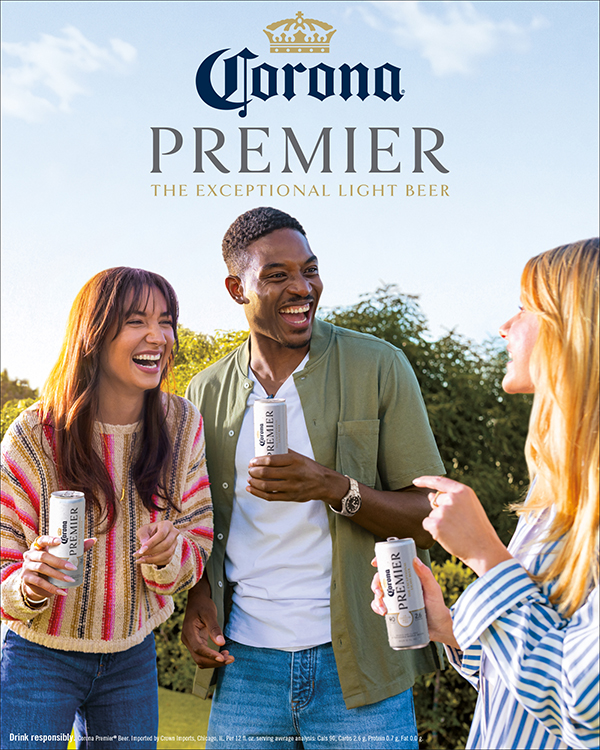 Constellation followed up the success of Premier with a premium light Modelo innovation: Modelo Oro. Launched in March of this year, Oro is just 90 calories, 4% ABV and provides Constellation the opportunity to, "deliver a light beer not just with less calories, but with more character," Chief Customer Officer Bill Renspie told Brewbound.
Most recent sales data shows that Oro's volume is two-thirds incremental and resonates strongly with both Hispanic and general market drinkers. "Across the board, consumers love the taste of Oro," says VP of Brand Marketing Greg Gallagher. "It blew away all of our active standards of consumer testing and achieved a statistical advantage to Michelob Ultra in willingness to pay more."
Heineken & Yuengling Create New Products for a New Generation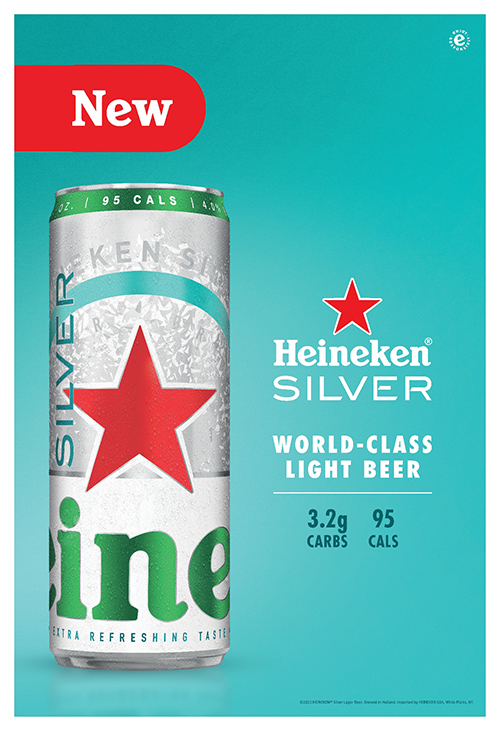 In Q1 of this year, Heineken introduced their own premium light innovation, Heineken Silver, a great-tasting, supremely drinkable beer. The 95 calorie, 4% ABV beer with only 3.2g carbs allows Heineken to access the core of the U.S. beer market – the lower calorie, lower bitterness consumer. This innovation stays true to Heineken's passion for quality and premium ingredients, while delivering full-bodied flavor without a bitter finish.
"Enjoying a crisp and refreshing lager sometimes comes at the expense of taste and quality, but beer lovers can say goodbye to compromise with the introduction of Heineken Silver," says Borja Manso Salinas, VP of Marketing for HUSA. "It's crafted to meet the needs of a new generation of experience seekers with a lower-carb, lower-calorie recipe that won't fill you up when you're getting down."
Heineken is doubling down on this year's launch by featuring the product at premium sponsorship events like Coachella, the U.S. Open and the highly anticipated Formula 1 Heineken Silver Las Vegas Grand Prix in November.
Even America's Oldest Brewery is getting in on the premium light game with their upscale light beer designed to elevate the drinking experience: FLIGHT by Yuengling. A repeat winner as one of Market Watch's Hot Brands, FLIGHT has been dubbed the "next generation of light beer" and saw its volume jump 25% to 1.9 million cases. "We spent more than a year perfecting FLIGHT by Yuengling," says Chief Administrative Officer, Wendy Yuengling. "And it has since become the fastest growing beer in our portfolio."
After two years on the market, Yuengling's fitness-focused, super-premium product is already winning over drinkers and continues to accelerate. "We listened to our consumers, many of whom have active lifestyles," VP of Operations Jennifer Yuengling says. "It's giving consumers the opportunity and the motivation to achieve something."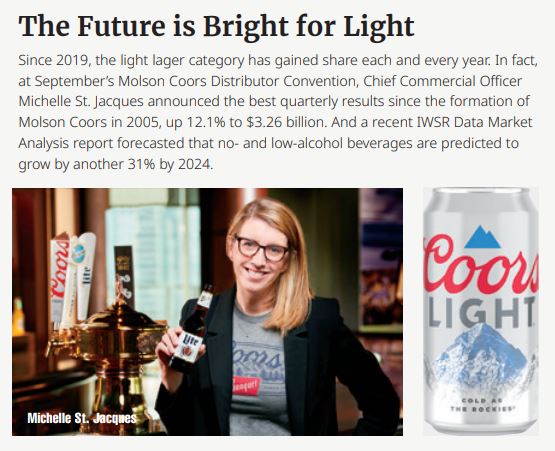 ---
Yuengling Delivers a Premium Drinking Experience with FLIGHT
Heady Times sat down with Yuengling's VP of Sales & Marketing, Colin Callahan, to learn more about their upscale, light beer brand, FLIGHT by Yuengling.
Heady Times (HT): Can you talk a bit about Yuengling's decision to develop FLIGHT and how it's expanded your portfolio?
Colin Callahan (CC): We saw a growing desire amongst consumers for more upscale light brands, as well as an increase in focus on beer with lower carbs and calories. With FLIGHT, we saw a chance to deliver our own interpretation of an upscale light beer, with great taste and stats that are a step up from the competition. The addition of FLIGHT has allowed the brewery to provide even more premium drinking experiences for fans, and it nicely complements our existing portfolio.
HT: Who is the FLIGHT consumer?
CC: FLIGHT is geared towards active people seeking a high-quality light beer option that offers lower carbs and calories with great light beer taste!
HT: Since 2019, the light beer category has gained share each year. What kind of success have you seen with your light, high-end brands over that period?
CC: We are extremely proud of FLIGHT. Not only was it a venture into a new style of light beer, but it has since become our fastest growing brand. The brand is up over 85% year to date and continues to accelerate! Yuengling Light Lager is also growing and recently won a Growth Brand Award from the Beverage Information Group. Our brewers refined this beer to deliver the great flavor of an amber lager with just 3.2g carbs and 99 calories… Consumers love it!
HT: Consumers are increasingly looking for functional beverages, or are being more mindful about alcohol consumption – how does FLIGHT, and light beers in general, respond to those trends?
CC: Part of our mission at Yuengling is to not only brew iconic, traditional beers, but to brew a beer for every taste across the beer category. With FLIGHT, we put six generations of brewing expertise into crafting what consumers want in an upscale light beer. With 2.6g carbs, 95 calories and 4.2% ABV, FLIGHT by Yuengling is a great-tasting and refreshing light beer from the Oldest Brewery in America.
More beer drinkers continue to choose Yuengling Light Lager and FLIGHT. We're confident that the combination of these two light beers matches what consumers seek in a variety of light beer occasions from sports & music events, along with meals out with friends and family.