Colorful, Edgy & Cool, Shiner TexHex IPAs Take a "Texas Two-step" Out of its Comfort Zone.
A magical new series of beers can't sit on the shelf with a boring label. That would be a disservice to the delicious liquid hiding in the can yearning to be enjoyed. And so, a little brewery from Shiner, Texas – best known for its legendary German-style bock beer – drew inspiration from its local southern Texas roots and brewed a series of IPAs with cactus water. But that's not all.
To capture the attention of IPA drinkers, TexHex cans bear the likeness of "La Bruja," a sorceress who moves with the treacherous heat of the Texas desert. La Bruja roams the land with fire in her eyes. Her shadowy figure wanders in the moonlight gathering ingredients for her otherworldly creations. Brewed with fire, magic and sin – her IPAs are only for the worthy, the ones called by the wind.
Fans have been clamoring for more IPAs from Shiner, and with 43% of all craft dollar sales coming from IPAs, the series not only represents a new and exciting chapter for Shiner, it's also attracting new fans to this classic craft brewery. With Shiner's most edgy and eye-catching graphics to-date, the TexHex series will no doubt grab customers' attention, while its deliciously unique recipe will keep them coming back for more.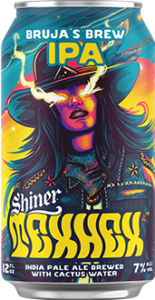 The first release of the series, Bruja's Brew, is a West Coast-style IPA brewed with Amarillo hops, delivering flavors from tangerine and pineapple to citrus and stone fruit. This brew has a bright, fruity finish with notes of minerality and cactus blossom. On the package, La Bruja is featured in western wear under a vibrant desert sky.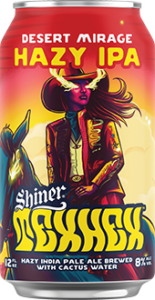 The second release, Desert Mirage, is a full-bodied, hazy IPA with tropical pineapple and tangerine flavors. Floral and resinous, this brew has a long, complex finish. Reminiscent of a hazy Texas evening, the graphics fade from striking red to yellow, with La Bruja atop a horse, ready to ride off into a Wild West sunset.
Twin Dream, the third brew in the series, is set to be released later this year. This enigmatic double IPA is brewed with a vexing double act of Idaho 7 and Citra hops. Playing into the name and the duo of hops, La Bruja's face on this package is split down the middle – each half incorporating vibrant, psychedelic colors.
"Shiner could not be more excited by the launch of TexHex IPAs. Our fans have demanded that we get back into the IPA category, and we believe TexHex delivers in a groundbreaking way," says Matt Pechman, Spokesperson for Shiner. "With unique Southwestern ingredients like cactus water, and a taste that we know connects with IPA drinkers, we are incredibly proud of these beers. We can't wait to see what else La Bruja has in store for us in 2022 and beyond."
"Shiner fans have demanded that we get back into the IPA category, and we believe TexHex delivers in a groundbreaking way."

– Matt Pechman, Spokesperson for Shiner