Quartering winds from a two-year pandemic affected even the most stable vessels. But companies with strong, insightful leaders at the helm – like Baltimore's Heavy Seas – quickly found paths to safe harbors and profitable growth.
One day, beverage professional Julie McGrody decided to change the direction of her career, but she had something very specific in mind. She wanted to learn the business of making exceptional beer. And that's exactly what happened when she began working for Hugh Sisson, founder of Heavy Seas Beer. "I knew right away that this would be a win-win. We all have one thing in common: we love to drink beer, especially when made with fresh ingredients and lots of love," she explained.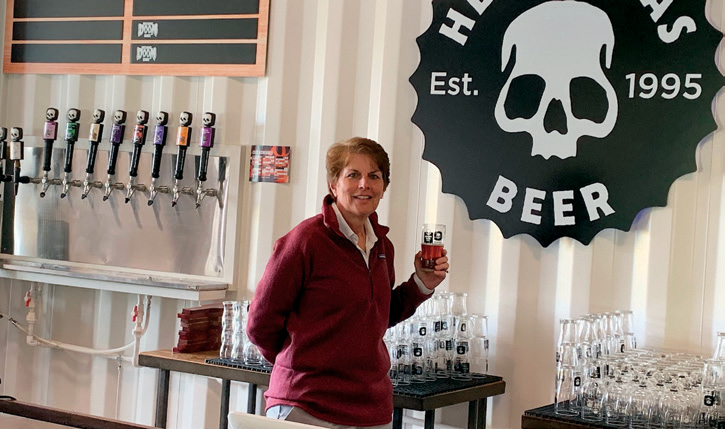 As the company's insightful Director of Sales & National Accounts, McGrody was among the first industry professionals who realized that not all breweries would financially survive the pandemic without leveraging the power of their core brands. Pretty impressive. So, we decided to ask her a few more questions.
Heady Times (HT): Why are core brands more important to consumers and breweries these days?
Julie McGrody (JM): COVID revealed the degree to which consumers appreciate trusted brands. The value and quality of core brands play a big role in consumer purchasing decisions. With our core lineup, consumers know what they're getting, and they know they'll enjoy them. Beers like Loose Cannon and TropiCannon are tried-and-true Heavy Seas brews, and they remain extremely popular with consumers.
HT: IPAs continue to be a favorite style among beer lovers. How is your brewery's Cannon Crew uniquely positioned to attract those consumers?
JM: There is a delicious IPA in the lineup for anyone who loves the style. Loose Cannon will be 20 years old in 2025 – not many IPAs can say they've lasted 20 years! TropiCannon is our citrus IPA with citrus notes that are off the charts! Our Hazy Cannon is easy to drink and offers the juiciness a hazy IPA calls for. And Double Cannon, our West Coast style DIPA, packs a real punch!
HT: It looks like Heavy Seas is having a ton of fun with the Impending Doom series – can you tell us how the series came about and what's up next for Impending Doom?
JM: Heavy Seas is known for making big, bold beers, specifically IPAs. So why not brew what we do best – a double IPA series! Our Impending Doom series allows us to have fun with different styles of IPAs and give consumers what they know, love and expect from us. This summer we're releasing our Impending Doom Variety Pack, giving consumers the chance to try the most recent IPAs in this series.