This Friday, we're celebrating one of our favorite summer drinks with National Iced Tea Day! Some prefer theirs unsweetened, some take it with a dash of sugar, while others like a squeeze of lemon. Us? We like ours with a lil' ABV kick to get the summer party started.
Ready-to-drink alcoholic teas are a hot commodity, especially in our market, where the category is driven by the intense local popularity of Boston Beer's Twisted Tea. Check out all our favorite adult iced tea picks to celebrate National Iced Tea Day, and don't forget to reach out to your Origlio sales rep for more information!
---
Keep It Twisted with Twisted Tea
The local love for Twisted Tea runs deep. In fact, Philadelphians drink more Twisted Tea Light than anywhere else in the country.
And what's not to love! Beloved Twisted Tea flavors like Half & Half, Peach and Raspberry all deliver smooth and refreshing drinking experiences that are perfect for summertime vibes.
And starting 6/26, customers can get $5 cash back when they scan a QR code while purchasing any Twisted tea package 2/12 or larger. Stay tuned for more details!
---
#SteepOnThat with Lagunitas Disorderly Teahouse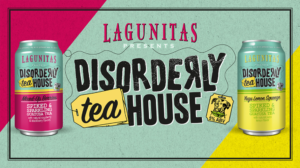 Lagunitas' new Disorderly Teahouse lineup features hard teas made from guayusa tea leaves punched up with real fruit flavors.
Yuzu Lemon Squeeze puts a way-more-refreshing spin on the classic iced-tea-with-lemon combo. And their Mixed-Up Berries is charged with a minor infraction of sweet raspberry and blackberry fruitiness.
Can't decide between flavors? Soon customers can try the new Varietea Pack, featuring three unorthodox flavors: Yuzu Lemon, Very Berry and new Peach Slice.
---
Discover the Beast with Strainge Beast Hard Kombucha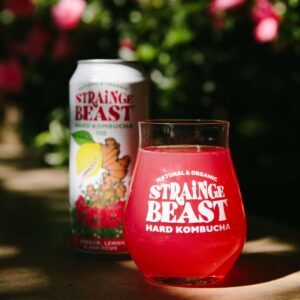 The craft beer innovators at Sierra Nevada are making a new stop on their fermentation journey with Strainge Beast Hard Kombucha.
"I've been drinking kombucha for some time, and the team has done a fantastic job of coming up with really nice flavor and balance," says Sierra founder and president, Ken Grossman.
With delicious flavors like Watermelon, Sea Salt Lime & Mint, these fermented tea leaves create bubbly and bright kombucha your customers will love.
---
Allkind Hard Kombucha Brews the Booch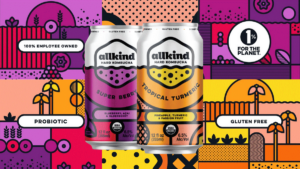 This summer customers can elevate their thirst with Allkind Hard Kombucha. Made with real organic fruit, these kombuchas are brewed with organic tea, thoughtful ingredients and complex flavors.
With flavors like Juicy Citrus, Super Berry and Tropical Turmeric, these kombuchas are 100% gluten free, SCOBY fermented and probiotic!