Every aspect of Allagash's first-ever year-round IPA was carefully thought out.
Nearly 30 years after it was first released, Allagash White is still one of the best-selling Belgian-style witbiers in the world. But the team at Allagash knew it was time to add an IPA to the roster – both for consumers and themselves. "First and foremost, our staff loves drinking great IPAs, myself included," Allagash Brewmaster Jason Perkins said on the brewery's podcast From Maine, With Love. "It's not at all uncommon for me to visit an account in town and, of course, my first beer is always Allagash, but my second beer is often an IPA."
Even the brewery's most ardent fans – people who have made a pilgrimage to the taproom in Maine – have asked Allagash to make a beer on the hoppier side. Sales Director Naomi Neville explained, "In the tasting room, the first question patrons often ask is 'what's your hoppiest beer,' or 'do you have an IPA?' We'll finally be able to say yes."
"Hop Reach is our own, uniquely Allagash IPA and we can't wait for people to enjoy it as much as we do."

ROB TOD, Allagash Founder
"We've been making IPAs off and on over the years, but it's not something we have done on a national scale," said Perkins. "From the get-go, we were looking for something timeless, something approachable, but assertive in hop aroma."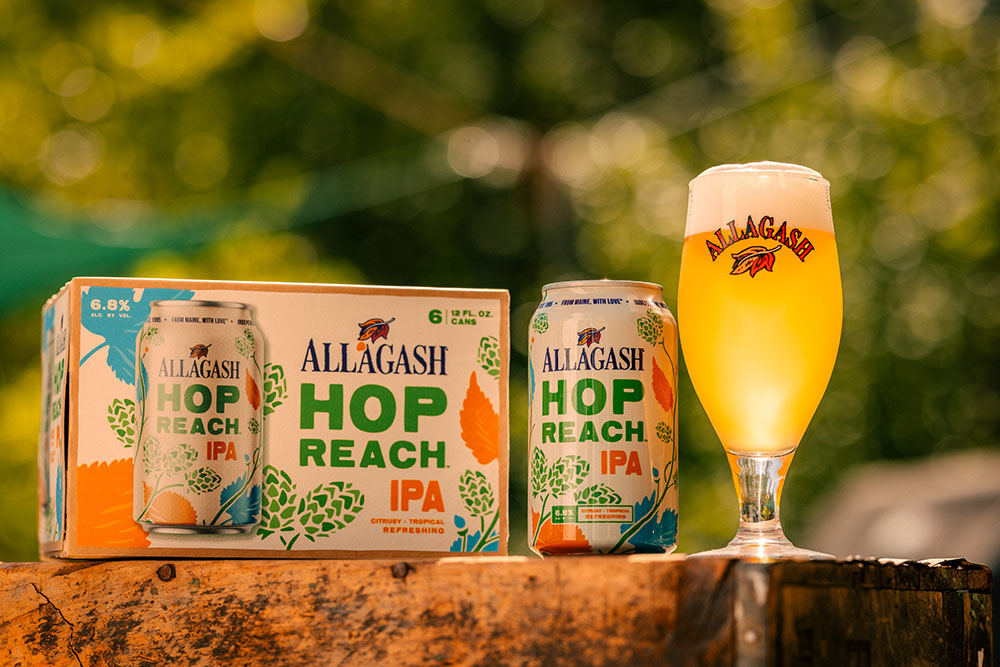 After seven months and 17 different recipes, everyone at the brewery was confident that they had created an IPA with an Allagash spin – a beer their fans would love but that could also recruit curious, new drinkers to the fold. The final result is Hop Reach IPA – a full-bodied and refreshing IPA, blooming with lush hop notes at 6.8% ABV. Brewery Founder Rob Tod is excited about the first IPA to join Allagash's year-round lineup, to say the least. "Hop Reach is our own, uniquely Allagash IPA and we can't wait for people to enjoy it as much as we do."
But there was one more job ahead of them… design a label that says to consumers, "Hey, Hop Reach is an Allagash IPA and it's really special." The marketing team got to work. They decided a cream-colored can communicated approachability, while the tropical-colored hops on the label speak to the beer's balanced, bright, citrusy flavors. The design was also created with shelf placement in mind. The team wanted a timeless, classic label that could sit next to Allagash White and wouldn't look out of place or become dated too quickly.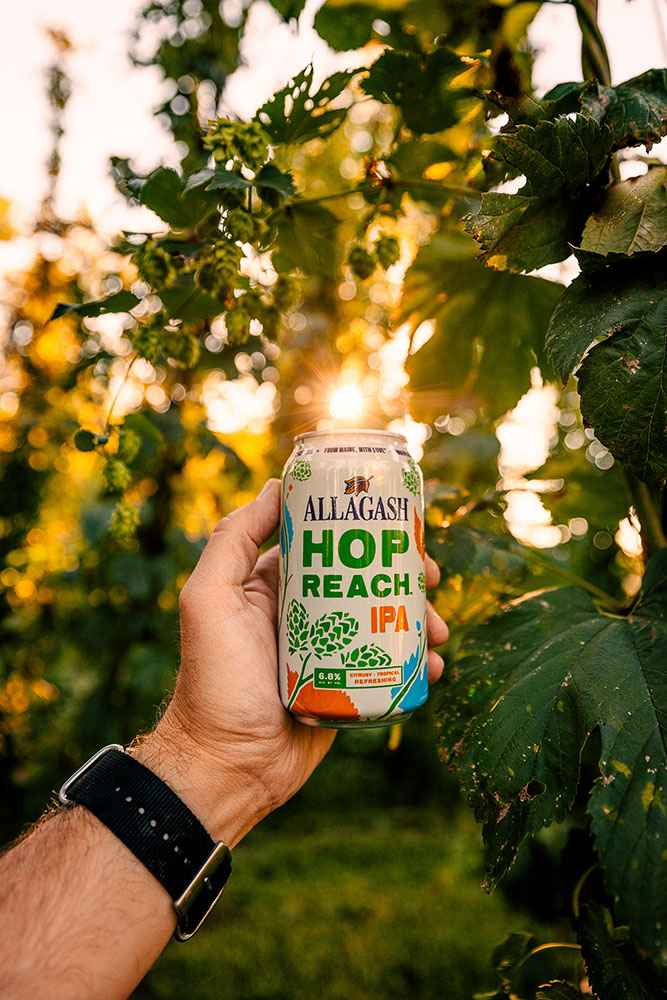 As for the name, Hop Reach was chosen for some very good reasons. Allagash brewers and brewery employees often find themselves reaching for an IPA, so Hop Reach is a "fun play on the word" according to Senior Communications Specialist Brett Willis. A little less obvious, but also significant, is a not-so-well-known definition of "reach" which the dictionary says is "a stretch of river or straight expansive stream." This ties in nicely because many labels in the Allagash portfolio display streams and rivers. And you may ask, "Why are these waterways important in the first place?" The Allagash River, a federally protected waterway rich with Native American history, runs right through northern Maine.