The eclectic category has been on a tear the last three years. Can we expect growth to continue in 2021? Yes! 
Over the last few years, beyond beer, the amalgamation of a beer category that includes hard seltzer, tea, coffee, kombucha and ready-to-drink cocktails, has been the most innovative, profitable and exciting space in beer. While traditional beer saw modest growth in 2020, the beyond beer category grew 130% in the off-premise and now commands a 10% share of the beer category.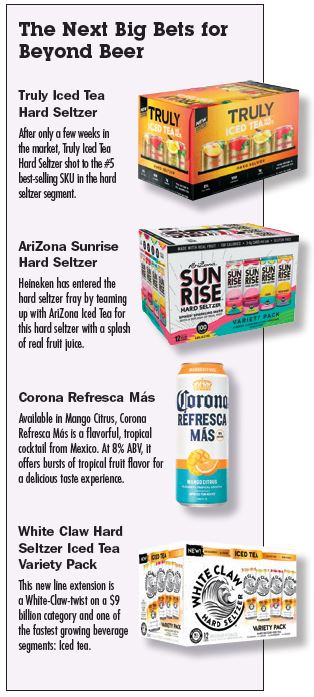 If there is any doubt that consumers are consistently turning to the beyond beer category, consider this: Boston Beer's big hard seltzer bet of 2021, Truly Iced Tea Hard Seltzer, became the #5 hard seltzer SKU in only a matter of weeks! In today's beer landscape, that's something you'll only see happen in beyond beer. 
While this category covers a diverse range of beverage types, it won't be a surprise to anyone that the lion's share of growth in the category is due to hard seltzer's three-year reign as the hottest beverage of choice. 
What's next for hard seltzer in 2021? Expect more craft breweries to get in on the craze – smart retailers should keep their eye on the ball by dedicating enough shelf and cooler space for their best-selling seltzer brands. In 2021, the top 10 hard seltzer brands (with White Claw and Truly at the #1 & #2 spots) are still projected to make up 96% of the dollar share in hard seltzers. The 12-pack will continue to reign supreme, making up 75% of dollar share in hard seltzer package sizes. In terms of flavor options, 61% of sales will come from variety packs. 
If Truly Iced Tea's fast start is any indication, hard tea is the next big segment in beyond beer. Currently sitting at about a 1% share of beer, hard teas have started 2021 hot out of the gate, trending up 49.7%. The secret to hard tea in 2021 is that it's still largely a one-player segment (especially in the Philadelphia region) with Twisted Tea. With a proven track record, quality, flavor and availability, Twisted Tea wins the day. 
Hard seltzer leader White Claw has an iced tea line extension of their own on the way, expected this April. The mixed pack will include four flavors of sparking tea, all with a hint of fruit: Lemon, Mango, Raspberry and Peach. Both Truly and White Claw's entrance into the hard seltzer iced tea category is a big opportunity to retailers, as non-alc iced teas are already a $9 billion category, one of the fastest growing segments in the market. 
Non-alc beer is also poised to have another banner year. In 2020, non-alc growth out-paced almost every other beer category at nearly 40%. With brands like Heineken 0.0 leading the way, many of the largest non-alc brands saw double and triple-digit growth in 2020. Another surprise here is that even many long standing, traditional non-alc brands (like Kaliber and Buckler) are experiencing growth. As with hard seltzers, expect this space to become more crowded. The door is open for craft brands like Lagunitas, Dogfish Head and BrewDog to make a splash with their non-alcs: Lagunitas IPNA, DFH Lemon Quest and a series from BrewDog including Punk AF and Hazy AF. 
Now that many consumers have become "at-home bartenders" out of necessity, the RTD cocktail segment has upped its share as well. And hard kombucha is also getting its footing, with brands like Sierra Nevada's Strainge Beast generating a lot of attention and repeat purchase. Thus far, much of kombucha's growth has been thanks to west coast consumers, but as market penetration and distribution grow in the east, and customers continue to turn to beverages that boast "better-for-you" bona fides, look for kombucha to have a big 2021. 
The beyond beer category is firing on all cylinders, and smart retailers will strike while the iron is hot. Studies show that beyond beer consumers by nature are seeking variety, so the more options retailers offer their customers, the more likely this category's fervent growth will continue.