Two forward-thinking female entrepreneurs figured out how to put la dolce vita into a can, and the world took notice.
When
USA Today
announced the results of their Ten Best Canned Cocktails in America competition (or what our industry calls RTDs), you might have expected to see mostly huge conglomerates atop the leader board. But sitting at the #2 spot in this highly competitive lineup was a refreshing, new hard Italian soda that had recently burst onto the scene:
Bravazzi
.
Headed by three entrepreneurs, two women and one man who each had separately developed great love for the culture & flavors of Italy,
Vivify Beverages
was launched to create flavorful, high-end, BFY, sophisticated products using only the best ingredients, as is the Italian tradition. You shouldn't be surprised then to learn that Vivify also makes
Itz Spritz
.
Vivify: transitive verb 1. to make something or someone more lively or vivid.
That is exactly what they did.
Heady Times (HT): Tell us about the origins of the company. Did the USA Today win affect your business model?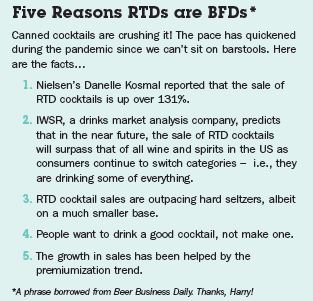 Anne Ellis (AE):
This award has certainly increased awareness of the brand, and it's only one of several high profile accolades we received in 2020. This year, Forbes magazine said Bravazzi was one of the best canned beverages on the market. In November, The Kitchn (a top 20 global food and beverage site) did a survey of 21 competitive brands and unanimously chose Bravazzi as the winner. But I'm most proud that the brand has dominated many recent tasting competitions – including Best Tasting at Seltzerland & Most Popular at Fizz Fight.
But back to your first question.
The company was initially started by Sarah Ross and Bob Walkenhorst. I joined the team when Sarah introduced me to the brand. Once I had my first sip of Bravazzi Grapefruit, I decided to leave corporate America and join the Vivify team.
Sarah and Bob started the company because after years in the industry, they knew there was a demand for better quality and sophisticated flavors that big companies weren't addressing. Even though the pandemic has caused many people to lose their jobs, consumers everywhere are trading up across all categories. Both Bravazzi and our other great offering, Itz Spritz – a flavorful and refreshing all-natural spritz – target consumers who are actively seeking better and BFY products. We see a clear opportunity for retailers to provide their customers with products that are made with simple ingredients that provide fuller flavor experiences.
HT: What makes Bravazzi different from other hard sodas on the market?
Sarah Ross (SR): We love to say that Bravazzi is our love letter to Italy. Anne and I both lived in Italy. We studied there and love everything about it. Especially the way they use the highest quality, freshest ingredients. When the ingredients are good, the real flavor comes through and artificial additives aren't needed. That is very much the Italian way.
Then we would always take our favorite gourmet Italian soda, San Pellegrino, and add booze. (You can get some great cocktail recipes on our website www.bravazzi.com). One day, a lightbulb went off: What if we took our favorite Italian soda flavor experience and made it boozy?
Like hard seltzers, we took a growing consumer trend in the non-alcoholic space and brought it to the beer aisle. But Bravazzi is better-for-you AND it tastes better because it is bursting with sun-ripened, true-to-fruit flavor consumers crave.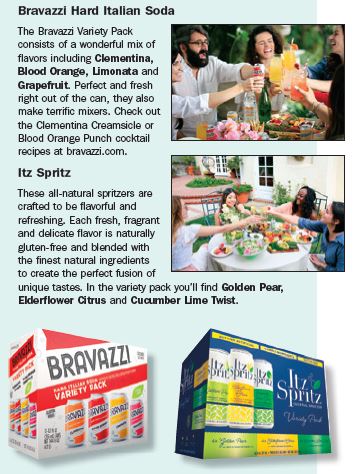 HT: How does health and wellness fit into your product portfolio?
SR: Our products are BFY from the start. We have clean labels because we use simple ingredients – nothing artificial or created in a lab. We use real fruit and vegetable juices in Bravazzi to give it the true-to-fruit citrus flavor and beautiful color it's known for. Both brands are naturally gluten-free because we brew using sugar, not malt. We know that consumers are uncompromising when it comes to quality, and we make sure that every ingredient we use is the best quality available. We don't cut any corners and you can taste the difference in our products.
HT: Besides a short list of all-natural, superior ingredients, what else can you tell us about how your products are made?
AE: These hard Italian sodas are a new kind of brew. Our unique sugar brewing process makes Bravazzi light-tasting and naturally gluten-free. Each flavor is blended with real fruit juice so it finishes light, bright and totally delicious – in true Italian fashion.
HT: Tell us about Itz Spritz. How does it take advantage of untapped opportunities?
SR: In our opinion, nothing is better than a spritz cocktail. But they require multiple ingredients to make (no one wants to make more trips to the store during a pandemic) and they can be complicated. That's precisely why we created Itz Spritz. You don't have to make anything!
Besides, it's gluten-free, lightly sparkling and flavorful, just the way a spritz should be.
HT: How can Bravazzi and Itz Spritz be enjoyed?
AE: Both products are incredibly versatile and are fantastic straight from the can, poured over ice or mixed into cocktails. Our consumers are busy and social, and they want beverages that they can use in multiple ways. We have an amazing mixology program which provides recipes on both the Bravazzi and Itz Spritz websites for consumers looking for an elevated experience.
In the on-premise, you'll find our products poured over ice in a wine glass to accompany a meal, or mixed into a simple cocktail. They are incredibly shelf-stable and timesaving for the bartender.
HT: Why do you think it's important to have more companies that are female founded/owned?
SR: It's important that companies and brands reflect the consumers they serve. For example, despite the fact that women represent a huge amount of buying power, shopping decisions and consumption volume, they have been largely ignored by the big companies across many categories for decades, including beer. Today's consumers are very diverse and they want to support companies that embody that diversity.
As a result, new drinkers are entering the category because they are finally finding brands that speak to them, both in terms of the products themselves, and the companies and leaders behind them. This behavioral shift has become more pronounced during COVID – people want to support small, diverse businesses and brands more than ever before.
HT: What's next for Vivify? Are there new flavors and innovations on the way?
SR: We are innovators at heart, so we're always looking at trends and dreaming about future products. We are working on something exciting for Bravazzi for Spring 2021 – a second variety pack inspired by flavors of Italy's famous Amalfi Coast. Stay tuned for more.