Twisted Tea has been a full-on phenomenon in our region for over 20 years.
When Twisted Tea first launched in test markets over 20 years ago, Boston Beer was shocked at the immediate, fiercely passionate response it received in one particular region: Philadelphia. "Philly really knows how to Keep It Twisted!" laughs Twisted Tea Senior Director, Erica Taylor. Since its launch, Pennsylvania's fiery Twisted Tea fans have continued to rally around the brand – not only because the OG hard tea is refreshing, smooth and of course, a little twisted, but also because the brand's attitude so perfectly matches Philly's own.
"Our personality is a direct reflection of our fans!" says Taylor. In Philly, "we're backed by a fiercely passionate, unapologetic fan base that has helped position the brand into what it is today. Twisted Tea drinkers are known to get the good times started and to keep them going."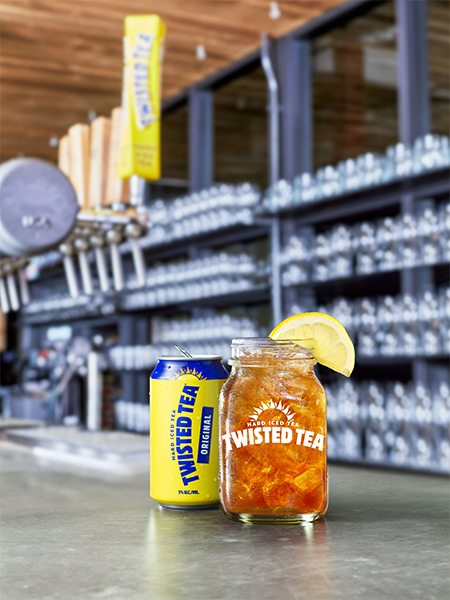 Among Twisted Tea aficionados, it's a point of pride that Philly is something of an epicenter for Twisted Tea Light. "Yes, Philly continues to drink more Twisted Tea Light than any other region in the country," says Taylor. "It's an impressive title our Philly fans are proud of!" In fact, our region's undying love for Twisted Tea Light has caused Boston Beer to stand up and take notice, responding to our region's trends by innovating even more Light flavors.
Earlier this year, Boston Beer unveiled the new Twisted Tea Light Variety Pack, featuring Light Original, Light Half & Half, Light Raspberry and Light Peach, "that gives the same delicious Twisted Tea taste our fans know and love, just lighter on the sugar, calories and alcohol." The new variety pack is a strong tool for retailers, as Taylor and her team believe the new package will bring incremental drinkers to the brand.
While we in Philly might consider ourselves the superior Twisted Tea market, the brand's national success has continued to gain speed in recent years. Posting double-digit growth last year, Twisted Tea recently overtook big beer juggernauts like Miller High Life to become the 12th largest beer in scans. Can it hit the top 10? Signs point to yes.
In the on-premise, Twisted Tea Original has become an outright force by targeting new consumers with cans over the bar, as well as on draught. "We've welcomed a big group of new drinkers who primarily drank Twisted Tea at home," says Taylor. "Now we're finding there's a big appetite for a deliciously smooth and refreshing hard tea across bars and restaurants, at event venues, in airports, really everywhere."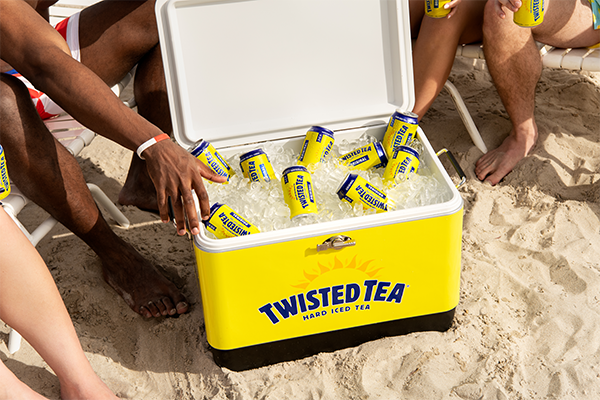 Taylor and her team are preparing for another record-breaking summer with their Twisted Tea programming, bringing their new America Parties with Tea campaign to drinkers across the country. "We're pulling out all the stops for Twisted Tea fun all summer long," says Taylor. "Including our newest Tea Drop Lake spot (which features our real fans!)." And they recently released two new packages for summer – a Twisted Tea Party Pack, which features Twisted Tea Rocket Pop, a brand-new, limited-edition flavor just for the summer and new summer graphics for the Twisted Tea Party Pouch.
Twisted Tea's runaway success in our market continues to influence the way Boston Beer develops other innovations – not to mention the glut of copy-cat hard tea brands from competitors that can't quite catch the same lightning in a bottle. "Everything we do has a fan-first mentality," explains Taylor.
This close-knit relationship with their fans, and their refreshing products that guarantee that the good times last all day, make Twisted Tea a must-have for any retailer.