Tim Ohst is ready to put Sly Fox's 25 years of hard work and experience to use in 2021.
Sly Fox Brewing Co. has a reputation for throwing some of our region's most raucous and exciting parties. From their famous Bock Fest & Goat Race to their annual Can Jam Festival, Sly Fox has cultivated a community of beer lovers who are always ready for a good time with a great beer in hand.  
At the start of 2020, Director of Brewery Operations Tim Ohst was gearing up for possibly their biggest party yet: their 25th anniversary. Of course, 2020 had other plans, and Ohst and his team were forced to celebrate their 25 years of brewing at a social distance.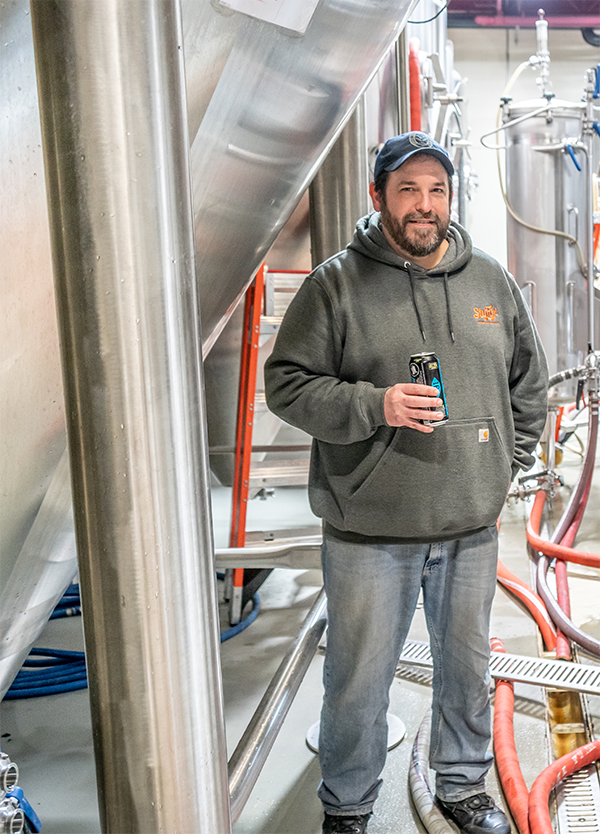 Thankfully, Ohst was still able to brew great beer in 2020 and now has even more surprises in store for 2021. Heady Times sat down with Ohst to learn how he got started in brewing and what new beers Sly Fox has on the docket for their twenty-sixth year in the biz.  
Heady Times (HT): Tell us a bit about your background and how you became a brewer. 
Tim Ohst (TO): I moved to the Philly suburbs post college and took a job at a John Harvard's Brew House that was just opening up. At that point, the craft beer boom of the '90s was just beginning, and I was lucky enough to land a job as the assistant brewer, learning under the head brewer Chris Rafferty. One of the first brews we made together was an oatmeal stout that ended up winning a gold medal at the GABF that year, with John Harvard's taking home Large Brewpub of the Year honors as well. It all just flowed from there.  
HT: How did you move from John Harvard's to Sly Fox? What made it such a good fit? 
TO: Our prior brewmaster, Brian O'Reilly, had also worked for John Harvard's and we got to know each other. He started at the Sly Fox brewpub in 2002, and I came on board a few years later, when Sly Fox expanded into production brewing and opened a second location. Our prior personal friendship and shared experience at John Harvard's made it a great fit. It was a lot of long hours and back-breaking work, but tons of fun and a great experience at the same time.  As Sly Fox grew and expanded distribution, it was a great environment in which to grow professionally, while gaining insight and having input into all aspects of the brewing industry. 
HT: Can you take us through the last 12 months and what's changed for Sly Fox and for your team? 
TO: It's certainly been an interesting past 12 months. At the start of the pandemic draught sales dropped to essentially nothing and all of our production had to suddenly shift to cans. We quickly learned we'd need to be flexible. With multiple seasonal beers already planned or in the tanks that suddenly couldn't be kegged, new outlets and opportunities needed to be found to get that liquid in consumers' hands.  
The staff at our tasting rooms also did a phenomenal job changing how they operated, filling tons of growlers and continuing to keep our loyal customers happy. They essentially stayed open the entire time, rolling with the punches and working harder than ever, while adjusting to ever-changing regulations. And we're all looking forward to getting back to hosting our popular large-scale events once again.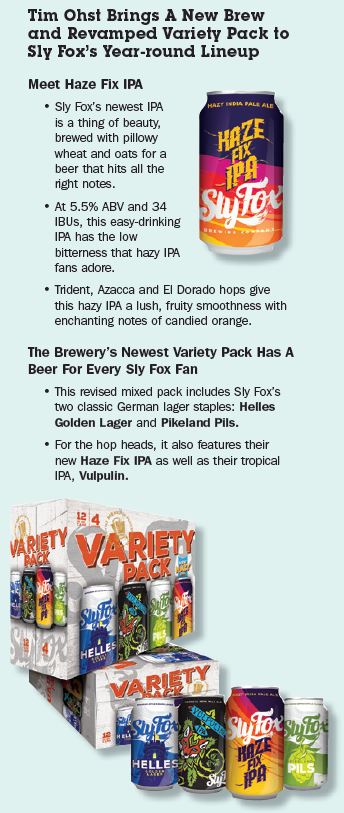 HT: Take us through your new year-round beers for 2021. What can consumers and retailers get excited for in 2021? 
TO: At the start of 2021 we launched Haze Fix IPA – our new, 5.5% ABV hazy IPA. Along with that, we launched a revised variety pack containing our classic German lager staples, Helles Golden Lager and Pikeland Pils, alongside two of our newer IPAs, Vulpulin IPA and the brand-new Haze Fix.  We'll also be continuing our series of one-time limited release beers in 16 oz. cans with the latest, 600 Pounds of Sin IPA, and for the fall we've got an exciting collaboration beer in the works (more details coming soon!). We're also excited for the start of baseball season and being able to enjoy cans of our unfiltered pilsner, Slugger, in person at the ballpark for the first time. 
HT: Local Sly Fox fans were sad to see your famous 360 open-ended cans (a single pull removed the entire lid) retired last year. What happened? 
TO: It was always a challenge for those lids to catch on in the beverage industry due to antiquated (and very precisely worded) littering laws existing in over 35 states, which forbid their use. We were lucky enough that PA was not one of those states, but ultimately the manufacturer decided there just wasn't sufficient volume to make it a viable product and they chose to discontinue production of the 360 can. We stocked up as much as we could when that decision was made and finally ran out towards the end of 2020. It was fun while it lasted…  
HT: Sly Fox has always been known for their robust work in giving to charity. What do you have planned for 2021? 
TO: It's amazing to think we're now entering our fourth year working with Alex's Lemonade Stand Foundation for Childhood Cancer, with a portion of the proceeds of our summer seasonal, Alex's Lemon Wheat Ale, donated to the foundation. In the previous three years, we've raised over $25,000 for this amazing charity that has strong Philly roots and we plan to raise a whole lot more this year!  
We also continue to work with the Schuylkill River Greenways (SRG) on a donation program with our SRT Ale to help with the construction and maintenance of the Schuylkill River Trail (SRT). Since we first brewed SRT Ale in 2015, Sly Fox has donated over $34,000 to the SRG!  
HT: What's kept Sly Fox such a valuable brand for both the on and off-premise? 
TO: Regardless of style, we've always strived to create beers that are highly drinkable and consistently delicious, and we make them available at the best price that we can. Retailers in the off-premise can depend on our packages to be well-priced, continuously available and stable, while looking great whether on a shelf, in a display or in a cooler door. Restaurant and bar customers appreciate the easy-drinking, repeatable nature of our beers and that makes for fast-selling draughts. Oh, and we're LOCAL!