Founded in 2011 by Ryan Krill, his buddy Chris Henke and his father Bob – Cape May Brewing Company sold its first keg right out of Ryan's trunk. What began nearly 10 years ago as a humble, hyper-local operation is now a force to be reckoned with in the world of craft beer.
The idea for the brewery began at the Krill family's beach house in Avalon, NJ. Bob Krill (known as "Mop Man" for his constant cleanup work at the brewery), Ryan and Chris found, as many vacationing beer lovers did in those days, that the craft beer they loved wasn't easy to find down the shore. Unlike many vacationing beer lovers, they decided to do something about it.
Now, year after year, Cape May posts double, sometimes triple digit growth, bucking a perceived trend that sales have slowed down in the craft beer segment. According to Krill, that's thanks to the strength of their core lineup. Cape May IPA accounts for nearly 32% of their business, though they don't see themselves as an IPA brewery. Just in time for summer, they're releasing Cape May Tan Limes – a Mexican-style lager brewed with lime and Cape May sea salt – and we'll see a return of some other seasonal favorites (see side bar).
So, what is Krill's secret to growing Cape May from a three-person crew, to New Jersey's largest craft brewery? Heady Times sat down with him to find out.
Two years ago, Cape May decided to put their "big boy pants on". "Here's an example of what we did when we wore Pampers. At first, we bought a font online because we thought that's all you needed for branding. But then, we were like, wait, what are we doing? If we do this, let's do it right. We looked at breweries that were doing things well and copied part of their playbook. They used professional ad agencies to hone their identity, so we found an agency that we really liked. We learned it wasn't just about developing a logo, it was about finding out who we are. Now we know who we are and who we are not. Wearing 'big boy pants' is all about focus, commitment to excellence and making great beer."
The town of Cape May is one of New Jersey's shining spots and is central to their selling story. "This place is about nostalgia. Everyone has their own story about Cape May. We draw on that when creating and selling our products. Learning about everyone's personal connection to the town makes it fun. We can all talk about that special connection. That's our selling story. It hasn't changed, we've just better defined it."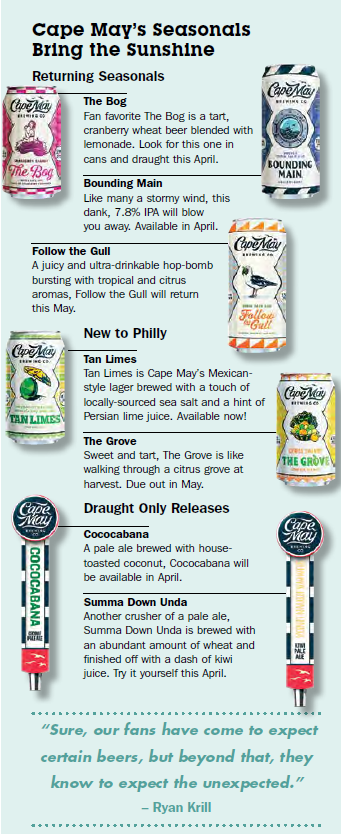 Many of their fan-favorite beers started as small batch brews in their humble Tasting Room.
"The Bog is a great example of our process. It started as a cranberry wheat beer that we accidentally added too much cranberry to – so we cut it with lemonade, and everyone loved it. Because it was so popular, we brought it to Philly. Now it's a huge hit and a fan favorite."
They don't want to be seen as a "local" brand. "We don't hang our hat on local. We just happen to be local. We don't see it as a point of differentiation because there's always another local brand. Millions of visitors come to Cape May from all over the country, so local isn't our only selling strategy."
Their core values, which challenge employees to "Be a Pro" and "Work Safe, Work Smart," are something that sets Cape May apart. "At Cape May Brewing Company, we have a clearly defined set of core values, enshrined on a Credo Card, carried by every Brew Crew member. It's all about accountability and pride in what we do. Everyone here is really invested in our success, and it shows."
Above all, Cape May's explosive success comes down to one simple thing: "I can't stress this enough – it really comes down to the fact that we've got great beer. Our brewers have the latitude to try new things; they're not tied down by style or any philosophy. They have freedom to innovate. We have a strong commitment to variety. It's crazy, but we have plans to release 39 different beers next year. Sure, our fans have come to expect certain beers, but beyond that, they know to expect the unexpected."
Their Research and Development program is where Cape May's delicious beers are born. "R.A.D. gives us the time to really dial in on a recipe. We'll brew a small batch of a new beer and release it in the Tasting Room, asking our visitors for feedback. Our Always Ready pale ale and Cape May White both began as part of the R.A.D. program."
Cape May White is their big new bet for 2020. "We've got a lot of killer IPAs on the shelves, but we wanted something a little different: an approachable, easy-drinking Belgian wit, something that's going to appeal to the craft beer drinker who prefers the fruity esters and gently spiced brews over something tremendously hoppy. It began as Great Wit Shark, which won silver at the U.S. Beer Tasting Championships last year, so we've already had a great response."
Keep an eye out for their new brews Crushin' It and Tan Limes to drop later this year. "With Citra, Mosaic and Azacca hops blended together to accentuate the fresh flavors of orange juice, Crushin' It is dry, approachable and perfectly balanced. Tan Limes is a simple, drinkable lager, with lime juice and sea salt. When we first released it, on draught only in April, the response was overwhelming. And it should be noted that each of them began as either a R.A.D. or a Tasting Room-only release."
Don't sleep on their limited IPA 16 oz. can releases, which have become a calling card for CMBC. "Our fans have learned to look for them, and they're in and out of the market with the right frequency – long enough for people to be able to come back to them a few times, but not long enough for people to grow tired of them. The series is built around the typical craft drinker's desire to try something new."