These Texan cocktail-inspired RTDs sit at the intersection of hot industry trends like tequila flavor and wellness. But they're not just the perfect summer refreshment – they're a lifestyle.
Ranch water sits at the intersection of some of the hottest trends of the moment in the bev alc space: cocktail-inspired FMBs, wellness and tequila.
Picture this: It's the middle of a heatwave, but you've got work to do. You're parched and exhausted – but then a cowboy appears, riding a white horse. With a knowing smile, he tosses you an ice-cold can from his saddlebag. You crack it open and guzzle down half before you fully comprehend the refreshing simplicity of agave, lime and soda water.
"What's this?" you ask. "It's fantastic!"
The cowboy chuckles and tips his white hat.
"Well, partner, that's ranch water. Where I come from, it's our go-to for summer refreshment. You enjoy now."
Then, as quickly as he appeared, he's gone, and you're left wondering where you can get more of this delectable beverage for your equally thirsty customers…
Summer in PA might not compare to summer in West Texas, but when the temperature rises and your customers are looking for something to beat the heat, why not take a page from the cowboy's book and offer ranch water?
Cocktails, Tequila & Wellness – Oh My!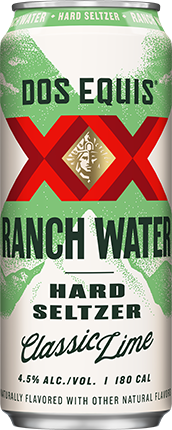 Though popular in Texas since the 60s, ranch water has recently started popping up throughout the U.S. What's the reason for its sudden popularity? It's simple – ranch water sits at the intersection of some of the hottest trends of the moment in the bev alc space: cocktail-inspired FMBs, wellness and tequila. Originally made with soda water, a shot of tequila and lime, ranch water is no-frills but full of flavor, which makes for a perfect canned FMB. Dos Equis was one of the first breweries to see the potential of ranch water, particularly as an alternative to regular hard seltzer, launching a variety pack that featured regional flavors like Classic Lime and Grapefruit along with Mango and Blood Orange.
Tequila flavor is also a significant factor in the spread of ranch water; Gen Z's drink of choice has been gaining popularity for years now, with some experts predicting it may overtake vodka as the #1 selling spirit soon. And while FMBs can't contain actual tequila, brands are able to replicate the taste customers expect with natural flavors and real agave, the base ingredient of tequila.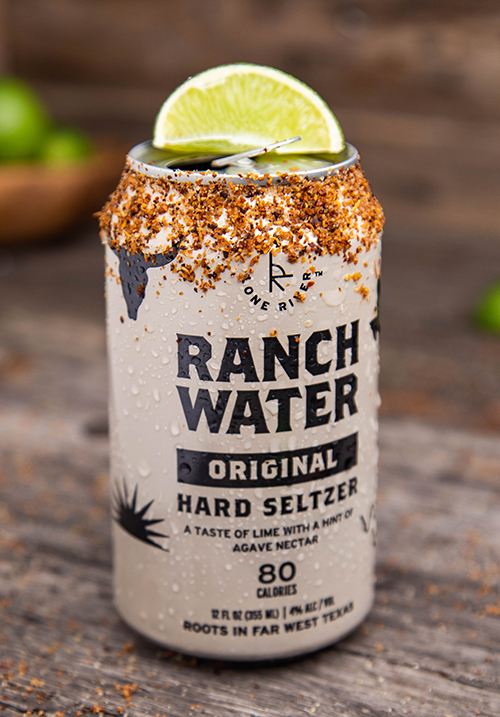 And agave isn't just a stand-in for tequila in FMBs, it's also a key component of ranch water's wellness credentials. A popular sugar substitute, agave is often touted as a less processed and more diabetic-friendly sweetener. The simplicity of the recipe is also a plus for many consumers – a stripped down cocktail like ranch water typically means fewer ingredients. And in this case, it also means that (like the original cocktail), canned ranch waters often come in at around 100 calories and 5% ABV, making for a light and sessionable option with a kick.
Lone River Ranch Water is the leading brand in what they call the agave seltzer category, a.k.a. ranch water FMBs. Founder Katie Beal Brown says that as the brand has grown, they've seen customers making the shift from hard seltzer, but also from hard tea and from outside the beyond beer segment entirely. That's led to Lone River seeing dollars grow 82% (in Nielsen scans, 52 weeks ending 03/18), giving the brand a wide lead in the segment.
The Real Deal
There's something else that customers find attractive about ranch water: Authenticity. Drinkers routinely agree that the canned version of the ranch water cocktail perfectly captures the simplicity and easy-drinking nature of the original, with the added convenience of an RTD. But there's more to it than the taste – it's also about the lifestyle.
Once customers are aware of the origins of ranch water and its connection to the American West, even the most brand-loyal light beer drinker might consider adding ranch water to their rotation, because the category reminds drinkers of their childhood fantasies of riding the trail and sleeping under the stars. Steeped in Western charm, ranch water invites customers to indulge not only in a delicious beverage but also in the common dream of leaving life behind for a simpler life on the ranch.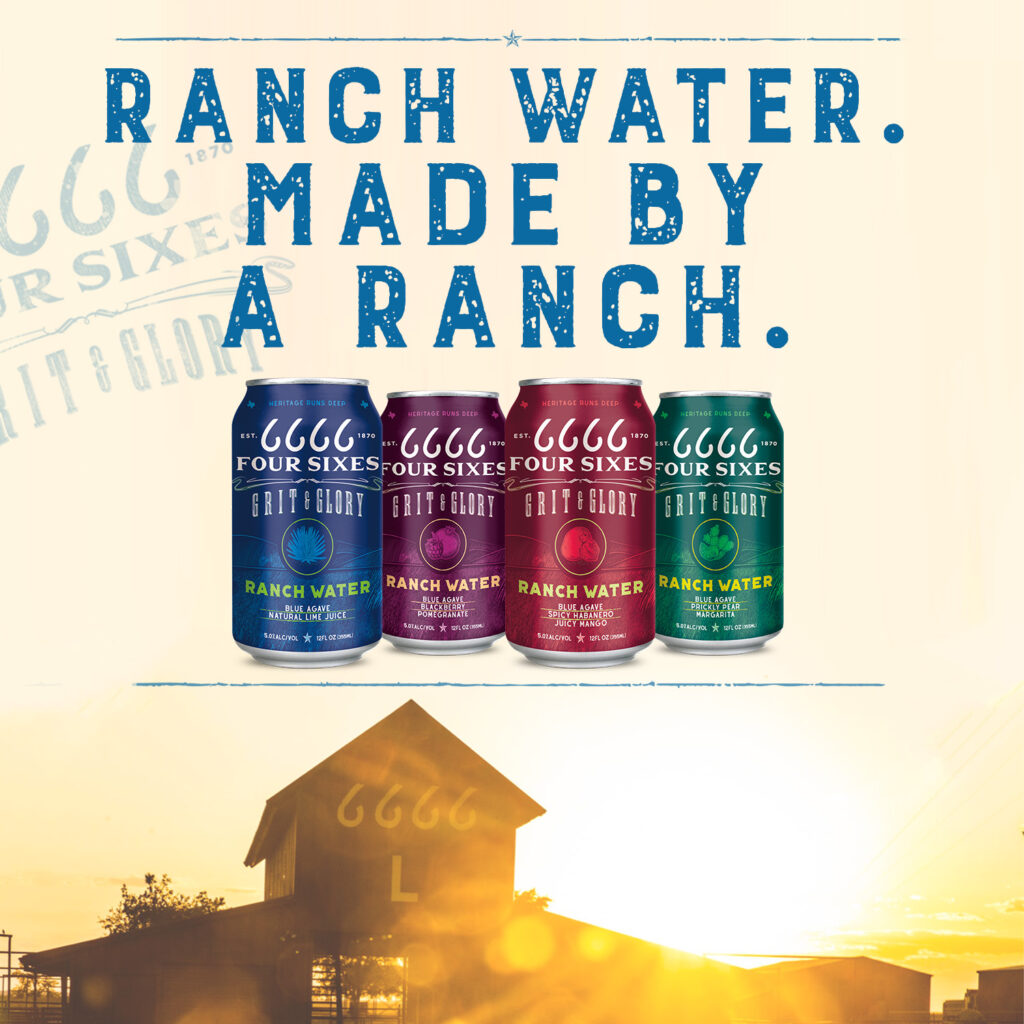 This kind of authenticity is a huge selling point not just for customers, but also for the movers and shakers of the country scene. Ranch water has landed some bigtime partnerships despite being a relatively new category in the bev alc space – particularly when it comes to the hit Paramount show Yellowstone. Newcomer 6666 Grit & Glory has a direct connection to the show – Yellowstone creator Taylor Sheridan is behind the brand and is part-owner of the legendary 6666 Ranch in Texas, which will be the location of the upcoming Yellowstone spinoff show, 6666.
Veteran Lone River also has plenty of partnerships with the show and its stars. Beginning with a partnership with musician and actor Ryan Bingham in 2021, they've since added singer-songwriter and actress Lainey Wilson to the roster, as well as partnering with Yellowstone on product integration on the show, ad placements throughout season 5 and a limited-edition ranch water variety pack featuring eye-catching packaging.
Their work with Yellowstone is just part of Lone River's strategy, though. This summer, they'll also go all in with the biggest partnership the ranch water category has ever seen: a multi-year deal with Texan and country superstar Miranda Lambert.
"I don't do a ton of partnerships, but I was drawn to Katie's story, and found so many similarities with my own," Lambert said in a press release. "Lone River was built on honoring her family's roots and sharing an authentic way of life in West Texas. I'm excited to see what kind of noise us Texas women can make together!"
But what do fans think of this team up? According to Brown, it can be summed up in two words, which we think are also the answer to the question "Should I bring in ranch water this summer?" – "Hell yes!"
---
Reach for Ranch Water VPs
This summer, give your customers what they're looking for with two of the hottest trends in beverage alcohol – cocktail-inspired RTDs and variety packs!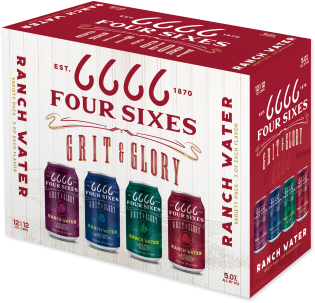 6666 GRIT & GLORY RANCH WATER VARIETY PACK
The 6666 Grit & Glory Ranch Water Variety Pack includes four unique flavors that reflect the essence of Texas: Blue Agave Natural Lime Juice, Blue Agave Spicy Habanero Juicy Mango, Blue Agave Prickly Pear Margarita and Blue Agave Blackberry Pomegranate.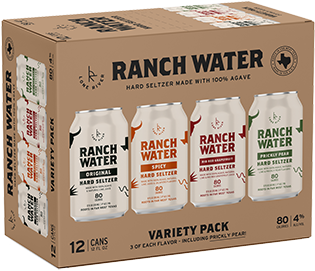 LONE RIVER RANCH WATER VARIETY PACK
Lone River's Ranch Water Variety 12-pack features the brewery's core flavors: Original Ranch Water, a mix of tequila, lime juice and soda water; Rio Red Grapefruit, ranch water with a squeeze of Rio Red grapefruit juice; Spicy, ranch water with a Texas-sized kick of jalapeño and variety pack exclusive Prickly Pear, inspired by the prickly pear cactus fruit found in the high desert of Far West Texas.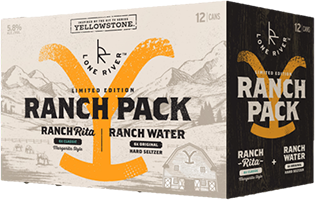 LONE RIVER YELLOWSTONE RANCH PACK
This limited-edition variety pack is for the Yellowstone fanatic, the one who can't get the Dutton family out of their heads. Included in this 2/12 can mix are: Ranch Water Original and Ranch Rita Classic.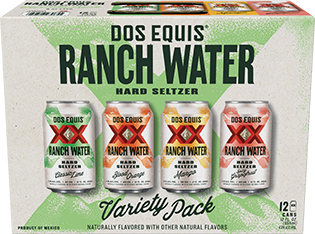 DOS EQUIS RANCH WATER VARIETY PACK
Dos Equis is giving customers even more of the tastes they love with the highly sought-after Dos Equis Ranch Water Hard Seltzer 2/12 can Variety Pack. Included in the mix are: Classic Lime, Blood Orange, Mango and Spicy Grapefruit.