Great Tasting, Award-winning, Non-alcoholic Brews Fit for All Times
---
Watch the story behind Athletic Brewing Co. straight from the founders
Athletic Brewing Co. is dedicated to crafting delicious non-alcoholic beer to be enjoyed anytime, anywhere, with no worries and no hangovers. Athletic brews are crafted with a proprietary process that allows the beers to maintain full flavor – which is why the brewery continues to win numerous awards when up against full-strength beers.
---
Crafted on Two Coasts
Athletic was started in Stratford, CT – the place where founders Bill and John first began test-brewing. They crafted over 100 batches on homebrew equipment to perfect their process and refine their flavors. Once satisfied, they built an entire brewery around it. Since then, they've moved just down the road to Milford, CT and built the world's largest dedicated NA brewery. They've also expanded to San Diego, CA. Between the two breweries, Athletic is able to bring the finest and freshest NA beers on the market to customers on both coasts.
---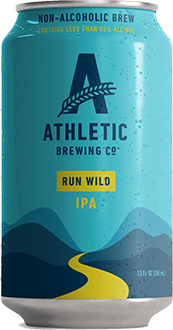 Run Wild is the ultimate sessionable IPA for craft beer lovers. Brewed with a blend of five Northwest hops, it has an approachable bitterness to balance the specialty malt body. It's always refreshing and only 65 calories.
---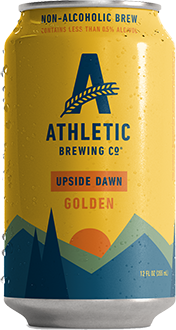 A classic golden style, Upside Dawn is refreshing, clean, balanced and light-bodied. Subtle earthy and spicy notes are balanced with citrusy aromas. Upside Dawn is brewed with premium Vienna malt along with a combination of English and American hops. Upside Dawn is crafted to remove gluten.
---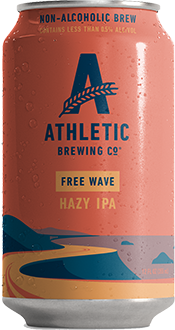 Free Wave is a hazy IPA meant for the open road. Whether you're cruising the Pacific Coast Highway in a convertible or tracing your way up the coast on your bike, Free Wave doesn't cut corners. This mouthwatering IPA is loaded with Amarillo, Citra and Mosaic hops. You'll want to grab a few for the road!
---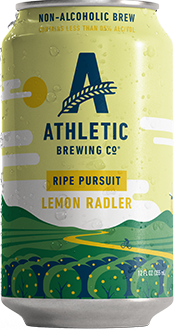 Ripe Pursuit is based on a simple belief: the juice is always worth the squeeze. This seasonal, lemon-infused, radler-style brew is bursting with citrus and balanced with a light sweetness. Smooth and zesty with a moderate haze, it's about as refreshing as it gets and a perfect fit for summer.
---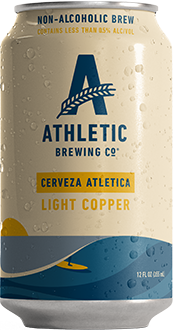 Cerveza Atletica is a refreshing Mexican-inspired light copper lager made with refreshment in mind. A unique blend of Vienna and Munich malts provide a rich copper hue with an aroma of delicate bread crust that is balanced with light spicy and floral notes from the noble hop, German Hersbrucker. It's balanced with a dry finish, and pairs perfectly with spicy salsa and fish tacos.
---
Why Athletic?
It's the #1 selling craft NA brand, expected to be a top 15 craft brewery by 2024.
Athletic is the 13th largest craft brewery in America by volume in 2022 according to the Brewer's Association.
Athletic's on-premise volume increased +145% in 2022 versus 2021.
Their Stratford, Connecticut-based brewery is the world's largest NA brewery, with 450k BBL capacity.
25+ gold medals have been awarded to Athletic beers.
Athletic is a Certified B Corp.
The NA brewery's Two for the Trails program raised $1.3 million in 2022, which was spread across 106 organizations supporting outdoor parks and trail restoration projects.
Athletic Brewing donates an additional 1% of revenue to non-profits who are breaking down barriers in the craft beer industry for traditionally underrepresented folks.
---
Two For the Trails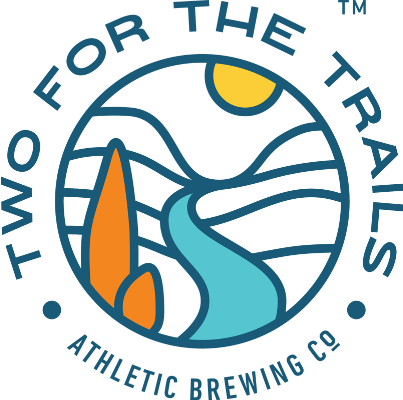 With Athletic's Two For the Trails grant program, they donate 2% of all sales to support active lifestyles in the outdoors. Two For the Trails was built to help cover funding gaps on projects that will provide a transformative impact on the community.
---
POS & Programming
Expanding NA Display Opportunities Helps Build Baskets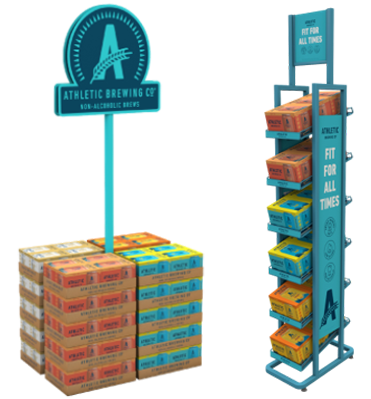 ---
Meet the Crew Behind Athletic Brews