The new GOLD standard in light beer proves that "Less can be More."
A superb liquid with only 90 calories and 3 grams of carbs, this innovative beer inspired by the great taste and "Fighting Spirit" of Modelo Especial, is made for all the light beer drinkers who refuse to compromise on flavor.
When asked why he thinks Modelo Oro will be a big hit, Brand Manager Mauricio Ramirez got right to the point. "Liquid to lips. Great taste always wins," he said without hesitation. "In our three test markets, Charlotte, Fresno and Houston, the velocity of sales and repeat purchases exceeded our expectations. Of course, we wanted to know why it performed so well. As I said, liquid to lips. A full 95% of consumers surveyed (the sampling included Hispanic and general market drinkers) gave it 4 out of 5 stars for taste. And retailers will be happy to know that they were willing to pay more for this high-quality, light beer experience."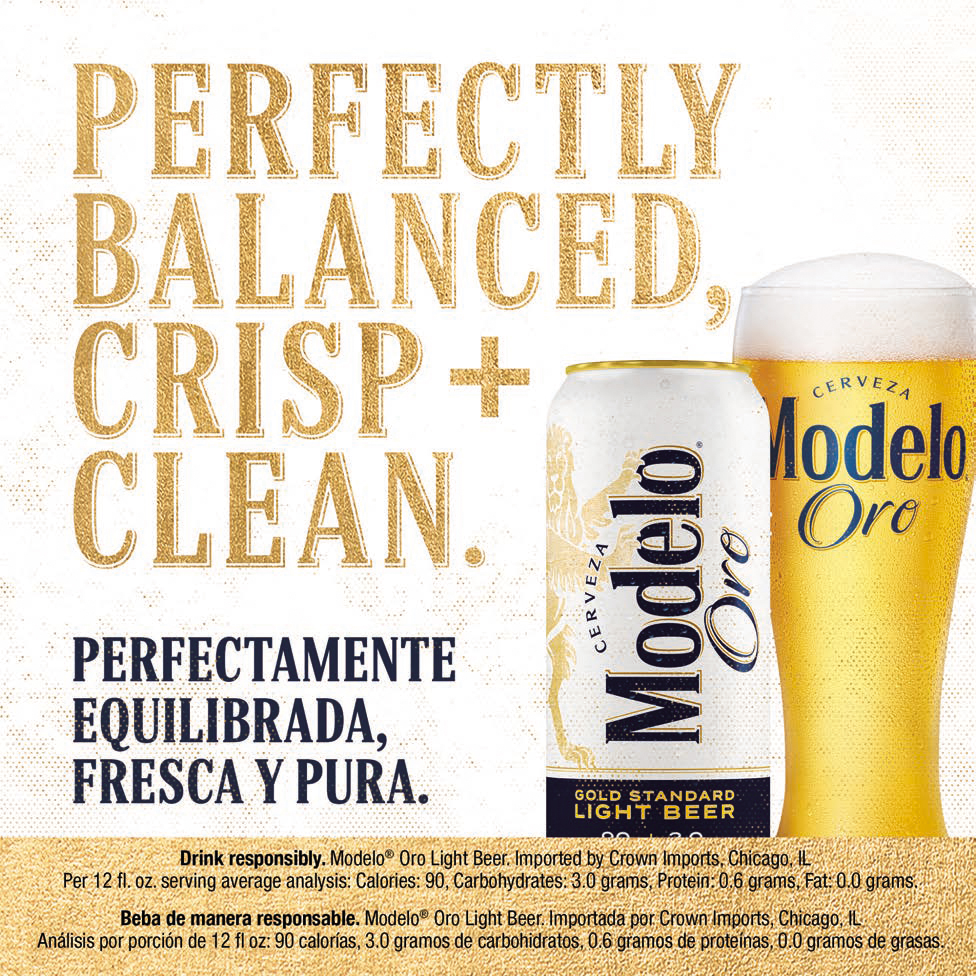 The light beer segment is a huge part of the beer category, and many light beer drinkers want more character from their beer, not just fewer calories. "The key consumer demographics for Oro are general market men and Hispanics who are dissatisfied with mainstream lights," said Constellation president Bill Newlands at the company's most recent convention. "So, there is a differentiated opportunity amongst those brands because Oro stands out from the crowd with a name that communicates not only the color of the beer, but also the quality and Modelo's authentic Mexican roots."
Greg Gallagher, Vice President of Brand Marketing for Modelo agrees with Newlands and says, "As the entire category continues to premiumize, we saw an opportunity to use the credentials of quality and authenticity Modelo is known for to create the new gold standard of light beer. We're really proud of this liquid. Across the board, consumers love the taste of Oro so they don't mind spending a little more money. And cannibalization doesn't seem to be an issue. Sales are a remarkable 2/3's incremental to Especial for both Hispanic and general market consumers."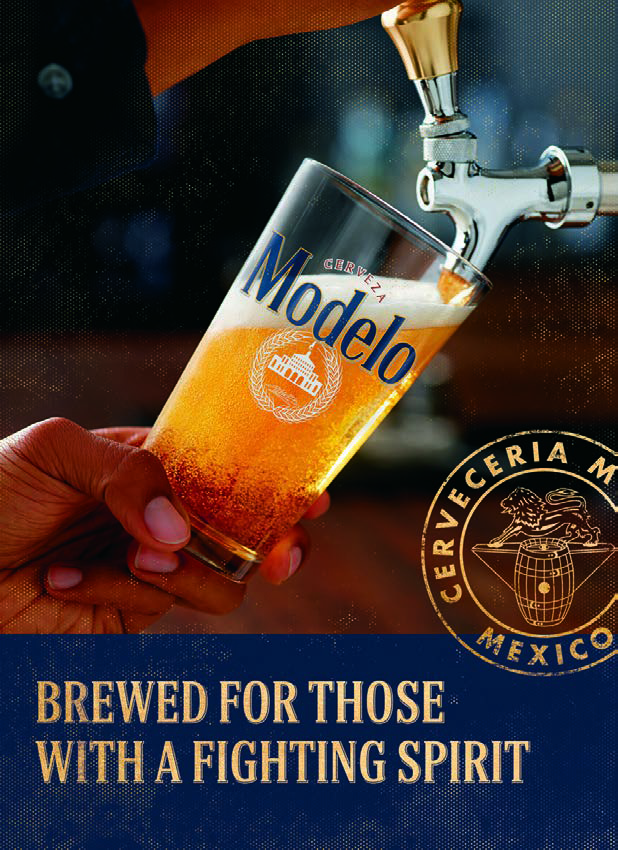 Casa Modelo – Brands Worth Their Weight in Gold
Constellation prefers to let their brands grow slow and strong with a focus on core brands and deliberate innovation rather than introducing new offshoots willy-nilly. Their top-notch portfolio of brands delivers efficient SKUs that grow volume and profits at retail. Consistently growing year after year, beers like Modelo Especial and Negra Modelo are bright spots in the category. Their portfolio has something for every consumer – from c-store darling Modelo Chelada, to golf course regular Corona Premier, to Gen Z-favorite Pacifico. This is not a company that chases any old trend; rather, they wait for something that's right in their wheelhouse – like premium, BFY light beers – and hit it out of the park. We think you'll agree that they've done just that with Modelo Oro, Modelo's first major innovation since Modelo Chelada.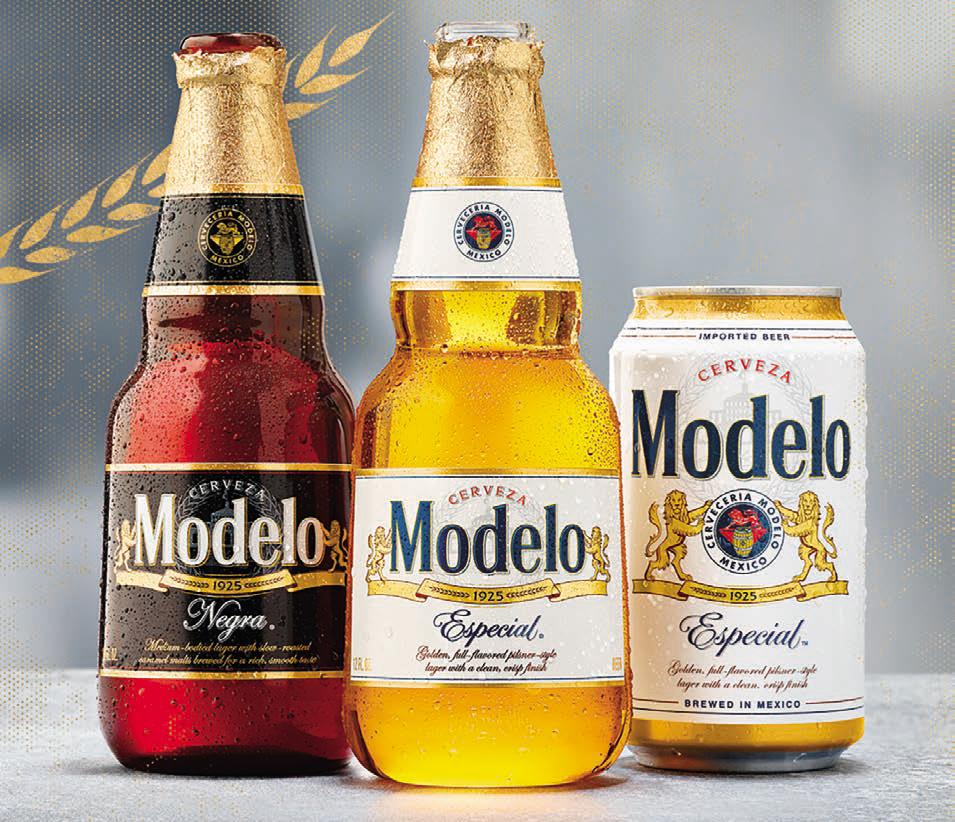 "We built an extremely strong foundation beginning with our core Hispanic consumer, who are critically important to our business," Gallagher says. He went on to say that the Modelo will never stop focusing on these consumers, but he also knows that beyond this demographic, there remains tremendous opportunity for Modelo brands. He went on to explain that swaths of consumers aren't familiar with Modelo Especial, despite current sales numbers. This beer is poised to be the country's number one brand measured by sales. Constellation aims to bring new consumers into the fold via continued marketing investment and thoughtful innovation with products like the much-anticipated Modelo Oro.

Golden Opportunities, World-Class Marketing and Cinco de Mayo
There is no doubt that Oro will introduce Modelo brands to an even wider audience, from high-end light beer drinkers to Especial fans looking to mix in some moderation. To drive awareness, Oro's national roll-out is supported with a marketing investment of nearly $30MM, which includes $18MM for national TV and digital media that runs through Labor Day weekend. The launch includes sampling programs in the on- and off-premise to drive trial of this amazing liquid.
And we know you're wondering… just what does Modelo have planned for Cinco de Mayo? Well, they're playing that one close to the vest – but expect a celebration steeped in authenticity.
"Without giving away too much, we are once again bringing back our Modelo Mercado and encouraging consumers to 'Cinco Auténtico,'" says Gallagher. "We're honoring our heritage by working with local Mexican American artisans across the country to highlight items that consumers can bring to their Cinco festivities."
It takes more than luck to strike gold in this business, but Constellation has put in the work and is reaping the rewards – and so can you.