Pretentious? Never. Passionate? Always.
That phrase describes 2SP Brewing Co., the small but mighty craft brewery and pride of Delco to a T, but it's also a fitting description of their Director of Sales and Marketing, Mike Contreras. While Contreras originally had dreams of obtaining a PhD., his mother recognized that his talents and passion (not to mention his outsized personality) might be better suited to craft beer. Thankfully, Contreras took her sage advice. Now, alongside head brewer Bob Barrar, Contreras leads 2SP, one of the country's most renowned breweries. From a humble operation and against Everest-sized odds, this brewery continues to defy expectations.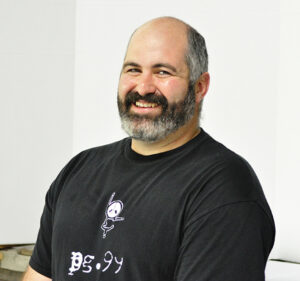 Heady Times caught up with Contreras to learn more about his mother's fateful craft beer intervention, what his dream collab would be and what new beers 2SP is releasing this summer. We can't wait to try Strawberry Switchblade Hefeweizen and enjoy another Voluptuous Fuzz.
Heady Times (HT): How'd you get your start in craft beer?
Mike Contreras (MC): My mom sent my resume to Boston Beer while I was in graduate school. I thought I was going to go for my Ph.D., but my mom put a stop to that. She said, "Honey, you know how much I love you… Well, I've seen your writing and got to meet some of your classmates. Maybe beer sales would be a better fit." She was right! Boston Beer passed on me (good move on them), and I found a nice home at Rogue Ales & Spirits.
HT: You're OG 2SP and have been with the brewery since the beginning – what are some of your favorite memories & milestones?
MC: We employ unemployables. Any accomplishment feels like an absolute triumph against Everest-sized odds. When our team wins medals at GABF and World Beer Cup, it's a tremendous compliment we all take pride in. A little brewery in Delco being awarded top prizes for quality is a huge validation. Looking back, we have grown at a nice, steady pace. There has been no compromise in our values and the brand feels like a genuine extension of our people. To see where we are today is a solid reflection of our team, no matter how bald and gray we've become.
HT: Last year you did a total package rebrand. Tell us about the process and how you and the team decided on the local slant for the design.
MC: When the pandemic hit, our weaknesses were exposed. Although we loved our original design, it didn't have the full billboard effect that a brand needs to stick out on the shelf. Our beers weren't selling well at retail compared to the on-premise, and we felt packaging was a primary reason. COVID made that weakness borderline debilitating. (Thankfully we made it out of the pandemic without having to furlough or let any of our employees go!) In working with our designers, we wanted to showcase three things: consistency in design, Bob the Brewer and a sense of place. The result is different colors, but the same layout, including a different Bob character and a keystone. Even with the pandemic, we are +20% on our core package with the redesign.
HT: 2SP recently opened a new brewpub in Chadds Ford – how long has that been in the works? Will there be more locations in the future?
MC: The Taphouse has been in the works for some time. We wanted to have an outpost for our brand on the other side of Delaware County, as our brewery is in Aston. It's been great. The other half of our ownership got their start in restaurants and currently operate Two Stones Pub with locations in Delaware and Chester counties. Not gonna lie here… we're not planning anything new right now. We're pretty busy at the brewery.
HT: You continue your stellar streak of collaborations with Wawa and released a great one last year with Sly Fox – Dog Will Hunt. What other breweries would you like to work with?
MC: I'd say Allagash or Sierra Nevada for two reasons: They're at the top of our teams' list as favorites and we'd love to take them out in Delco just to have them hear what the locals think of their fancy Patagonia gear.
HT: What can retailers and beer fans get excited about from 2SP this spring/summer?
MC: Voluptuous Fuzz Peach Wheat & Strawberry Switchblade Hefeweizen. We're brewing accessible fruited beers that consumers will want to drink when it's humid AF this summer. Y'all won't be disappointed.