Stone Brewing's new CEO Maria Stipp brings her extensive experience to one of the nation's largest craft breweries.
The exhaustive process of finding a new CEO for a top 10 craft brewery can oftentimes take more than a year. But for Stone Brewing founders Greg Koch and Steve Wagner, it took less than a month. That's because hiring Maria Stipp, formerly the CEO of Lagunitas, to step in and lead their team was practically a no-brainer. During her tenure at Lagunitas, the brewery doubled in size, and in each of the last two years, produced over 1 million barrels. Now Stipp is bringing that extensive experience to San Diego's legendary Stone Brewing Company.
Stipp made time in her busy schedule to chat with Heady Times to discuss her first year on the job and give us a peek at what's in store for the future of Stone.
Heady Times (HT): How did you get your start in craft beer? 
Maria Stipp (MS): I was working for a company in San Diego and I started to try all types of amazing local beer from several breweries… Stone, Ballast Point, Societe… and really fell in love with the hop-forward IPAs. Subsequently, I received a call from a recruiter asking if I'd interview for the CEO role at Lagunitas. I remember the first time I was able to go into the brewhouse and, suffice to say, that was a life changing day!  
HT: What made Stone such a great fit for you? 
MS: I love the craft beer industry, and Stone has played a key role in defining it. So, when I learned about the opportunity, I couldn't help but be interested. Much of my career has been spent working at founder-led companies, the last four companies to be specific. In my experience, that setup with CEO + founder does require a unique way of leading arm in arm and that made this a fitting role for me as well.  As CEO at Lagunitas, I led the team through growth and a lot of change that came with it, and that's our ambition at Stone as well. This is a phenomenal team with an incredible portfolio of beers, a rich history and big ambitions. The team is poised to grow, and I was fortunate enough to be chosen for the role.  
HT: You're coming up on one year at Stone. Were there big surprises and successes that stand out from this first year? 
MS: There are a few things that stood out right from the start. First, the power of the brands. Our consumer surveys continue to tell us that high quality and great taste are a winning combination at Stone… those words are hard to earn and they're meaningful! Additionally, we decided to take some promotional action with our flagship Stone IPA, something we had not done in a while, and test the reaction with the consumer. I was thrilled at the rate of sale change and found this to be sustainable even in the sea of IPAs that we compete against.  I also noticed the genius of the brewers. The innovation prowess is beyond impressive. For example, we conceived our idea of a high-quality seltzer and brought it to market in just seven months. I can't wait to launch Buenavida Hard Seltzer in SoCal this July!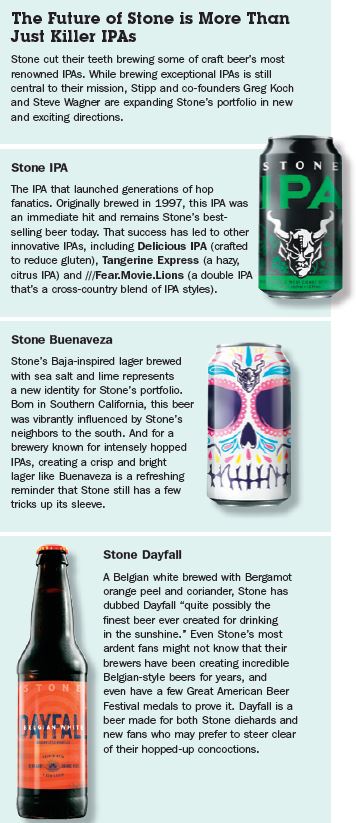 HT: This year marks 25 years in business for Stone. How are you guys celebrating the anniversary? 
MS: Well, due to COVID, we're planning for a big blowout 25+1 event in 2022. But we have some tricks up our sleeve this year too. We'll be hosting beer pairing dinners and intimate events at our bistros and taprooms this September.  
We're releasing Stone 25th Anniversary Triple IPA in August. We all agreed we couldn't have a 25th anniversary without offering a huge West Coast-style IPA for our fans.  
Overall, it's really special to be a part of this team as we celebrate a quarter-century. Stone's co-founders, Greg and Steve, have contributed so much to the brewing industry and Stone has truly become a meaningful part of peoples' lives. Our fans wear the Gargoyle with such pride and genuinely feel a part of this company. That's a true honor.  
HT: Stone has built its legacy on being one of the true innovators of brewing IPAs, but Buenaveza has emerged as a possible new direction for the brewery. Can you tell us about this transition and strategy? 
MS: Being true innovators of IPAs absolutely remains central to our mission. But for every IPA we put out in market, there are many other styles that our brewers are experimenting with on our small batch systems. Stone Buenaveza happened to stand out. We started pouring it at our bistros and the beer quickly became a big hit. We've also been paying close attention to category insights and seeking opportunities for Stone to invite new fans to the brand. The Mexican lager style is an approachable and popular one, and we hope that new fans discover the quality and creativity of Stone's beers through this style.  We have some of the best brewers in the world. They make killer IPAs, but it doesn't end there. Stone Buenaveza is proof of that. Stone Dayfall Belgian White was another great example and our Buenavida Hard Seltzer is going to show yet another way that a high bar of quality doesn't just need to be IPA-centric. 
HT: With the recent movement of craft beer employees sharing stories of sexism and abuse in the industry, how do you feel craft beer can become more equitable through awareness and action? 
MS: Personally, I've started by listening in an effort to truly understand the issues. That's just the first step, but it's a very important one. I'm accepting this as a call-to-action for us in craft beer. We've been letting women and minorities down and our collective voices are finally being heard. I think it's the responsibility of businesses to act and, as individuals, to stand up for one another. We have work to do, and we are committed to doing all we can to make Stone a safe, harassment-free, supportive work environment.  
HT: Finally, can you let us know what we can expect from Stone in late 2021/early 2022? 
MS: Buenavida Hard Seltzer is coming! We're launching in SoCal to start, with hopes of bringing it national in early 2022. We're taking a really playful, yet elevated approach and releasing it in custom-molded glass bottles. Of course, we wouldn't be doing it at all if the seltzer itself weren't exceptional. It's brewed with real cane sugar and natural flavors and it really lives up to the Stone name.  
For Stone Xocoveza fans, this year we're mixing it up with Stone Xocoveza Tres Leches. Stone Xocoveza is inspired by Mexican hot chocolate, and brewed with cinnamon, nutmeg, coffee, chocolate and pasilla peppers. Now, we've added the influence of tres leches cake. It's silky-smooth and indulgent and I'm going to be enjoying my fair share of it this winter!