The biggest thing in beer is here to stay, and there's plenty of room for growth

The biggest thing in beer is here to stay, and there's plenty of room for growth
To capitalize on this relatively new segment that appeals to men and women of all LDA generations and demographics, you just need to allocate enough space and offer the right assortment.
Sound familiar? Sure it does. As you've heard us say many times, play the hot hand and give your customers enough "discovery" brands to make things interesting.
In less than a decade, hard seltzer has become the biggest thing in beer since light lager. Sessionable at around 5% ABV and low in calories & sugar, with a kiss of flavor that mimics the non-alc seltzers consumers love, hard seltzers mesh perfectly with popular consumer trends (the quest for flavor, convenience & healthy-ish adult beverages) and appeal to drinkers across all ages, genders and backgrounds. Whether customers are looking for a single can to drink with takeout or a 12-pack to share with friends, these days, there's a good chance they're reaching for hard seltzer.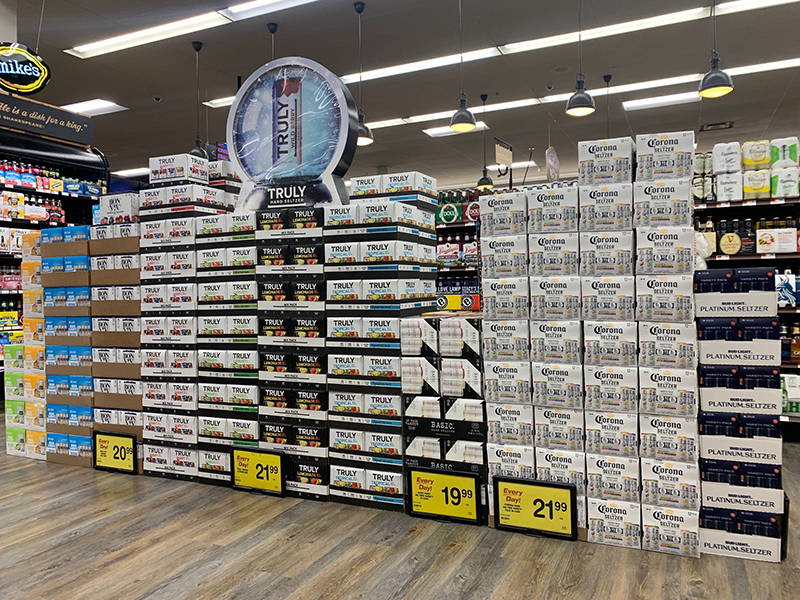 There's no denying that hard seltzers are a total gamechanger, having altered the industry and even American consumption habits, which have become deeply engrained due to nearly a year of COVID lockdowns. But will it be the next "pumpkin beer bubble" ready to burst when you least expect it and when you have invested money in tons of inventory? Absolutely not.
Here's why you should get on board.
Hard seltzer sales aren't slowing down. The category leaders, White Claw and Truly, posted triple-digit gains and 13 of the top 25 best-selling new beer brands of 2020 were seltzers. It's safe to say that this category isn't like hard soda, which experienced a sophomore slump and never rebounded. And industry analysts like Dan Wandel, speaking on behalf of Mark Anthony Brands, see plenty of room for more growth. "Hard seltzer can easily attain a 20 share of all beer sales. Household penetration of the category is somewhere around 70 percent. And [hard seltzer] outsold all craft beer in 2020. With those kinds of numbers, it's hard to understand why craft still commands three times the shelf space at retail. Sounds like some businesses are leaving money on the table."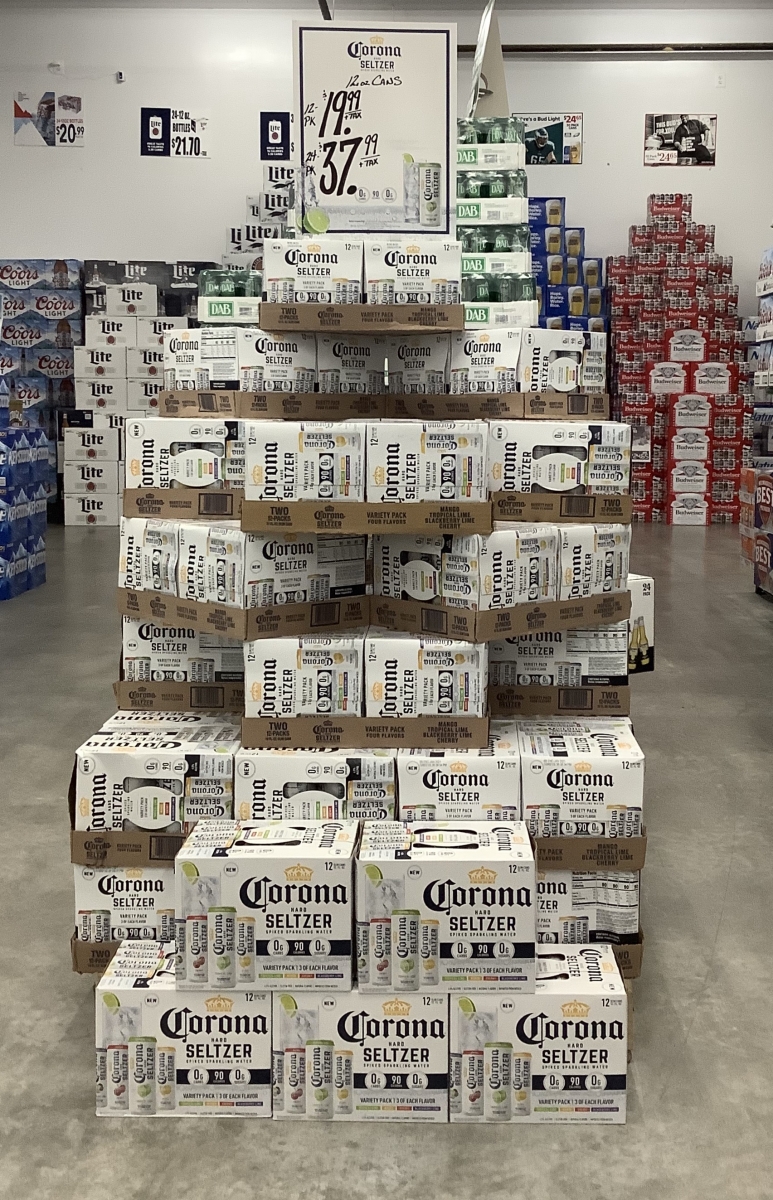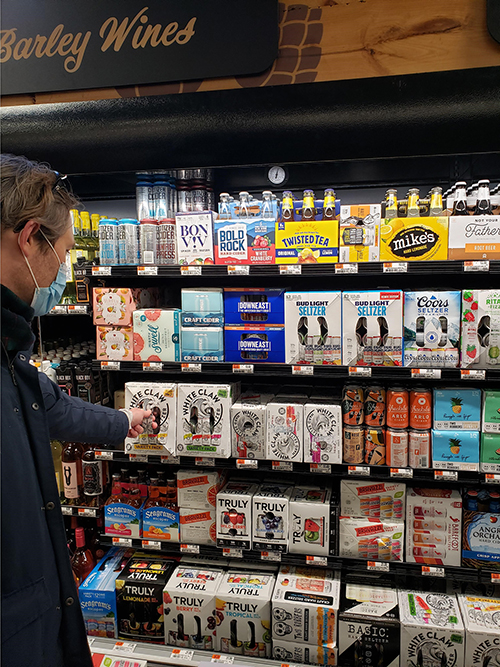 The category is evolving. It's still a two-brand race, but interesting new entrants are ready to claim their fan base. Don't disappoint your customers.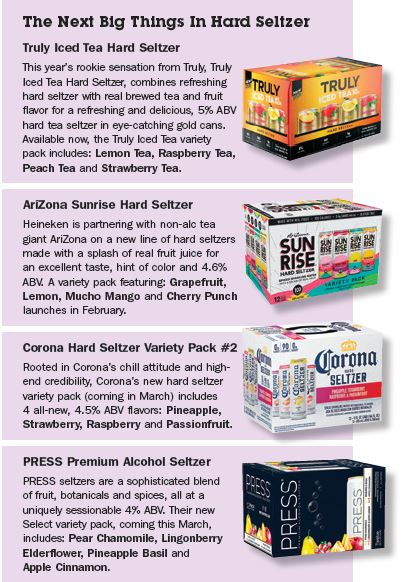 We don't have to tell you that White Claw and Truly are the dominant players driving the category and significantly improving beer sales, yet there's plenty of demand for other brands to succeed because there isn't just one kind of seltzer consumer. Many hard seltzer consumers are devoted to their favorite brands and flavors, but want something different from time to time. There are those who are completely new to the category and then there are a group of consumers who will always gravitate toward lesser known, high-quality brands.
That leaves plenty of room for newer brands like Labatt Blue Light Hard Seltzer, Corona Hard Seltzer and Coors Seltzer to make their mark. And as consumers adjust to the wealth of hard seltzer options and begin to search for a specific seltzer that fits their taste and price point, don't be surprised to see more seltzers from iconic breweries like Heineken (whose AriZona Sunrise boasts more fruit flavor in a colorful liquid) and a shift toward premium brands like PRESS Premium Alcohol Seltzer.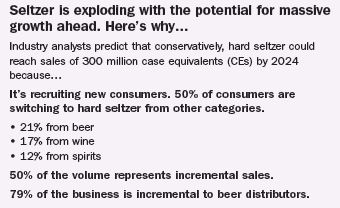 Brands like PRESS – a suitable replacement for rosé or prosecco – are expanding what seltzer can be with BFY spices and botanicals in offerings like Pomegranate Ginger or Lime Lemongrass. On the craft side, Saranac's Green Tea Spiked Seltzers balance green tea with classic flavors like raspberry and lemon, while Cape May's new seltzer variety pack features four flavors made with real fruit juice.
Whether they're looking for BFY refreshment or a spiked mixer to keep the party going, consumers are increasingly turning to hard seltzers, which have become an everyday purchase. As Origlio's Director of Sales – Grocery and Chain Convenience Mike Kugler explains, "We haven't seen the ceiling, let alone hit it. There's plenty of room for expansion in this category, especially given the innovation that keeps coming."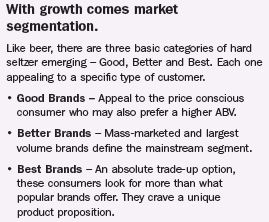 Not every occasion can be met by beer, cider or other FMBs, and hard seltzers help fill that gap for many customers, keeping them in the beer aisle instead of reaching for a bottle of wine. Earlier this year, The Wall Street Journal reported that in 2019, Americans drank less wine for the first time in 25 years, as millennials opted for alternatives like cocktails, NA beer and (you guessed it) hard seltzer. And as millennials are more likely than older generations to drink across categories, expect that trend to continue as hard seltzer dominates the scene and millennials become a larger majority of the LDA population.
It's always hard to predict how any phenomenon will play out in the long run, but one thing is clear: it's time to make more room for the variety of seltzers your customers are looking for.