Lord's dedication to brewing explains why an American classic like Narragansett Lager is still enjoyed today.
Lee Lord's passion for beer never wavered as she pursued her goal to become a professional brewer. Now as head brewer for Rhode Island's beloved Narragansett, Lord not only brews up the classics, but also experiments with this historic brand's recipes – and still finds time to collaborate with other brewers to create tasty, limited-edition brews. In addition to perseverance and hard work, Lord credits much of her success to the Pink Boots Society & the support of coworkers, particularly Narragansett's intrepid CEO Mark Hellendrung.
This 132-year-old brewery has weathered many challenges thanks to Hellendrung's vision and a team of talented professionals making beer the Rhode Island way.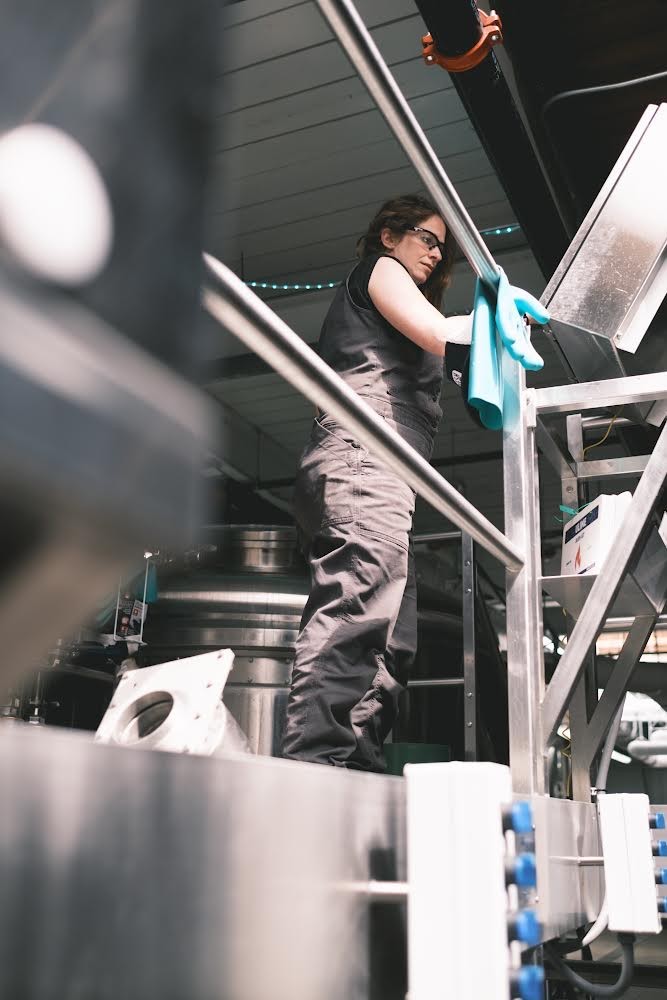 Heady Times (HT): The revival of Narragansett has been inspiring to watch – what has it been like to help restore the brand alongside Mark Hellendrung and the rest of the Narragansett team?
Lee Lord (LL): It's been a huge honor to work for such an iconic brand. I'm so proud of the work we're doing, and it's been incredible to work with Mark and the team. They've always been enthusiastic about rolling up their sleeves to do the hard work, whether that's hanging the glycol lines that chill our tanks, milling the grain… really anything we need. They're a constant source of encouragement and I count myself very lucky to have them.
HT: How did you get started brewing?
LL: I began my journey as a brewer at the very bottom of the ladder. I walked into a little brewpub outside of my hometown and asked if I could help – they threw me a mop and said, "Start helping." I learned so much in those early days when I could only dream of being the head brewer at Narragansett.
HT: You are very involved with the Pink Boots Society (a non-profit association that supports career opportunities for women in brewing). What is your role and why is your participation important to you?
LL: I wouldn't be where I am now without the Pink Boots Society (PBS). I received a scholarship through them to complete UC Davis' Brewing Science program, and I wouldn't be the head brewer of Narragansett without the confidence and knowledge that opportunity gave me. I'm a member of the Northeast chapter and most of our work focuses on fundraising that goes directly towards PBS's scholarship program for both veteran and upcoming brewers. Every year, Narragansett does a Pink Boots brew day where I invite other women to come learn and brew with me and we donate proceeds to the scholarship fund. An added bonus of the organization is all of the connections and friendships that are made.
HT: In the last few years, you've collaborated on quite a few specialedition brews, like Nordic-inspired farmhouse ale Norse x NorseWest made with Kelly McKnight of New Belgium and Good Luck Malt Liquor with Sam Adams brewer Eryn Bottens. What inspired those collaborations?
LL: Friendship was my biggest inspiration. The brewing community is amazing because of how collaborative and how welcoming folks are. Kelly and Eryn are two of my closest friends in this industry and I was elated to create beers with them. Brewing with New Belgium and Sam Adams was also amazing because these giants of craft beer eagerly share their knowledge and resources. Collaborations help bring brewers together to share different ideas and everybody comes out with a greater understanding and perspective.
HT: Narragansett beers are famous for repping Rhode Island culture. Are there any RI institutions or traditions you would like to honor with a beer?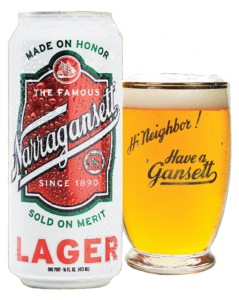 LL: I'm always looking for inspiration from my state. I'm working on a recipe honoring Newport Polo, one of the first polo clubs in the country. I traveled to Buenos Aires and sourced some hops and malts for it. Argentina is the polo capital of the world, and my favorite Newport polo pony was trained there.
But the Rhode Island-inspired beer I'm most proud of is our recent collaboration with the Rhode Island Historical Society. My passion, aside from brewing, is history – I'm a historic reenactor with 18th century sites and museums. RIHS was founded in 1822, so I did a lot of research to make a porter based on a recipe I found from that time. It was a bit of a trust fall, because I wasn't sure how the beer would taste using the proportions of malts common to that time, but it turned out amazing!
HT: Say some Pennsylvania-based beer lovers made the trek to Providence – what can they expect from a visit to Narragansett, and what else should they do while they're in Rhode Island?
LL: Get ready for an unbelievable sunset over the Seekonk River and a beer for every kind of palate. Our taproom has twelve draught lines with a wide selection of styles, so there's something for everyone! Rhode Island is also home to some unbelievable seafood. Grab a stuffie and a lobster roll, or a cup of chowder at a nearby place, and enjoy!
HT: Narragansett has made a lot of big moves in the last few years; what's next for 2023?
LL: Expect more innovation and creativity out of our brewery here in Providence. We love embracing and experimenting with different styles, both new and old. Technology in hops and malting is always evolving and we like to be at the forefront of that. On the other side of things, we also love being able to embrace classic styles like our Bohemian Pilsner and Hanley's Peerless Ale, and give nods to the past with beers like 1822 Porter and Norse x NorseWest. Our portfolio of beers continues to grow, and I can't wait to add to it!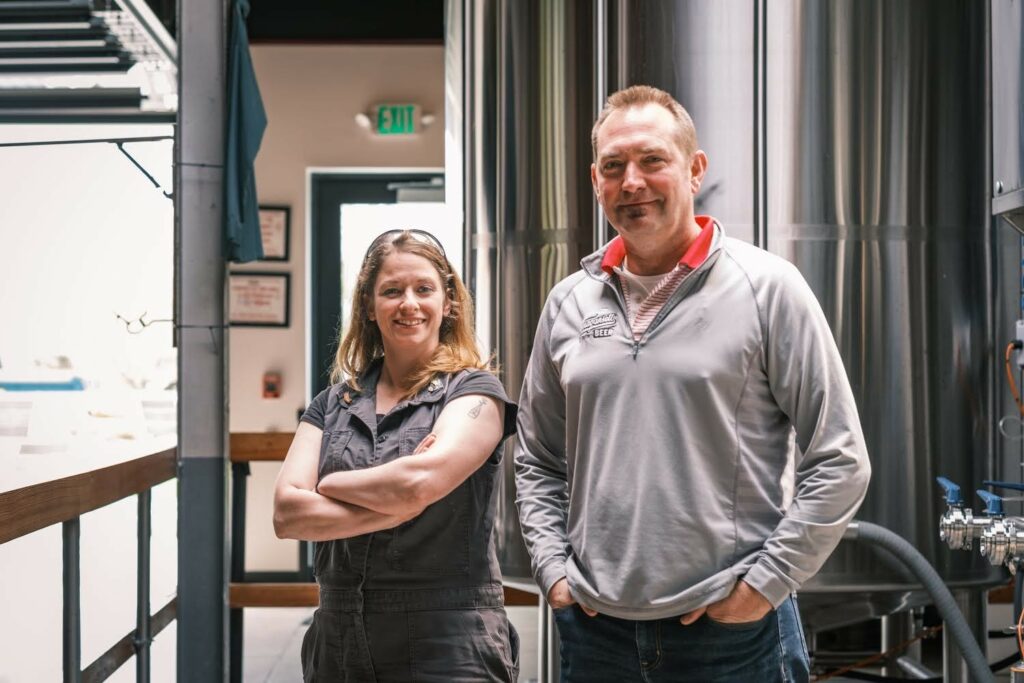 ---
Narragansett Lager: An American Classic
Narragansett Lager is a true classic – it was the first beer brewed by Narragansett back in 1890, and it's what fuels the brand's modern revival. But how well do you know Lager?
Narragansett Lager was the best-selling beer in New England from the 1930s to the 1970s, and Narragansett was the largest producer of lager in the region for decades.
The current Lager can design was inspired by vintage Narragansett signs dating back at least to 1911.
During Prohibition, Narragansett couldn't brew beer – but it did make malt extract for pharmacies! The extract was thought to "reinvigorate" patients and "enrich" their blood.
Narragansett was the first alcohol company to officially sponsor a sports team when they partnered with the Boston Red Sox in 1944. This partnership lasted through 1975 and led to a boom in sales, particularly of the brewery's flagship Lager.
In 1959, Narragansett brewed 1 million barrels in a year for the first time. They celebrated by distributing gold-plated Lager bottles to brewery staff.
Though the Lager recipe has been through many changes over the years, today Narragansett Lager is brewed with 6-row malt, seedless hops, corn from Iowa, the purest water from Lakes Ontario & Hemlock and the same lager strain the brewery has depended on since just after Prohibition.