All in the Family

All in the Family
The Thorntons have more than left their mark on the Philadelphia area. Tom Sr. has built an empire of around 100 businesses (30 in the food industry) where his kids got their start washing dishes, and where community spirit flourishes. We met with eight members of the extended Thornton clan at J.D. McGillicuddy's in Havertown this September to talk family business.
Heady Times (HT): How did you all get started in the industry?
Tom Thornton, Jr. (TJ): My dad started in 1974. I remember going with him to pick up supplies and help clean the very first bar he owned (The Goal Post, also in Havertown). It's been a lifelong adventure. Every single one of us started as a dishwasher and worked our way up to being partners with our father.
Tom Thornton, Sr. (TS): J.D. McGillicuddy's was founded in 1994. It was named after a very good friend of mine, J.D. McDonald. I couldn't use the McDonald name because I didn't want to get sued. [Everyone laughs] But whenever he came by my house, my kids would say, "Hey, McGillicuddy's here!" So I figured I'd call it J.D. McGillicuddy's.
HT: What sets J.D. McGillicuddy's apart from other establishments?
TJ: The spirit of all our places is community. When you walk through that door, you're going to be greeted by smiling faces, whether it's for an Eagles game, Sunday brunch or Thursday night – when kids eat free. Just the other day, a woman whose son I'd coached in baseball came by and said, "Sam loves coming to McGillicuddy's for lunch." That's what we try to appeal to, the family.
TS: We do a lot of catering for the local colleges and grade schools. We give to the community and they give to us.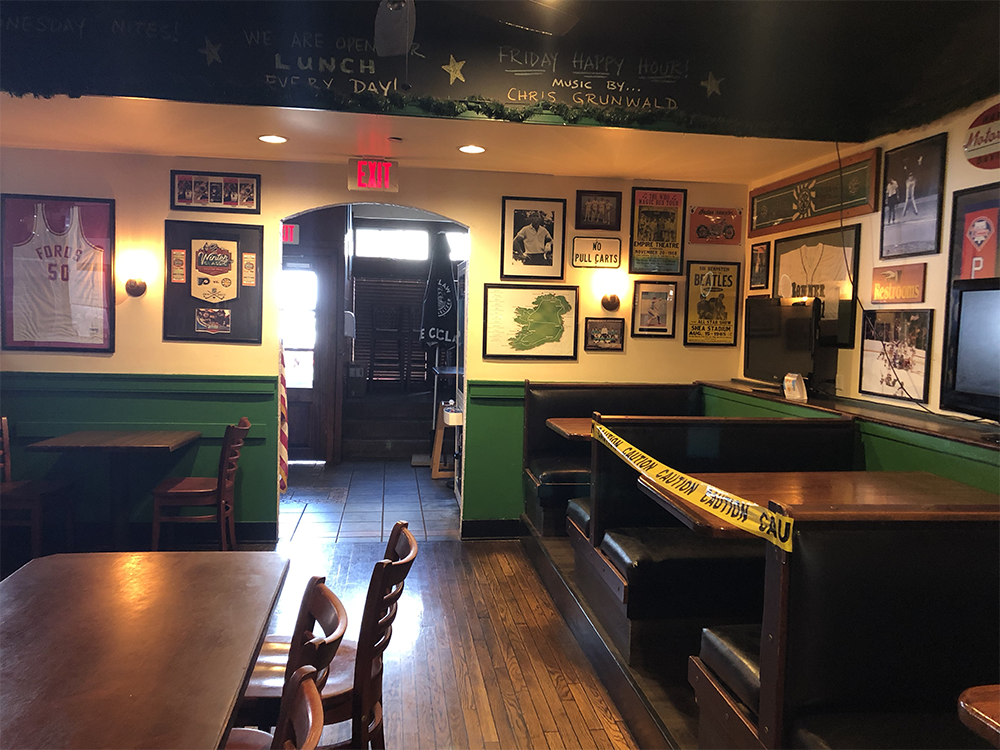 HT: How have you adjusted to the pandemic?
Matthew Thornton (MT): One of the most important things we did was get out in front of it.
TJ: At the beginning, there was a lot of uncertainty, but my brothers really stepped up. We were the first in the area to close [for in-person dining], and we started doing family-style meals for takeout right away. We posted about what we were doing [on Facebook and Instagram] and that put us on the map. My brother, Michael, brought us the takeout slushy idea and that took on a life of its own. We were making slushies [with FMBs like Smirnoff] 24/7 for a while. We asked the township if we could use the street outside [for outdoor dining] and they very graciously allowed it. We were leaders with this. You have to do that, people expect that, and they've really come out and supported us.
TS: There are talkers and doers, and I believe we're doers. That's what we stand by.
HT: How are you preparing for the holidays this year?
TJ: We're going to have to get a lot of heaters for that tent out there. [Everyone laughs] You know, that's the big question everyone has. We just have to hope that as the weather gets colder, maybe things change, maybe Governor Wolf changes his mind. We're fortunate that we have two floors so that we can put people upstairs at this particular location and keep everyone at a safe distance.
HT: How has Origlio helped your business over the years?
TJ: Origlio has always had great brands and our Origlio salespeople, Kevin [O'Rourke] and Tim Stammen have been instrumental in helping us choose what will sell at each of our locations. Those are two guys I'd really like to thank.
TS: And don't forget [retired Origlio rep] Juke Fanelli! Juke was the best salesman of all time. That's for the old timers! Make sure you put Juke's name, or I'll get a call!