For 30 years, Great Lakes Brewing Co. Has been serving up great beers and making their home base of Cleveland, OH proud with label artwork that reflects their community's history. But now, GLBC and their CEO, Mark King, are staring down a new, previously unthinkable chapter in craft beer: how to continue brewing their award-winning beers safely and efficiently during the COVID-19 era.
"The pandemic has certainly forced us and many others to get creative and find new ways to reach our customers," says King. And after having recently made their staff employee-owners of the brewery, navigating this new normal became even more imperative. We sat down with King to find out more about how GLBC has modified their process and used their three decades of craft beer experience to adjust to this new era.
Heady Times (HT): First off, can you tell us a little about your transition at GLBC during the spring shutdown?
Mark King (MK): Obviously, the pandemic has had an immense and sobering effect on so many in our industry and we certainly haven't been immune. Our approach is ever-changing based on new information and regulations. We've brought several of our educational programs online via Facebook and Instagram Live, including Q & A's with our brewers and Hop College at Home, an online "class" consumers can sign up for to learn all about craft beer the Great Lakes way. Cicerone-certified GLBC staff members crack open the story of beer – where it came from, how it's made, the best way to taste it and what to taste it with. The pandemic has certainly forced us and many others to get creative and find new ways to reach our customers.
There was one big positive for us during those uneasy spring months. We happened to be introducing our flagship
Dortmunder Gold Lager
,
Great Lakes IPA
and new seasonal Mexican Lager with Lime in cans for the first time. With more customers spending time at home and outdoors in physically distant ways, our cans were a perfect fit.
HT: Did you have to make any changes in terms of production or seasonals that had to be put on hold?
MK: The operation of our kegging line has slowed down significantly in response to the numerous on-premise shutdowns.
Thankfully, most of our packaged seasonal and year-round beers have still been released according to plan, though some of our smaller batch beers, including planned collaborations and one-off draught exclusives, have been put on hold.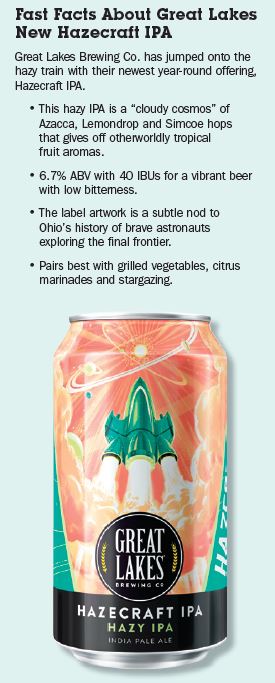 HT: How has your process changed in these uncertain times?
MK: We've taken COVID-19 very seriously as a company and formed an internal task force early on. I think most of all we've learned to be flexible. Flexibility and fluidity are necessary at every turn, whether it involves how we staff [our locations], our employee-owners' day-to-day operations, our portfolio, our brewpub's service model or our communication strategy. We're just trying to learn as we go like everyone else.
HT: Can you tell us about your recent transition to cans?
MK: We've known cans were going to be a necessary part of our future for several years now. Currently, we are transporting our beer brewed at our Cleveland facility to Brew Detroit, where it's canned. This has been a fantastic interim solution as we prepare our new warehouse and canning line so we can completely own 100% of our canning operation for the first time.
And the response to this package has been overwhelmingly positive. Leading with two of our most popular brands – Dortmunder Gold and Great Lakes IPA – in cans brought joy and excitement to lots of folks, and our seasonal Mexican Lager with Lime flew off the shelves. We know this enthusiasm will only grow as more experience-based opportunities for cans reopen. We are thrilled with the response and we can't wait to introduce even more of our year-round and seasonal brands to cans.
HT: Can you tell us about your new Hazecraft IPA?
MK:
We are so, so excited for the world to taste
Hazecraft IPA
! Our brewers have been developing this beer on our pilot system for the better part of a year, and the end result is very special. It's a beauty in the glass, dry-hopped, brewed with Azacca, Simcoe, Lemondrop and a touch of Mosaic hops. It's different from any other IPA we've packaged. Super-drinkable at 6.7% ABV with a smooth body and some big aromas and flavors of grapefruit, peach and passion fruit.
HT: The label artwork looks amazing. How does it fit your artwork theme of referencing Ohio history?
MK: Sam Hadley, the illustrator, created this very cool retro spaceship on a cloudy, melon-colored sky. We're loosely referencing Ohio's many astronauts and history of flight with the package, but it's also just a cool-looking can that speaks to the experience of drinking this cloudy, juicy brew.
HT: What are your plans for this fall and winter?
MK:
In addition to Hazecraft's launch, we're focusing on hyping up our fantastic returning seasonals like
Oktoberfest
and our beloved
Christmas Ale
, which may or may not be arriving in shiny new wrapping this year. We've also got Commodore Perry IPA and Burning River Pale Ale coming out in beautiful new cans for the first time. And our longtime brewpub favorite
Tripel Dog Dare Belgian-Style Tripel
will join our Legendary Series 4-packs in bottles. With 2020 being such a challenging year for everyone, we have our sights on 2021 and are working to set ourselves up for even more success.