It's time to sweep away the pandemic blues – and maximize profits – with a store-wide rejuvenation
You walk into someone else's beer store. Enter the first cramped, dead-end aisle and crane your neck, scanning the hodge-podge of styles and brands for the beers you want – no luck. You keep searching, finally finding a West Coast IPA you like tucked in a corner of a cooler door full of pastry stouts. Some cases of hard seltzer sit in a nearby corner, and you think about getting some, but the seltzer is warm and there's no listed price. You decide to grab a case of your go-to light lager instead… but it's nowhere to be found, despite being one of the biggest brands in the market. You ask the shadowy figure behind the register if there's any in the back, and they cackle.
"We haven't carried that in over 50 years!" You scream in horror.
Then you wake up and breathe a sigh of relief. What a nightmare! But at least you know your store could never look like that. Those mistakes, from over-stocking niche craft beer at the expense of big beer brands to creating a confusing maze of aisles, would lose you customers and profits. When you enter your store the next morning, though, you see things with fresh eyes. The pandemic has forced you to put off plenty of updates and resets, and the store isn't anything like your nightmare, but… It could use a little spring cleaning. Luckily, your friendly Origlio sales rep has just stopped by, and they're happy to help you troubleshoot and figure out what changes are best for your store.
Identifying Problem Areas
Every store in every neighborhood has different customer bases, SKU priorities and goals, so there isn't a one-size-fits-all approach – knowing what's an important point of difference that brings customers in, and what's a problem that sends them away, can be challenging. That's why your sales rep can be your most important ally during a reset.

"[What's most] important is to ensure our retailers are carrying the products that their customers are looking for," says Lee Todora, Origlio's Off-Premise District Manager for Lehigh Valley. "We utilize sales data, consumer data and profit margins to determine which items are the best fit for a particular retailer."
To better understand what your store does well and what could use an upgrade, your rep suggests surveying your current layout to take stock of several target sets: cooler, warm beer, craft, FMBs, hard tea, hard seltzer and non-alcoholic.
"After we do the survey, we develop a proposal to present to the retailer to maximize profit and shoppability with a new store/cooler layout that highlights those categories," explains Jim Beidler, District Manager for the Off-Premise at Origlio Reading. "We might target all of the categories, just a few or even just one, depending on the store's current layout."
You know your customers and your store's strong points best, but with these planning tools, your sales rep can help translate and refine your knowledge into a store plan specific to your needs.
Planning Process
Let's say that the survey reveals three areas where your store isn't reaching its full potential: beyond beer SKUs, single-serve placement and overall flow. First is beyond beer: making space for hard seltzer, but also FMBs, hard teas & kombuchas and NA is important as demand for the category surges.

"Hard seltzers and hard tea particularly have strong consumer demand," says Adrian Archer, Origlio's Director of Off-Premise Sales in Philly. "Four of Origlio's top five growth brands last year came from White Claw, Truly, Twisted Tea and Corona Seltzer." ]
Demand for beyond beer is growing at a rate that isn't always reflected in coolers, so the team may suggest that you bring in more beyond beer SKUs and give them priority over slower-moving SKUs.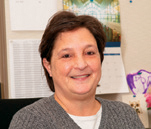 "Many retailers still haven't dedicated enough floor/cooler space for the beyond beer category," says Linda Ashbee, Off- Premise District Manager. "We try to engrain the philosophy that these products are the future of the malt beverage industry."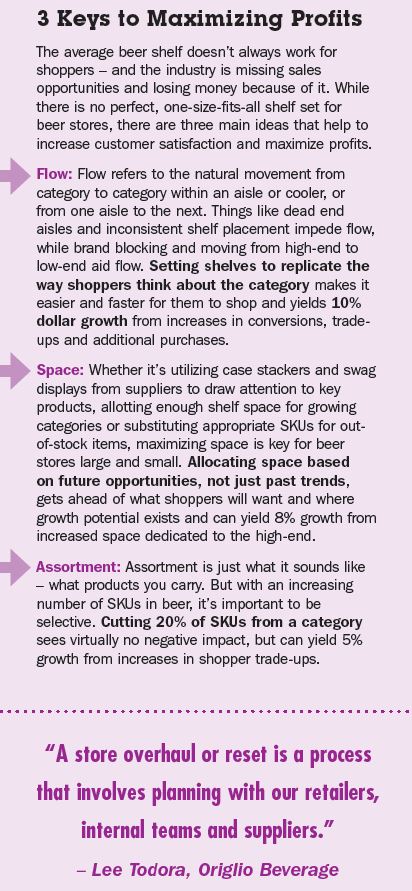 Next is single-serve placement. The importance of this package cannot be overstated. Single-serve products are zooming up the charts, with 24 oz. cans ranking as one of the most popular packages nationally.
"In many accounts, single-serve coolers have become much more prominent," says Todora. "This gives the retailer opportunity to sell more variety to their customers and also encourages trial of new items. With the ability to purchase in smaller quantities, we find that consumers are trying more new things."
If the product is important, then putting it in the right place is also key. Origlio recommends that single-serve products lead off sets, with like segments grouped together and the most profitable SKUs placed at eye-level. And in the cooler, this category warrants three to four doors, if possible.
Last up is the big one: flow. Suppliers constantly research flow and how customers shop for beer. Most make that information available to retailers to help maximize profitability and increase traffic flow. It's rare to see a store with a flow that's completely incorrect, but adjustments – especially as new categories gain importance – can be warranted, even for stores that keep up with customer insights.
With flow, it's important to mimic how customers think about beer. Moving from high-end to low-end, anchoring categories with key brands and directing shoppers toward the cooler with the direction of your aisles (think Wawa) all help the flow of your store, and all increase the potential of turning shoppers into buyers. Flow is a tricky one, and a little too complicated to discuss in detail here, but rest assured that your sales rep has the insights you need to optimize flow for your store.
Executing Changes
Over a few weeks, you decide what steps you want to take and agree that upgrading before summer arrives is a good idea. So, what's next?
"A store overhaul or reset is a process that involves planning with our retailers, internal teams and suppliers," says Todora. "Typically, this all starts with an updated planogram including any new or discontinued items. Multiple wholesalers provide their input and suggestions and ultimately, the retailer determines which brands get space and how much. Once it's time to reset, we typically have a team of two to three people complete the overhaul."
While Todora notes that the process can be time-consuming (and, if he's being honest, tedious), ultimately it's rewarding for both you and your customers. They can easily find what they need and want, including products they may not have noticed before. Meanwhile, you reap the financial benefit – and make your sales rep happy! That's a win-win-win if we've ever seen one… And couldn't we all use a win these days?