Way back in 2002, two low-level craft brewery employees, John Cochran and Brian "Spike" Buckowski, were caught by their boss playing hooky from work. As a punishment, they had to tar the parking lot. While laboring away in the hot sun, they daydreamed about owning a brewery of their own. Already crafting beer recipes by night, the men quickly turned their dream into a reality. Just six short months later, their Rye Pale Ale won a gold medal at the Great American Beer Festival. And thus, Terrapin Beer Co. was born.
This year Terrapin is celebrating 20 years of evolution – from brewing new and innovative beers, to creating sustainability programs that improve the Athens, Georgia environment.
Origlio is proud to represent Terrapin's exciting portfolio of world-class beers. While John Cochran has since moved on from the brewery to start a new endeavor, Heady Times caught up with Founder and Vice President of Brewing Innovation Spike Buckowski, as well as Terrapin's President Dustin Watts, to learn how a punishment led to the creation of a leading craft brewery, what their favorite Terrapin beers are and what they have in store for us this summer.
Heady Times (HT): Terrapin was famously part of the craft beer wave that changed the industry in the early 2000s – can you talk about Terrapin's origins?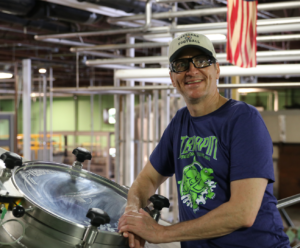 Spike Buckowski (SB): It was the Braves Opening Day back in 1998. John [Cochran] and I skipped work to go to the game. The next day, the owner of the brewery we worked for was less than thrilled, and as punishment, we had to tar the brewery's parking lot. As we were tarring the lot, John and I looked at each other and said, "We can definitely brew beers, run a brewery and do it better than this."
HT: How'd that daydream turn into the singular brewery we know today?
SB: We started working on the business plan and got to work making beer. What really put us on the map was the innovative ingredients we used. Our very first beer was brewed with rye. Not a ton of craft brewers were using rye then. We developed our lead beer – Rye Pale Ale – and had a ton of success with it, starting with the gold medal at GABF. That really got us noticed.
HT: How did Terrapin first fit into the Georgia beer scene?
SB: At the time, there weren't a ton of craft breweries in Georgia, and beer drinkers really yearned for more. Again, because of our ingredients and nod to the Grateful Dead (our name pays homage to the band's album Terrapin Station), we made a splash, particularly in the Southeast.
So, the quality of the liquid, the Grateful Dead nuance and winning best pale ale in the country right out the gate, all helped connect drinkers to us. We were in the spotlight, and we never let our foot off the pedal. Besides, the turtle mascot on our labels is hard not to love.
HT: How has your approach to beer evolved?
SB: The question is always, how do you differentiate yourself? Terrapin has always been at the forefront of new beer styles – ahead of the industry. When I think of the experimental beers we've brewed, like Monster Beer Tour [Imperial IPA], it was really the beer that opened the door. Experimenting with high ABV beers before it was a trend opened up another world of brewing for us. Our fans and the industry know Terrapin is always innovating.
HT: What's your favorite Terrapin beer?
SB: The most sentimental and meaningful brew is always going to be Rye Pale Ale, even though we no longer brew it. It was out-of-the-box and innovative, which is what Terrapin stands for.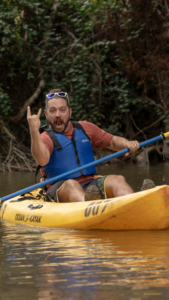 HT: We know giving back to the community and sustainable practices are important to you guys. Dustin, can you tell us a bit about your Terraprint initiative?
Dustin Watts (DW): Terraprint is our sustainability and community initiative. It's the way we go about minimizing the impact we have on the environment and maximizing the impact we have on our community. As I think about Terrapin and how we have thrived for the last 20 years, I think a lot about what's going to make our next 20 years successful, and what's going to separate us from other craft breweries. To me, that's our social and environmental responsibility. We always ask ourselves, "How are we bigger than beer? And how do we integrate Terraprint into the everyday DNA of our brewery?" From the employees we hire, to the modifications we are making to our brewing process, to packaging and our "give back" events, we are more than just a brewery. I also think, more and more, consumers are interested in the business behind the brand and what they stand for. We want consumers to know that Terrapin is doing the work to minimize our environmental impact while remaining highly impactful in our communities.
HT: What can retailers and beer fans get excited about from Terrapin this summer?
DW: I know it sounds repetitive, but innovation and quality – not only in the liquid we brew (with some great new beers on the horizon!), but also with our packaging. We want to make sure consumers have options that fit their lifestyles. We recently made our splash in the 19.2 oz. can world with a new, year-round Imperial IPA, Depth Perception. And our lo-cal IPA RecreationAle is now available in a 15-pack.
So really, we're continuously assessing and making sure that the packaging is the right fit for consumers. And then from a liquid standpoint, we've also got some unique beers like Spicy Margarita Gose (available in the Vacation Survival Kit), an Oktoberfest beer that will be available in August and we're bringing back White Chocolate Moo-Hoo as a winter seasonal. We're always striving to put the best beer in the cans. Our Quality Assurance team is phenomenal at making sure all our beer meets Terrapin's standards when it hits the shelves.
HT: Finally, we know 2022 is Terrapin's big 20th birthday. Any fun plans to celebrate two decades in craft beer?
DW: On April 23rd we had an anniversary party at our Athens brewery. We served up some of our favorite beers from the last 20 years, including our exclusive anniversary beer brewed just for the event: Old Snapper, a barley wine-style ale. There was live music from Cosmic Charlie & the Tribute, local vendors, food trucks and even a vintage Terrapin gear garage sale. We had a blast!
---
Truly world-class, Terrapin's beers epitomize quality & innovation.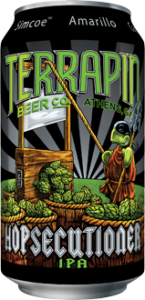 Hopsecutioner IPA
This killer IPA is brewed with six different hops for an aggressive, yet exceptionally balanced beer.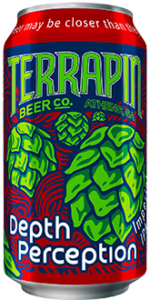 Depth Perception
Depth Perception is a three-dimensional Imperial IPA which uses three distinct bittering hops to bring this 9.1% ABV beer into focus.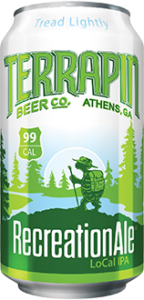 RecreationAle
A lo-cal IPA formulated to accompany drinkers on all their adventures, RecreationAle weighs in at a mere 99 calories and just 4.2% ABV. It's a full-flavored IPA that won't weigh you down.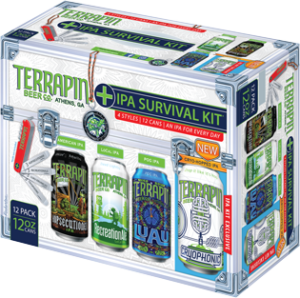 IPA Survival Kit Variety Pack
Terrapin's variety pack features four beers that are sure to quench any hop head's thirst. Hopsecutioner and RecreationAle join Luau Krunkles, a tropical IPA and Cryophonic IPA, brewed with four varieties of Cryo hops.