The #1 craft brand is building on years of success with big plans for 2022.
Blue Moon is a fixture of the beer scene, a mainstay of draught lists in a wide variety of bars and restaurants. Led by flagship Belgian White, the brand family has secured its place in the glasses – and hearts – of its loyal fans.
The last few years have seen plenty of success for the brewery, even amid a global pandemic. As of press time, Blue Moon remains the #1 craft brand in volume and dollar sales YTD, with their flagship Belgian White fueled by the recovery of the on-premise. The brand has recovered over 80% of 2019 volume as consumers reconnect with a beer perfect for happy hours and meals with family and friends.
But even for a strong and beloved brand like Blue Moon, the old adage still applies: evolve or die. Blue Moon has chosen the former, developing a formula that keeps their award-winning brews on consumers' minds and regularly takes the brand to new heights. It all revolves around reminding their fans what makes Blue Moon so special while continuing to bring new drinkers into the fold.
A Beer for Every Occasion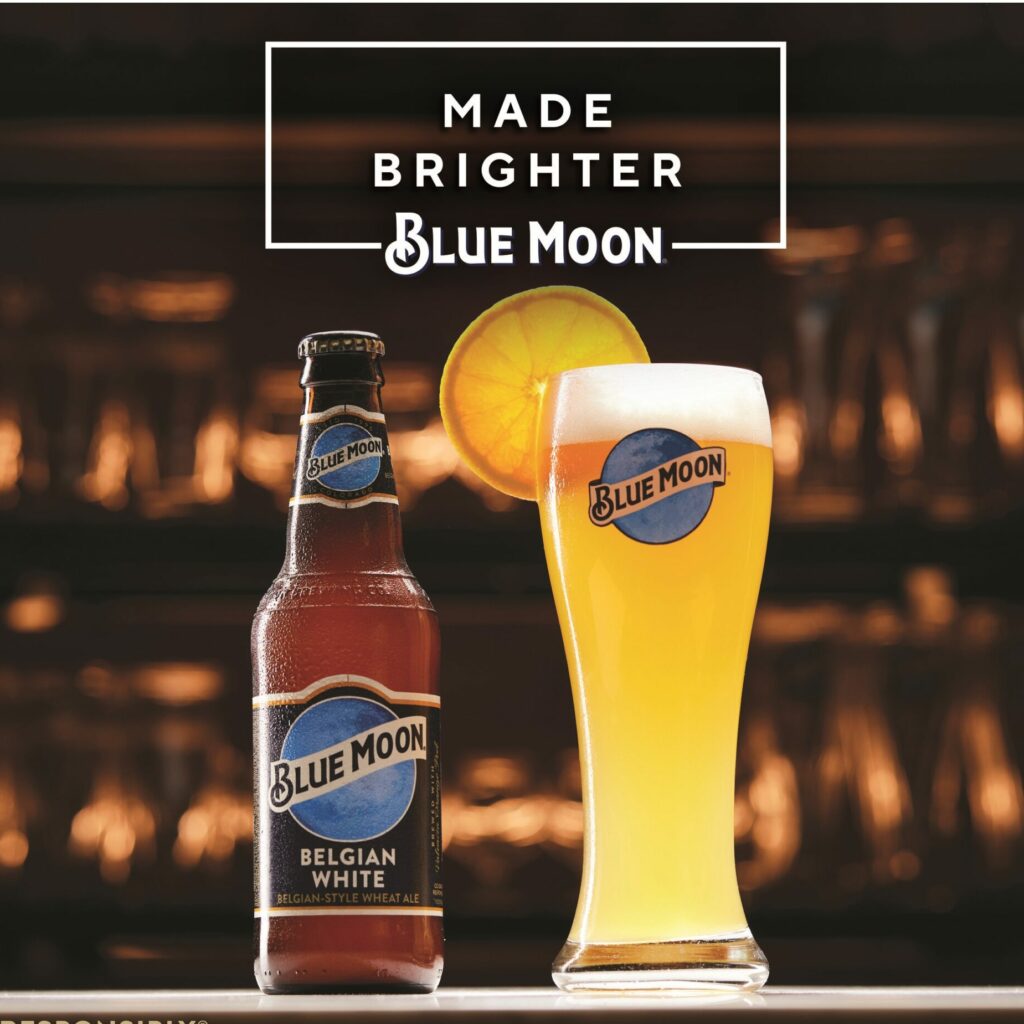 A big part of Blue Moon's success is due to thoughtfully introducing new brands for different occasions. Blue Moon LightSky Citrus Wheat debuted at the beginning of 2020 as a 95-calorie sister beer to Belgian White, aimed at a more casual daytime occasion. Despite the now-obvious hazards of launching a brand at the beginning of global pandemic, LightSky defied expectations and was the #1 new beer launch of 2020.
Things have only gotten better for the brand in 2021 – LightSky posted double-digit growth throughout the year, was the #1 light craft beer in dollar sales and was a top 10 beer brand in the off-premise, moving up six spots from 2020. And as much as 96% of that growth has been incremental to Belgian White, according to data from Molson Coors.
Then there's Blue Moon's newest offering, Moon Haze, which was launched last fall. The hazy pale ale is already an award-winning beer – Moon Haze won a gold medal for the best juicy/hazy pale ale at the Great American Beer Festival in 2020, beating out 136 competitors.
"With Moon Haze, the experience starts before you take a sip – you drink in the color change from hazy golden to orange with your eyes and smell the citrusy and hoppy aroma," says John Legnard, Brewmaster at Blue Moon Brewing Company. "It surprises and delights because it's got all of the fruitiness and creaminess of a Belgian White, but with this unexpected bite and clean finish."
Moon Haze was developed to fit a "relax and unwind" occasion, as a reward at the end of a long day. Initial signs indicate that approach speaks to consumers; in the earliest national data available for the brand after launch, Moon Haze had already become Blue Moon's fourth largest brand over the four-week period. The folks at Blue Moon believe that Moon Haze sales will also be largely incremental to Belgian White, as the product has so far skewed toward off-premise sales. That said, the brewery is always open to new opportunities for innovation and have said they'll consider adding kegs of the award-winning pale ale down the road.
"We have a lot to offer for every different occasion, whether it's having a Belgian White at happy hour, a sessionable LightSky during the day or unwinding with Moon Haze," says Legnard. "People need to realize there's more than just one flavor of Blue Moon out there."
What's on the Horizon?
Blue Moon always wants to be sure that any new products they introduce are true to the brewery's roots and what they stand for. Anything new must be approachable, easy-drinking and should feature the orange notes that the brand is famous for. It's a strategy they'll continue to employ in 2022 with the launch of a new LightSky: LightSky Tropical Wheat. An easy-drinking light beer brewed with a hint of real pineapple and orange peel, Tropical Wheat is slated to arrive in February in 12-pack slim cans and will clock in at 95 calories.
"With flavored craft beer growing five times the rate of regular craft beer, we hope to give drinkers the variety they're looking for," said Sophia Lal, Senior Manager of Innovation for Molson Coors, who notes that tropical is a growing flavor trend across all categories, including beer. With LightSky Citrus Wheat already appealing to drinkers aged 25-39 across gender lines, the addition of Tropical Wheat to the Blue Moon portfolio will no doubt expand the brand's reach even further in that demographic, and possibly beyond it.
On the hoppier side of things, some fans have wondered if Blue Moon would ever consider releasing an IPA. Sorry to all you hop-heads out there, but the brewery has no plans for that yet – but they're open to the idea.
"If we can create an IPA that fits a lot of the DNA of what Blue Moon stands for, then I think it's definitely something that we would explore," Joy Ghosh, VP of Above Premium Beer at Molson Coors, told Craft Business Daily in August.
In addition to new products, Blue Moon is showing love to their existing portfolio by beefing up their marketing plans in 2022. Flagship Belgian White will be featured in a new ad campaign dubbed "Made Brighter." The campaign will debut in March and aims to "remind drinkers that as other craft beers come and go… Blue Moon is one of a kind." The campaign will run nationally on TV, digital and out-of-home.
LightSky will see an investment in the ongoing "Savor Every Sip" campaign, which rolled out in late 2021. The campaign has already proven its value, with awareness of the brand increasing 10 points among 21–34-year-olds over the first two months that it aired. In 2022, Blue Moon is taking things to the next level with a bigger spend in the summer and partnerships with media outlets like Thrillist and Vice. LightSky will also see tweaks to its packaging in the new year, featuring more impactful Blue Moon branding, including more color and more nutritional and flavor cues.
The Power of the Moon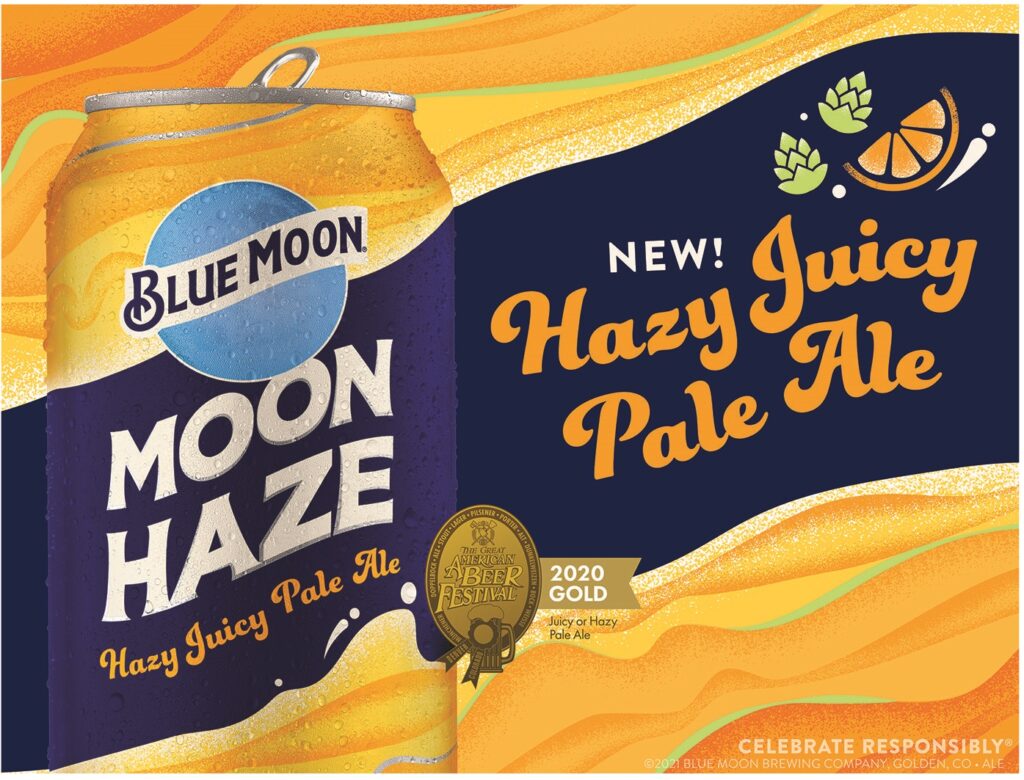 So, how can you make a powerhouse like the Blue Moon brand work for you in 2022? It's pretty simple: keep the family together. Stores that offer both Belgian White and LightSky have seen a 2 to 2.4 times the lift in recent months, a trend that's likely to continue with the thoughtful addition of new products like Moon Haze and LightSky Tropical Wheat. To capitalize on this trend, Blue Moon will be taking a family of brands approach with some of their marketing materials going forward, including displays, shopper media and even local media.
Blue Moon's strategy of drawing in new consumers with innovations that fit different occasions is working. Consumers are finding their match in beers like LightSky and Moon Haze, and as the on-premise resurges, more and more are taking a second look at Belgian White, for the first time, or just the first time in a long time. Whether or not a Blue Moon IPA is on the horizon remains to be seen, but one thing's for sure: Blue Moon has laid the groundwork for a 2022 that'll be out of this world.
---
NEW from Molson Coors: Topo Chico Hard Seltzer
The Blue Moon family isn't the only brand receiving Molson Coors' love and attention these days. The brewer's newest hard seltzer, Topo Chico Hard Seltzer, is set to go national in early 2022. Here's what you need to know about the brand that's taking the seltzer world by storm.
What is it?
Topo Chico Hard Seltzer is a new hard seltzer inspired by the legendary taste of Topo Chico Mineral Water. Topo Chico Hard Seltzer is gluten-free and contains only 100 calories, 2g of sugar and 4.7% alcohol by volume per 12 oz. can. This new hard seltzer brings a unique twist to classic flavors, including Tangy Lemon Lime, Tropical Mango, Strawberry Guava and Exotic Pineapple.
Who does it appeal to?
Simple answer: Everyone! Topo Chico Hard Seltzer aims to become the #3 player in the seltzer market, and they believe they have the broad appeal needed to achieve that goal. Topo Chico Mineral Water is a well-known and beloved brand with a strong following across demographics in many markets across the country.
Topo Chico also aims to become the #1 seltzer with Latino drinkers. They're already well on their way to achieving that goal – nearly half of total Topo Chico Hard Seltzer drinkers (43%) identify as Latino.
Why does it deserve your attention?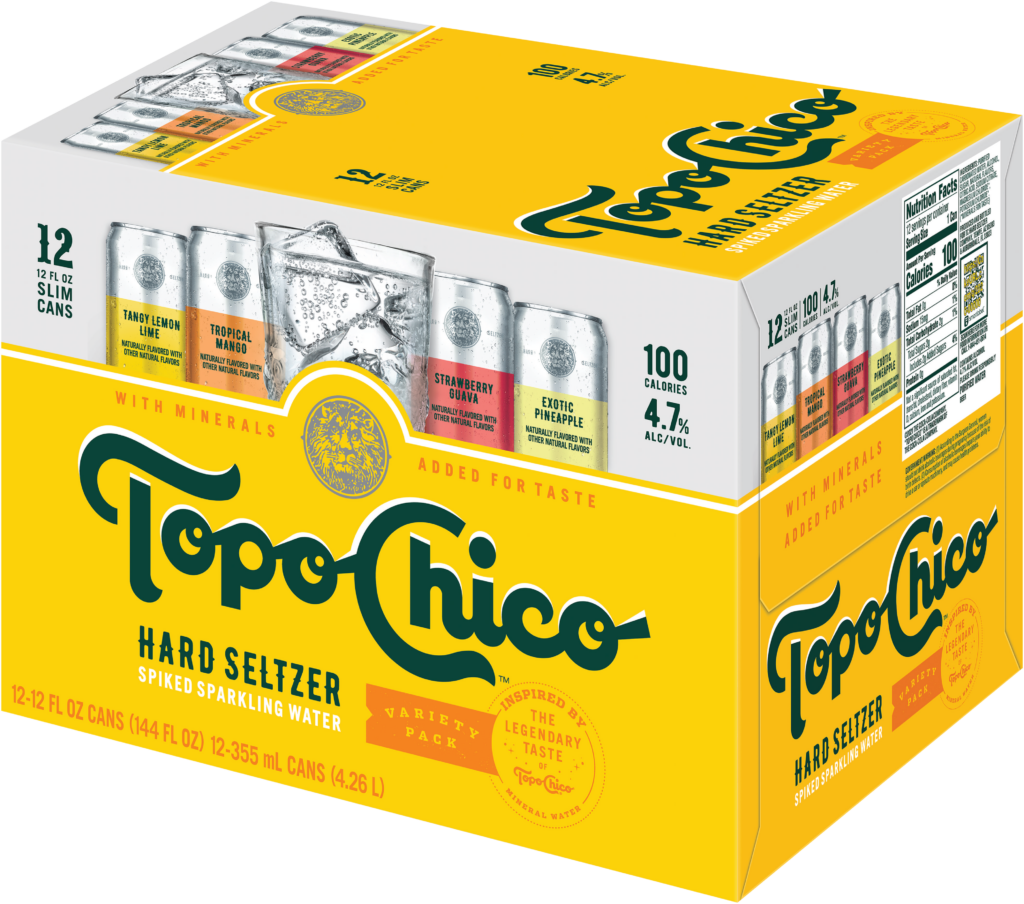 Unlike most hard seltzers, Topo Chico is already a big name in non-alc seltzer. The original Topo Chico has been sourced and bottled in Monterrey, Mexico since 1895, and is the favored soda water of bartenders across the U.S. And Topo Chico Hard Seltzer has already seen incredible results in test markets, both in its home region of the Southwest and in metropolitan areas like Chicago, Atlanta and Washington D.C.
---
Along with the brand's already strong name recognition, Topo Chico's national launch will be supported by a full marketing plan that includes national TV, digital video, out of home and social media advertising in both English and Spanish.