No longer a catchy buzzword, beyond beer is the future of the industry and Sierra Nevada knows this better than most. Always at the forefront of innovation – Sierra's sparkling, non alcoholic hop water, Hop Splash, is killing it at retail – the people behind the top-selling IPA Hazy Little Thing are committed to doubling their share of the great beyond over the next five years.
"Everything we do at Sierra Nevada is rooted in consumer behaviors and insights," says Sierra's Brand Director Kyle Ingram. "We see drinkers migrating. It's not that they don't like beer anymore, but they're interested in trying new things and expanding their repertoire. These customers are younger, more diverse, 50/50 male & female… and they're always looking for something new."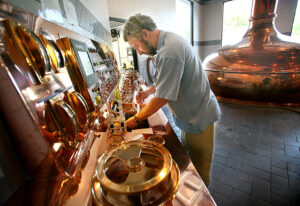 Armed with a solid understanding of what millennial and Gen Z consumers want, Sierra's CFO Paul Janicki announced that the company is committed to doubling the size of their beyond beer portfolio in five years. To achieve this goal, the brewery is making major investments, including a new 85,000 square-foot "Can Do Innovation Center" production facility that's already under construction.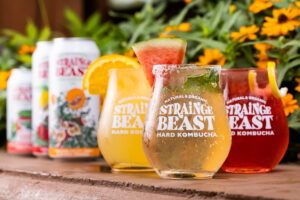 But don't let that five-year timeline confuse you. Sierra Nevada already makes beyond beer products that are major hits with consumers. Sierra entered the category some time ago with the hard kombucha Strainge Beast, which continues to grow and evolve as a brand. And recently, the company was among the first to launch a non-alcoholic sparkling hop water – the highly successful Hop Splash.
The story behind Hop Splash demonstrates just how forward-thinking Sierra's brewers really are. As you might expect, the talented people responsible for making beers like Torpedo Extra IPA and Big Little Thing not only understand how to use hops, they also happen to like the way they taste. Looking for something non-alcoholic to drink while on the job, Sierra Nevada brewmasters developed the recipe for what became Hop Splash, which debuted nationally last fall.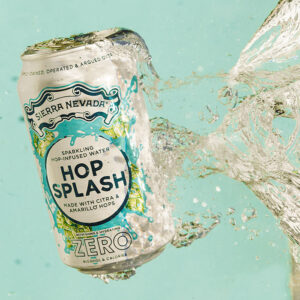 Commenting on the success of Hop Splash, Ingram explains, "We knew it was a product we could make well and have instant credibility with, given our reputation for hops." To keep the momentum going, Ingram said that Sierra is spending heavily behind the brand. Look for the release of new flavors this year.
"We see drinkers migrating. It's not that they don't like beer anymore, but they're interested in trying new things and expanding their repertoire."

KYLE INGRAM, Sierra Nevada Brand Director
Ingram went on to say that this is just the beginning for Sierra's non-alc portfolio. "Drinkers are embracing the idea of moderation as a means of improving mental, physical and financial health. We're currently in development of many new and exciting alcoholic beverages that meet those requirements." But he added, "True to Sierra Nevada's ethos of quality and innovation, the company isn't just focused on 'what's not in it,' but rather 'what non-alc products can enable our consumers to do.'"
As you can see, instead of playing catch-up to changing trends, Sierra Nevada is leading the way with a stellar portfolio of innovative beyond beer offerings. Always on top of their game, the company understands that successful products offer solutions that meet the changing tastes of today's consumers. In fact, based on the success of Hop Water and Strainge Beast, they're already doing just that.
---
Beyond Beer the Sierra Nevada Way
As you might expect, a brewery with two top-five best-selling craft beers (Sierra Nevada Pale Ale & Hazy Little Thing), Sierra Nevada knows how to build brands that last. The brewery's beyond beer offerings are created and marketed based on the same rigorous research behind the success of the company's many award-winning beers, so they might just be the next big thing.
STRAINGE BEAST
Already boasting a high conversion rate once consumers try the liquid, next year's priorities for the brand lie in flavor innovation and capitalizing on the growing canned cocktail trend. A Strainge Beast Mimosa line extension will be available in the spring. This new "fermented cocktail" is slow crafted through a more natural process than other RTDs, producing alcohol through fermentation for big flavor and wild effervescence.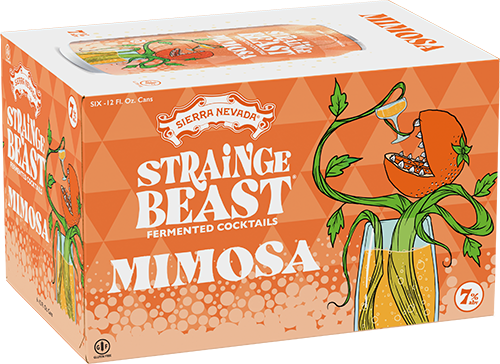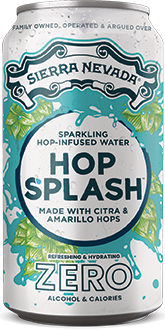 HOP SPLASH
Hop Splash's launch has exceeded expectations. Sierra Nevada's new zero alcohol, zero calorie sparkling water infused with Citra and Amarillo hops for refreshing notes of peach, mango and grapefruit already has 100 points of distribution in Philadelphia, and it will be a major focus in 2023 with a new program called "Enter the Splash Zone." Sierra Nevada brewer Isaiah Mangold says, "If you're a beer drinker, and you want something that scratches the itch a little bit, this does for sure."