Bevy Long Drink Brings Finnish Happiness to the States
Did you know Finland is the happiest country in the world? But what exactly makes the Finns so joyful? Maybe it's their pristine forests and crystal-clear lakes. Maybe it's the 23 hours of daylight they get in the summer. Or maybe, just maybe, it's their best-kept secret: the Long Drink.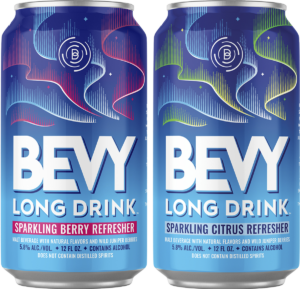 The Long Drink – or lonkero, as it's known in Finland – was first created when the Finnish government commissioned a cocktail for guests attending the 1952 Summer Olympics. The country was preparing for many visitors, and they needed a drink that could be easily served in crowded bars and restaurants. A simple cocktail of gin, grapefruit soda and tonic was concocted, and the Long Drink, the national cocktail of Finland, was born.
Now, through innovation like only they can do, Boston Beer brought this sparkling refresher to drinkers in the U.S. under the name Bevy Long Drink, and it's already making waves.
Bevy's new sparkling citrus refresher is made from a delicious and easy-drinking blend of citrus flavors and wild juniper berries, for an exceptionally thirst-quenching beverage that's perfect for any occasion. Bevy Long Drink's initial styles are sweet, tart, refreshingly packed with flavor and 5.8% ABV.
"Drinkers are searching for the ultimate in refreshment, but also don't want to sacrifice taste. That's where Bevy Long Drink comes in," said Lesya Lysyj, Chief Marketing Officer for Boston Beer. "It's cocktail-linspired, easy to drink and full-flavored, yet highly refreshing. It's unlike any beer or pre-mixed cocktail out there."
While inspired by the traditional cocktail, Bevy will be the first Long Drink-inspired beverage available in the U.S. that's made without spirits. Bevy Long Drink is made with an original malt base containing natural flavors and wild juniper berries.
"[Bevy is] cocktail-inspired, easy to drink and full-flavored, yet highly refreshing. It's unlike any beer or pre-mixed cocktail out there."

Lesya Lysyj, Chief Marketing Officer for Boston Beer
"The Long Drink cocktail is Finland's best-kept secret, but it's typically made with gin," said Lysyj. "Bevy Long Drink is our signature spin on this classic. We developed a cocktail-inspired recipe, with all the citrus flavors and wild juniper berries, and made it ready-to-drink from a can. You get all the refreshing citrus flavor without the gin. But the best part is, you don't have to fly to Finland. You can just pick up a 6-pack at the store."
As a new beverage and first of its kind to this market, Bevy will have abundant resources to educate consumers and support the launch. "A cool part of the point of sale is that there will be a QR code on all the paper POS that consumers can scan and be given information on what Bevy is and what long drink is. Education is important when it comes to a new style," explains Pat Yanni, District Manager for Boston Beer. "Nationally, Bevy will see a $10 million investment in 2022 with a digital-first strategy, including paid social, dedicated PR and an NHL sponsorship."
Why Bevy?
The beer landscape is changing. Younger shoppers consider the beyond beer category first and are looking for new varieties and flavors.
The beyond beer category is expected to grow to 22% of beer sales in the next year (from 7% in 2017).
Cocktail-inspired FMBs are growing faster (+27% in dollars) than full-flavored traditional FMBs (+4% in dollars).
Bevy has all the attractive attributes of the beyond beer category – sparkling, full-flavored and cocktail-inspired.
Available in two flavors (Sparkling Citrus Refresher & Sparkling Berry Refresher), Bevy is a modern evolution of the FMB with top-scoring packaging and taste.