This "seltzer with a little something", not to mention sophisticated flavor combinations, has become a top-10 premium seltzer brand.
"Vivid distinction" is one of the daring slogans used by PRESS Seltzer. At first glance, this expression might seem ambitious, as dozens and dozens of hard seltzers flood the market, but PRESS Seltzer has earned the moniker. As the only top-10 seltzer brand owned by a woman and with wholly unique flavors like Blackberry Hibiscus and Pomegranate Ginger, PRESS Seltzer has taken this male-dominated industry by storm. Having carved out their own distinct space in this now burgeoning category, PRESS is the newest "must-have" seltzer for any retailer looking to stay atop the hard seltzer wave. 
Founder Amy Walberg first dreamed up PRESS in 2015, well before hard seltzer officially went "boom." Developing flavors in her kitchen, Walberg brewed up sophisticated combinations inspired by her global culinary explorations. Fast forward to 2021 and these homemade experiments have helped grow a wildly successful company, with PRESS seltzers available in all lower 48 states, receiving numerous media accolades and winning shelf space in major retail stores. Heady Times sat down with Walberg to learn how PRESS was able to make such an impact on the hard seltzer industry in such a short time. 
Heady Times (HT): Tell us about the origins of PRESS.
Amy Walberg (AW): I founded PRESS Premium Alcohol Seltzer in 2015 when my son Colin was just an infant and my daughter Paige was a toddler. I was at a point in my life where I was newly single, caring for two small children and trying to juggle a career in corporate advertising. I needed to re-invent myself and I wanted a career on my own terms. I've always been an avid seltzer fan and noticed there weren't any premium alcohol seltzers on the market, so I decided to make my own. 
The first years were tough because hard soda went bust, and we had to push through to show [consumers] how we were different. We did a lot of grassroots tastings to get the consumer to sample, which continues to be a tactic that really drives our business. When people try PRESS, they get it. We love hearing from people who've tried PRESS for the first time and say they're only drinking PRESS from here on out. My vision has always been to create an elevated alcohol seltzer experience and that validation is so personal and rewarding.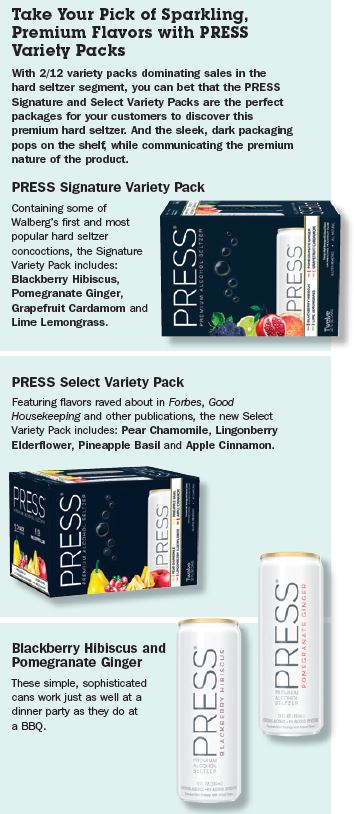 HT: What sets PRESS apart from other seltzers in the market?
AW: For one thing, PRESS is the only woman-founded hard seltzer created at a time when women were largely ignored by the alcohol industry. Second, we've had an explosive start in 2021. In the first quarter of the year, the seltzer category as a whole is up 57% – but PRESS is up 135% in grocery. We believe we can maintain that growth throughout the entire year and finish with growth in the triple digits.  
And PRESS offers consumers a uniquely high-end seltzer experience both in elevated flavor profiles and packaging. When I dreamed up PRESS, I wanted something that, first and foremost, tasted great. We use all-natural ingredients so the true essence of the fruits and spices peek through the crisp seltzer bubbles. Our flagship flavors like Grapefruit Cardamom, Blackberry Hibiscus and Lime Lemongrass have won accolades from reviewers including Martha Stewart, Forbes and Beverage Industry. 
I also wanted to create a seltzer with a lower ABV. I love to have a drink or two with my girlfriends, but as a parent, I need to be able to jump back into mom-mode at a moment's notice. And I also wanted PRESS to look great. The simple, sophisticated cans work just as well at a dinner party as they do at a BBQ.  At PRESS, we engage with our consumers and show up in an authentic way. Seltzer is all we do. 
HT: Can you tell us more about your "good, better, best" mentality?
AW: Traditionally, good brands attract a more price-conscious consumer looking for higher alcohol content. Better brands typically have the largest volume, are mass-marketed and define the mainstream in the segment. Best brands are considered trade-up options for consumers looking for more than the popular brand. A premium product with unique propositions. We continue to gain market share with consumers that desire a more premium seltzer experience. 
HT: Who is the ideal PRESS consumer?
AW: Someone who is confident, self-assured and intellectual. They enjoy hosting and are conscientious about diet and know it as an essential part of wellness. Discerning consumers, who are attracted to authentic products. They enjoy finding the best products in the category and like sharing them with like-minded friends. Early adopters that are "in the know." 
HT: What inspired you to create such innovative and unique flavors?
AW: The traveling bug really bit me in college and when I entered the workforce, every year I would save up my vacation time and travel for about a month, all over the world. Surprisingly, a lot of those experiences informed my flavor profiles – for example, [the inclusion of] cardamom was inspired by India. At the time, I didn't know how important these experiences would be, but exposure to these foreign cultures have contributed to the unique flavor profiles that set PRESS apart. I also think that same sense of adventure is part of why I've taken this uncertain entrepreneurial path. 
Inspiration is always hitting me and my kids love to share ideas. On a vacation to Costa Rica, we were greeted by hotel staff with a pineapple drink. My daughter Paige looked at me and said, "you should make a Pineapple PRESS!" Her suggestion definitely got my wheels turning and resulted in Pineapple Basil, a flavor included in our new Select Variety Pack.  
While the flavor ideas are always born in-house, we work with an amazing team who helps us get the profiles just right… so I'm not destroying my kitchen anymore.