Checking in with the iconic brewery as it navigates in a new era of craft beer.
The uncertainty caused by the ongoing COVID-19 pandemic has brought new and unusual challenges to breweries across the nation. For this edition of Heady Times, we wanted to check in with Allagash Brewing Company to get a firsthand look at how one of our most essential, independent craft breweries is adapting and evolving in this new craft beer landscape.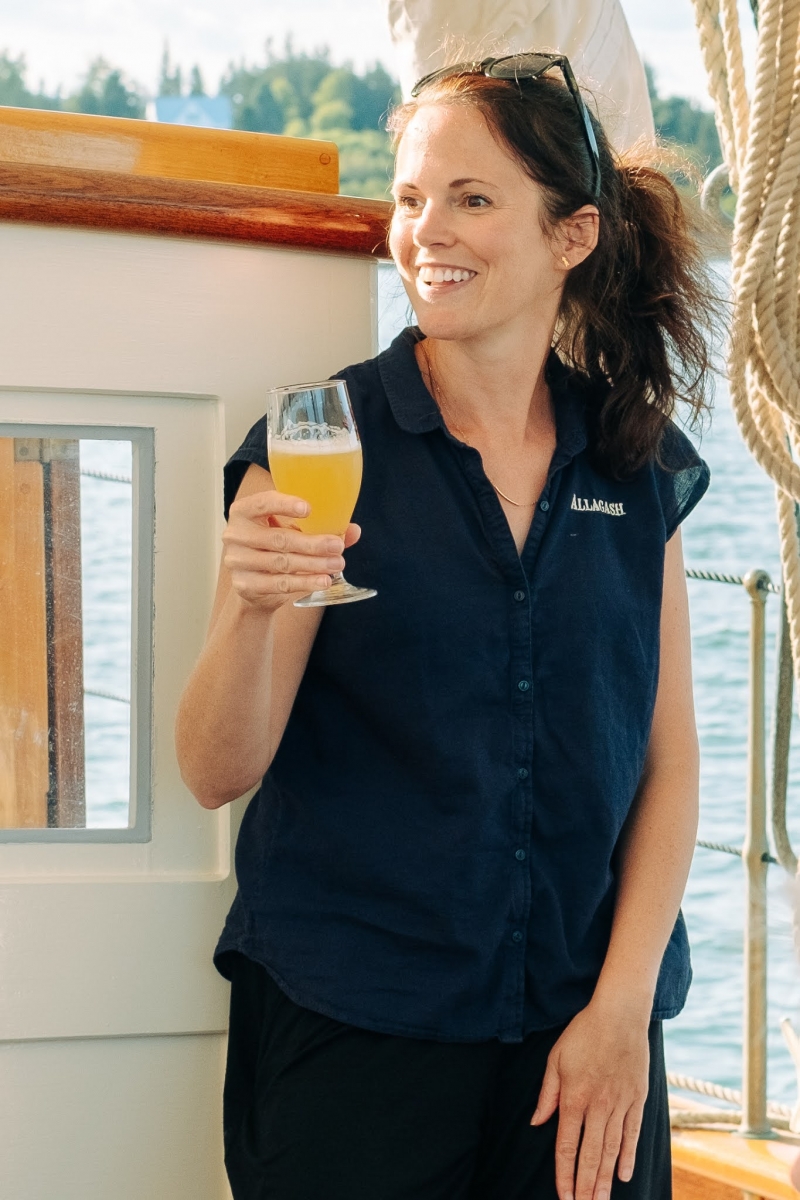 We spoke with Naomi Neville, Sales Director at Allagash Brewing Co. to find out more.
Heady Times (HT):

First off, how is the team at Allagash, and how have you all responded to the COVID-19 pandemic?
Naomi Neville (NN): Really, there's no aspect of our brewery that hasn't changed in the past [few] weeks. Our tasting room is closed to guests, though we are now offering Allagash on the Fly, a touchless beer delivery and curbside pickup service for those in the Portland, Maine area. All staff who can work from home are. And we've increased all cleaning regimens across the brewery, reconfigured our space and instituted new policies across all our brewing and packaging procedures.
HT:

Can you tell us about how you're giving back during this uncertain time?
NN: We donated beer to local distilleries to be made into hospital-grade hand sanitizer. We were able to donate N95 masks to a local children's hospital and we've been donating a large number of boxes for food delivery to Wayside Food Programs. They provide access to nutritious food to those in need in southern Maine. We will continue to look for ways to help others in our community in whatever form we can.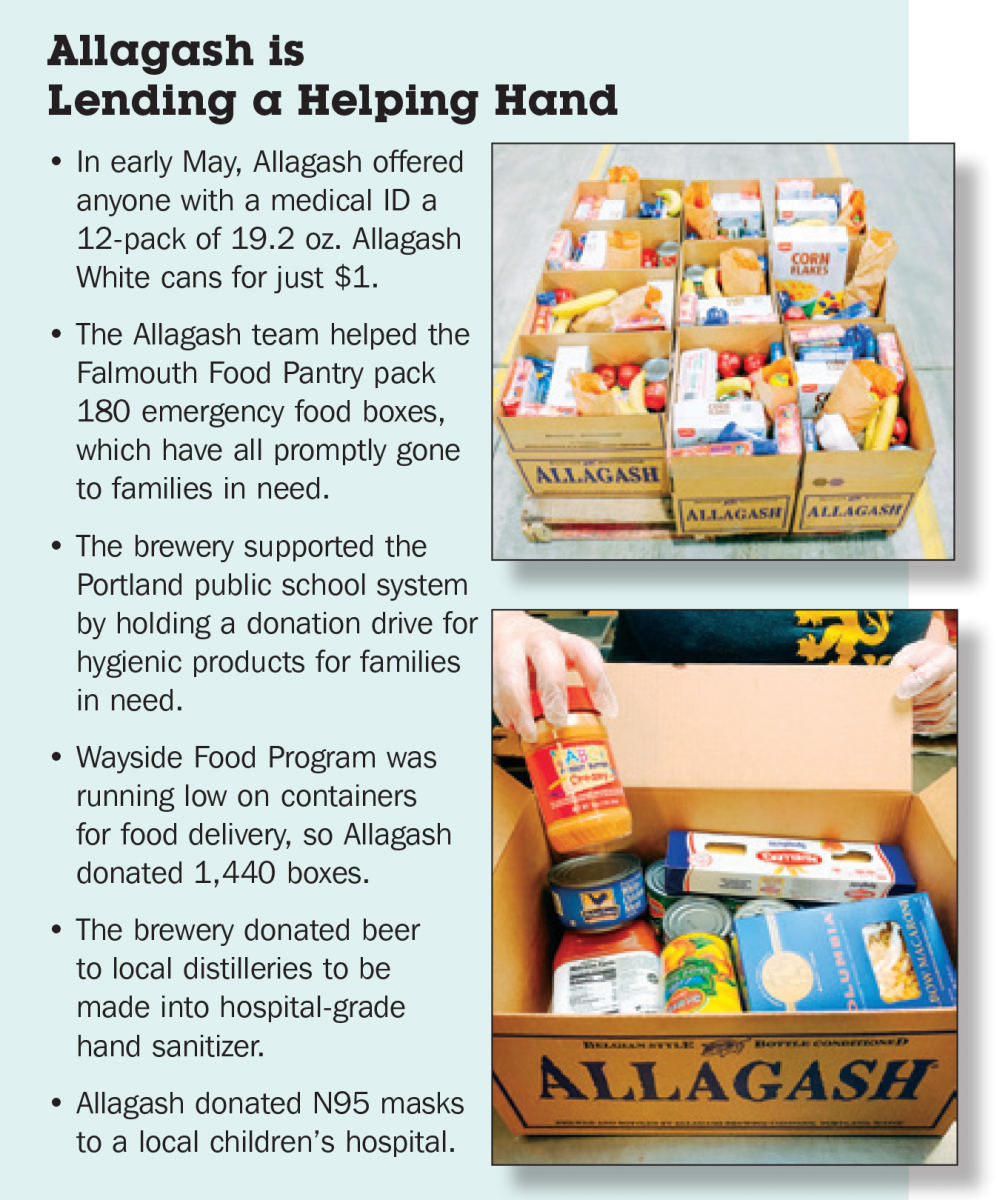 HT:

How has this affected your brewing procedures?
NN: Our brewing schedules have been reduced. We sold a significant portion of beer in kegs, and the need for that format basically vanished overnight. So, we're rethinking pretty much everything we had planned for 2020, in light of this situation. From a selling perspective, we've rapidly turned our focus to off-premise and online retailers, and what we can do to make it easier than ever for our fans to get our beer. We're also working on ways to support our on-premise accounts that are still open for to-go sales. We are super thankful for our wholesaler partners that are helping to keep our beer in stock and on shelves in these unprecedented times.
HT:

When looking back at your business plan for 2020, what changes have had to take place between then and now in terms of what is getting brewed and what will need to wait until next year?
NN: Quite a bit has changed. We've postponed a few specialty releases until 2021. On the other hand, we've moved up the release date of our White 12 oz. 12-pack cans in multiple markets that weren't scheduled until later this year or next year.
HT:

Can you talk about what inspired the decision to can more Allagash products?
NN: Like everything we do, we had a measured approach to canning. In 2018, we found that we had the bandwidth and the confidence to match the quality of bottled Allagash beer. Obviously, the demand in the market was shifting more to cans, so that helped make our decision easier. It also happened that we were in a great position staff- and capabilities-wise to dip our toes into the new format with a smaller canning line. When we saw the true magnitude of demand for Allagash in cans, that's when we decided to take the plunge and scale up to a larger canning line. And that appears to have been just in time.
HT:

Has your overall business model changed with the implementation of cans?
NN:
It absolutely has. When we released
Allagash White
in 16 oz. cans, they actually became the #1 new craft beer item in dollar sales in Northeast IRI data for 2019. And those cans allowed us to create more engaging programs and displays for our retailer partners. So yes, they opened up some big opportunities for us – all because people were excited to drink Allagash beer in cans.
HT:

Speaking of Allagash White – in a rotation-nation world, how has White remained such a mainstay for decades?
NN: We are intensely focused on the quality of Allagash White. Every day we're looking for ways to make it taste fresher, last longer and to make sure that people have the same incredible experience with that beer every time. It also has a remarkable balance of flavor. That balance appeals to plenty of people who claim they don't like beer "except for Allagash."
HT:

Last year Rob Tod won the prestigious James Beard Award! What did that recognition mean to the company?
NN: I don't think Rob's, or any of our goals have ever been focused around winning awards. But it is very validating to see that the work we're doing, the focus we have on the quality of our beer and the well-being of our employees and community, is all remarkable enough to be awarded.
HT:

Finally, can you tell us why being a Certified B Corporation is important to Allagash?
NN: In short, it's about strengthening our dedication to using beer as a force for good. The accreditation represents a rigorous commitment to our core values. As a B Corp., these guidelines help us measure our success in a publicly transparent and accountable way that goes beyond profitability. Our plan right now is to continue to improve on what's important to us: the experience of working at Allagash, giving back to the community and our environmental stewardship.