Lagunitas Introduces Disorderly TeaHouse
The IPA powerhouse announced an unexpected and intriguing entrance to the hard tea segment.
This summer, industry trade news outlets got the scoop on Lagunitas' major innovation play for 2022 – and it wasn't a new IPA. Instead, the "deliciously hoppy brewery" unveiled plans to enter the hard sparkling tea segment with Disorderly TeaHouse. While at first glance this spiked and sparkling guayusa tea might seem like a departure, Lagunitas has been at the forefront of innovation for years.
"Lagunitas has never cut corners or brewed anything the easy way," says Joshua T. Peacock, Lagunitas' distribution business manager for our region. "This new innovation combines our passion for brewing with an opportunity to dip our toes into a growing segment." Peacock pointed out that tea flavors are growing at an astronomical rate of 50%, which is 8 times faster than beer.
But what is Disorderly TeaHouse exactly? "DTH, as the kids call it, is a brewed sparkling hard tea made by Lagunitas' master brewers. We use premium fresh guayusa [gwai-YOO-suh] tea leaves, sourced from indigenous Ecuadorian farmers for a 100% natural, 100% hand-selected, 100% hand-harvested tea."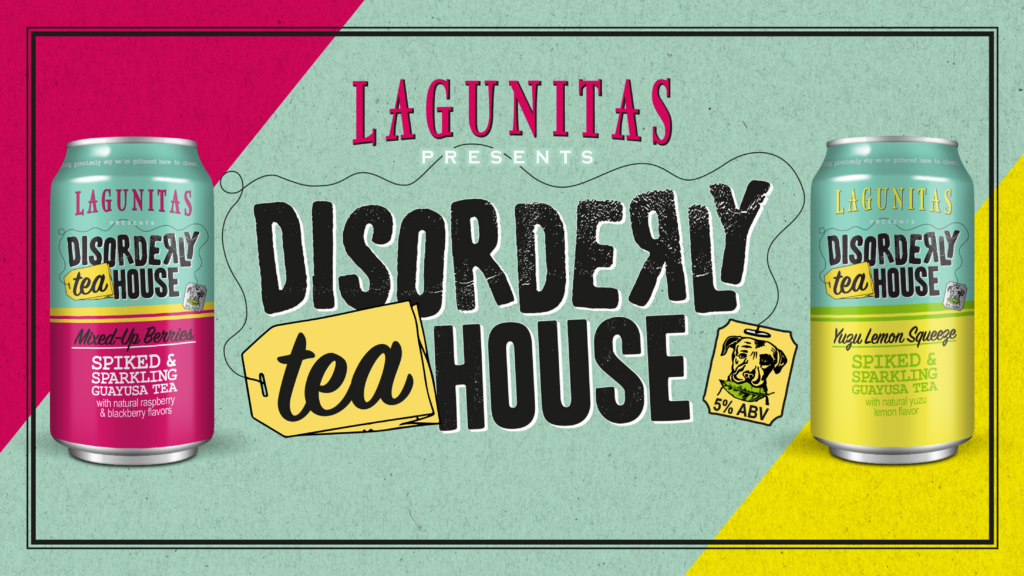 The result is a smooth, slightly sweet tea with no bitterness. The new sparkling hard tea will be introduced in two distinct flavors: Yuzu Lemon Squeeze and Mixed Up Berries. Mixed Up Berries is described as a punch of crisp, tart, berry gusto, while the Yuzu Lemon Squeeze is splashed with aromatic, tart yuzu citrus love. Both clock in at 100 calories, are gluten-free and have no artificial flavors or sweeteners.
With the Petaluma, California brewery investing $4 million in digital media, e-commerce activation and sampling, it's safe to say that Disorderly TeaHouse is Lagunitas' big bet for 2022. So why is the brewery going all in on hard tea? "Craft consumers are also tea consumers," says Peacock. "77% of high-end craft beer drinkers also purchase ready-to-drink teas. Conversely, 30% of hard tea drinkers also purchase high-end craft – so the trade up opportunity is there."
The new brand gets its name from the infamous 2005 incident in which the brewery was served a citation for keeping a "disorderly house" by the California Department of Alcoholic Beverage Control. Local agents were given a tip that staff members were selling cannabis out of the brewery, only to find that they were, in fact, giving it away. In years since, the story has become something of a badge of honor for this mischievous brewery, and it's now immortalized with this new innovation.
Peacock sees Disorderly TeaHouse as a major player. "On or off [premise], hard tea is a mover – especially in the Philadelphia market! Here's looking at you, Parkwood!"
---
Sierra is Ready to Make a Hard Tea Splash with Tea West
Lest they let fellow California craft brewery Lagunitas have all the fun, Sierra Nevada has announced plans to launch a hard tea of their own: Tea West.
Rolling out in three flavors, Lemon the Dream, Black Rad-Berry & Just Peachy, Tea West is an upscale lifestyle brand meant for beach, barbecue and backyard occasions.
At 5% ABV, 100 calories, 3 carbs and 0g sugar, Tea West will launch in eight states this spring (plans to launch in PA are still in the planning stages).