Who knew you could do a lot more with hops than just brew beer? A new beverage that marries the fizzy, fruity fun of seltzer with the vibrance of hops is a match made in non-alc heaven. Category leaders even boast zero calories & no added sugar. Mighty tasty on their own – some surprisingly taste more like fruit – hop waters also make great mixers. And the repeat sales aren't bad either.
It's Wednesday night, and you're looking to unwind. Normally, you'd reach for a beer, but you've been watching your carbs and have an early start the next morning. A can of non-alc seltzer would be refreshing, but let's face it, that's not what you're craving.
Then you remember: You can still savor big, IPA hop flavors without hating yourself in the morning because in your fridge, you've got some of that new, sparkling, non-alc hop water.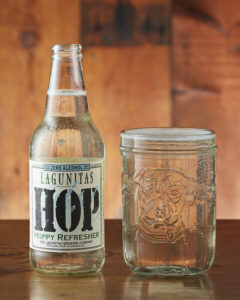 These days, many of your customers find themselves in this situation – more than ever, consumers have wellness in mind when choosing beverages. And while there's always time for a beer at happy hour or a 12-pack split with friends on the weekend, there are nights (or afternoons) when your customers want to indulge in something hoppy without committing to beer's ABV.
Enter hop waters. This new segment in the booming non-alc category combines craft beer's favorite hops with the sparkling brightness of seltzer, creating a gluten-free beverage with zero alcohol, calories, carbs or sugar. Hop water can be enjoyed at any time and ticks a variety of boxes – including wellness, moderation and hop flavor – that could make it the next beverage of choice for millennials and Gen Z.
Lagunitas, a company that knows something about hops, launched one of the first hop waters in 2019. The aptly named Hoppy Refresher was inspired by the brewery's classic IPA and includes Citra, Equinox and Centennial hops, along with a pinch of yeast. The yeast "biotransformates" the hops, bringing out the brew's lime, tangerine, pine and bubblegum aromas.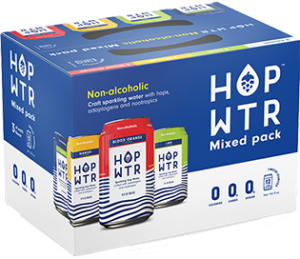 Another exceptional brand, HOP WTR, also captures the deliciousness of hops in their non-alc water. But HOP WTR has stress-reducing, BFY adaptogens and nootropics like L-Theanine & ashwagandha as well. Co-founder Nick Taranto explains adaptogens as ingredients that have stress-reducing properties which work with the body, contributing to relaxation and better sleep.
HOP WTR has seen 500% year-over-year growth, no doubt because the brand's credentials (no alcohol, calories, carbs, sugar, gluten or GMOs) and BFY ingredients are valued by wellness-minded drinkers. But its light, crisp and satisfying flavors appeal to everyone. Look out for the newest yearround flavor coming this July – Peach Hop WTR – featuring HOP WTR's signature blend of Citra, Amarillo, Mosaic and Azacca hops, infused with sweet, juicy, all-natural peach flavor. It's the perfect summertime sipper.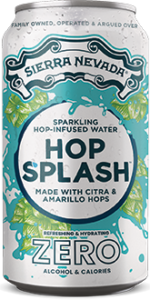 As a category, hop waters bring the complex and varied flavors of hops to a wider audience. They're great for beer-lovers avoiding gluten, giving them a chance to enjoy hops. It's a unique experience for even the most experienced craft beer afficionado. But Sierra Nevada Innovation Brewer Isaiah Mangold, who's responsible for Sierra Nevada's Hop Splash (release date fall of 2022), points out, "People may think there's actual fruit in Hop Splash, but there's not – it's just Citra and Amarillo hops which express totally different in hop water."