Whether your customers are heading down the shore or unwinding in your bar this summer, you can bet they'll be looking for the latest seasonals to sip on. Check out some of the most sought-after SKUs of the summer below, and don't forget to reach out to your Origlio sales rep for more information!
---

Golden, hazy and thirst-quenching, this American citrus wheat ale is synonymous with summer. Sam Adams' blend of orange, lime and lemon peel creates a refreshing citrus aroma, while grains of paradise accent the crisp wheat character with a subtle spice that finishes clean. Iconic as it is refreshing, Summer Ale is just right for any summer day. ABV: 5.3%
---
Sam Adams Summer Squeeze Variety Pack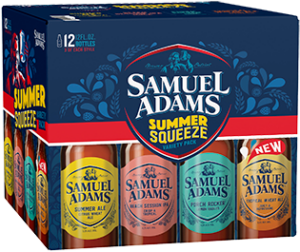 This 12-pack bottle variety features four easy-drinking beers for spontaneous summer occasions. Seasonal favorites Summer Ale and Porch Rocker are joined by VP exclusives Beach Session IPA and new Tropical Wheat Ale.
---
Dogfish Head Mandarin & Mango Crush

Inspired by the classic Mid-Atlantic Crush cocktail, Mandarin & Mango Crush is a fruit beer brewed with a base of pilsner malt and fermented with loads of tart mandarin oranges and juicy Alphonso mangos. Refreshing and lightly sweet with a delightful, citrusy tartness and crisp, dry finish, it tastes like a sip of summer! ABV: 6%
---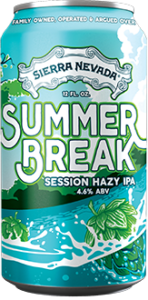 Drop into summertime, stocked with a session hazy IPA brewed for long days of play. Fruit-forward hops come together to contribute juicy tropical notes and inviting aromas of mango and passion fruit. ABV: 4.6%
---
Sierra Nevada Sunny Little Thing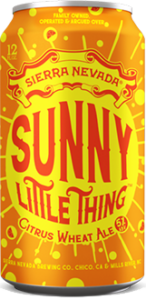 Bask in the Sunny Little Thing. This wheat ale is made with citrus for a radiant flavor that's bold yet easygoing, and balanced by a soft, smooth finish. ABV: 5%
---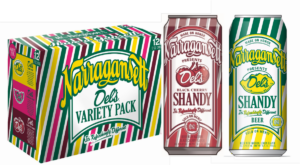 This collaboration between Rhode Island's favorite beer and New England's favorite frozen summertime treat makes for a series of shandies that are refreshingly different. This year's lineup includes the original Del's Shandy and summer seasonals Del's Black Cherry Shandy and the Del's Variety Pack, featuring pack-exclusive flavor Watermelon Shandy.
---
Firestone Walker Tropical Hazy Mixed Pack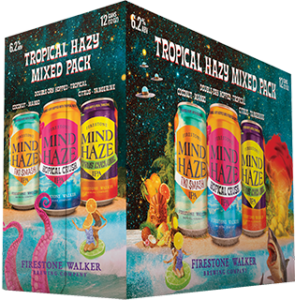 This 2/12 can mixed pack is a psychedelic trifecta of tropical flavors from the minds behind Mind Haze. Available exclusively in this variety pack are: Mind Haze Tiki Smash IPA, an exotic mix of hop flavors with a dash of fresh toasted coconut; Mind Haze Hopical Crush IPA, a double dry-hopped explosion of tropical Mai Tai inspired flavors, including pineapple & orange and Mind Haze Citrus Cyclone IPA, a head-spinning taste of all the citrus flavors under the sun, finished with a kiss of real tangerine.
---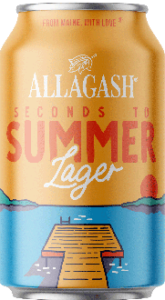 ---
If the sun is out and your schedule is clear, this easy-drinking lager is for you. Seconds to Summer is brewed with traditional hops from the Czech Republic and fermented with Belgian yeast for a crisp, refreshingly hoppy flavor. With this can in hand, summer is just a sip away. ABV: 4.5%
---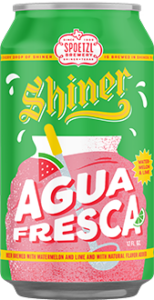 This refreshing beer puts a twist on the traditional Agua Fresca. With sweet watermelon supported by bright lime, this fruited Mexican lager invigorates the palate. Notes of agave and hibiscus create a delicious thirst quencher, perfect in the summer heat. ABV: 4.5%
---
Great Lakes Crushworthy Collection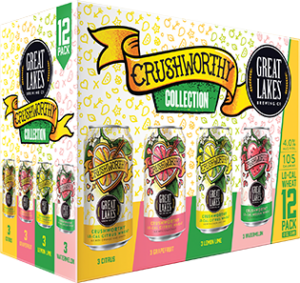 Ready to fall in love again and again? Great Lakes played matchmaker with their Lo-Cal Citrus Wheat, crafting four perfect real fruit pairings for drinkers to crush on. Included in this variety pack of low-calorie fruit/wheat beers are: Crushworthy Citrus, with a lightly filtered body and a sweet kiss of orange; Crushworthy Grapefruit, luscious, fresh grapefruit bursts through each lightly filtered sip of this sunny brew; Crushworthy Lemon Lime, this wheat ale flirts with the pucker of tangy lemon and keeps things zesty with a rush of sweet lime and Crushworthy Watermelon, an easy-drinking porch sipper that pairs big watermelon flavor with a crushable body for a sunny slice of refreshment.
---

Summer Shandy is Leinenkugel's traditional weiss beer with refreshing natural lemonade flavor that makes it the perfect summer beer. ABV: 4.2%
---
Sly Fox Alex's Raspberry Lemon Ale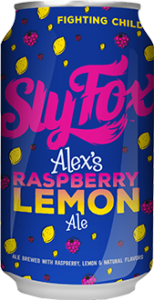 Sly Fox is honored to partner with Alex's Lemonade Stand Foundation for Childhood Cancer for a fifth year, raising over $31,000 since the partnership began! This summer, the brewery is excited to present a brand-new beer to help continue Alex's mission to find cures for all types of childhood cancer. Now with raspberry added into the mix alongside the signature lemon flavor, Alex's Raspberry Lemon Ale is a lively, refreshing and flavorful beer that's as delicious as it is charitable. ABV: 5%
---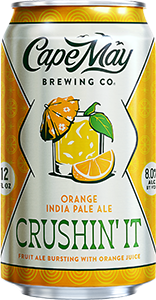 Refreshing and great for the beach, Crushin' It is soon to be your summer staple. With Citra, Mosaic and Azacca hops blending together to accentuate the fresh flavors of orange juice, Crushin' It is dry, approachable and perfectly balanced. Relax in the sand. Enjoy a no shower happy hour. This beer is best paired with good friends, sunshine and SPF 30. ABV: 8%
---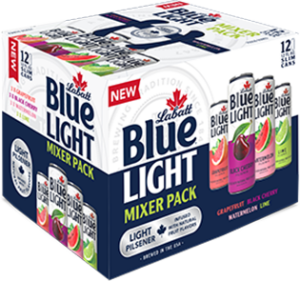 Labatt Blue Light Flavors are delivering more flavor to the beer category. Included in this mix pack are: Grapefruit, Black Cherry, Watermelon and Lime. The newly refreshed and modernized packaging will better align with super premium flavor segments.
---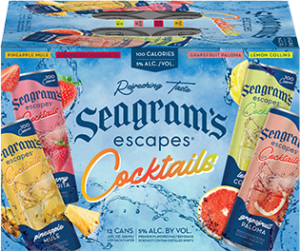 At only 100 calories, but with the delicious, authentic taste of modern cocktails, Seagram's Cocktails appeal to the socially active adults who don't want life to get in the way of enjoying their success. This new variety pack delivers a mix of familiar and emerging cocktails: Grapefruit Paloma, Lemon Collins, Strawberry Margarita and Pineapple Mule.
---
Seagram's Escapes Italian Ice Bottle Variety Pack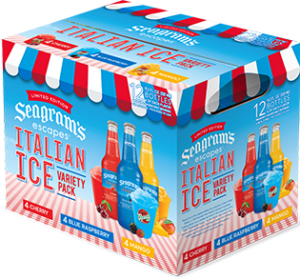 No need to wait in line for your favorite Italian ice flavors! Seagram's Escapes Italian Ice Bottle Variety Pack is back for another summer, featuring Cherry, Lemon and Blue Raspberry Italian Ice!
---
Seagram's Italian Ice Can Variety Pack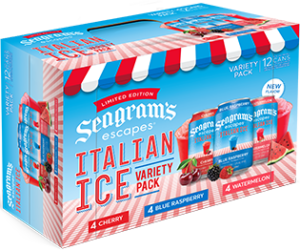 The Italian ice offerings from Seagram's Escapes are back just in time for warmer weather! Available in the can variety pack are: Blue Raspberry, Cherry and new Watermelon.
---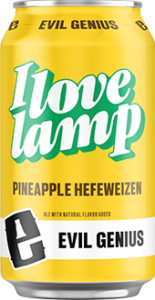 This refreshing German hefeweizen got taken on a tropical vacation with the addition of natural pineapple flavor. Does this go against the German beer purity law? Yep. Is that the way Evil Genius likes it? Also yep. ABV: 5.5%
---
Coming Soon!
Evil Genius #LoveIsLove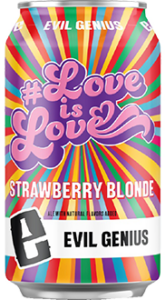 Love who you want to, drink what you want to! Evil Genius hopes you'll want to drink this crisp blonde ale, which has just a hint of natural strawberry flavor. A portion of the proceeds from this beer will be donated to The Trevor Project, which benefits LGBTQIA+ youth. ABV: 6%
---
Allagash Floating Holiday

Relaxation is just a float away. This blonde ale is brewed with lemon peel and a pinch of sea salt to push your refreshometer up to "long weekend." When it's time to chill out, Allagash recommends a Floating Holiday. ABV: 5.2%
---
2SP Up & Out Double Dry Hopped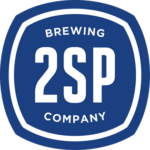 This new brew is 2SP's top-selling hazy IPA, Up & Out, double dry-hopped with Simcoe and Mosaic hops to give it an extra burst of bright hop flavors. You'll find big notes of melon and citrus throughout. ABV: 6%