Surf, Sand and Season's Greetings…
Summer may be over, but this sea-side brewery's beers spread good vibes and encourage fans to live the no frills good life all year long. And as the holidays draw near, who can turn down Montauk's invitation to "Come as You Are" and drink great beer…
P.S. If we don't get snow this winter, pour a can of Wave Chaser into a snifter glass and enjoy this beer's snowy-white head. No shoveling required.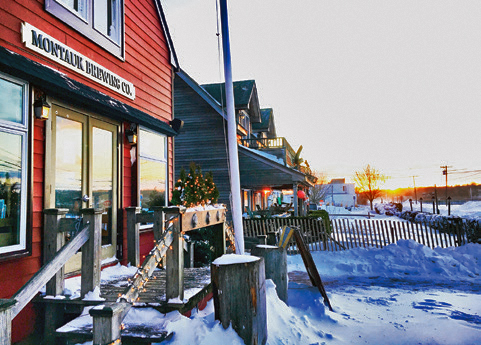 Montauk Brewing Co. Founder/ Brand Director Vaughan Cutillo and his team do more than just sell beer, they sell an attitude. The brewery's motto "Come as You Are" honors their "thirst" for adventure and passion for the simple pleasures of life – like drinking a high-quality, approachable IPA. "All of our beers honor that lifestyle beginning with our first, and best-selling beer Wave Chaser," says Cutillo.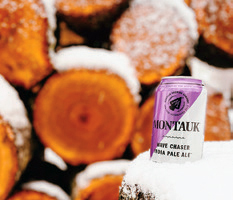 Like many successful craft breweries, Montauk's first beer was perfected in a friend's basement. The year was 2012. It took them nine months to create Wave Chaser, an approachable IPA, tasty enough to stand out from a sea of craft beers. Cutillo's friends and neighbors in Montauk thought this locally produced IPA was so delicious, they would visit any outlet that poured the beer. "It was fun for them to 'chase the wave' – kind of like playing Where's Waldo," Cutillo said. The beer's tagline was written for them by people who loved beer. It just needed a small modification to convey brewery's ethos. "The saying 'chase your wave' is all about pursuing your passions with everything you've got," said Cutillo. "We urge our fans to go all-in chasing those passions, and maybe along the way, to celebrate the day with an ice-cold Wave Chaser IPA!"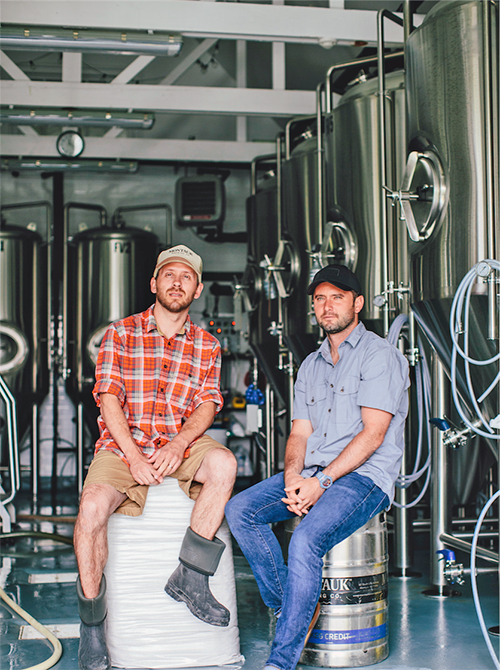 Wave Chaser IPA drinks like a session ale despite the high ABV and has a light body. The beer is well-carbonated, giving you a tingly, crisp, clean mouthfeel while you drink it. With its high drinkability, the beer is a refreshing thirst-quencher you can easily throw back any time of the year.
"With Wave Chaser IPA, we give our retail partners the best brew with a proven rate of sale," said Cutillo. He went on to share that Montauk's brands are enjoyed by men and women. "We skew about 50/50 male to female, which is pretty rare for craft. It's a testament to our beer's approachability and delicious flavor, but also our clear and concise message about living the no frills good life."

Montauk's early marketing blueprint embraced their "underdog" status. It let the quality of their beer speak for itself, which proved to be a winning strategy. "Early on, without much of a marketing budget, we were able to connect with our fans in a meaningful way."
Spreading good vibes (and great beer) across New York metro markets paid off quickly as Cutillo and his team outpaced other small craft brands in their home territories just a few years after launch. "At the end of the day, we've focused on the simple things – blocking, tackling and hitting the streets with a Wave Chaser handle in our back pocket!"
Other beers in Montauk's portfolio include, The Surf Beer, a 4.5% golden ale, Tropical IPA, a 6.5% hoppy IPA (both of which are available in their Box of Montauk variety pack) as well as rotating seasonal offerings Cold Day IPA, Driftwood Ale, Pumpkin Ale, Watermelon Session and Summer Ale.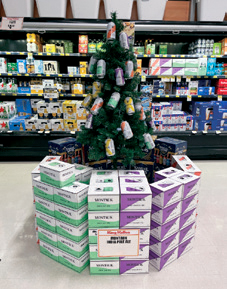 And the brewery's striking label art is another way that Montauk stands out from other brands. Each beer's bright, pastel colors, as well as the nautical-themed designs, create a billboard effect that pops off retailer shelves.
Montauk's beers spread good vibes whether your toes are in the sand on the beach, or you're placed before a cozy, warm fire. "At the end of the day," says Cutillo, "we will always brew quality, approachable beers and build strong relationships with customers – any time of the year."