"Show me what you've got" is how we think of a club's open mic night. In that spirit, we opened up a few pages in our magazine to some local talent. Please welcome Brian Reed who's going to tell us why…
Beer Deserves a Place at the Fall Table
Pairing great beer with your favorite meal or snack can be an enjoyable proposition, but adding the atmosphere and anticipation of a beloved seasonal tradition creates a lasting memory.
At Sly Fox Brewing Company, we take the traditions wrapped around beer-drinking occasions very seriously – especially those enjoyed with friends and family. Whether it's a savory Weisswurst and Maibock at our annual Bock Fest & Goat Races or a warm soft pretzel paired with a liter of Oktoberfest Lager in late September, we know that these sensory memories stick with drinkers far longer than any bit of visual marketing we can come up with. No white tablecloth required.
When creating any beer & food pairing, the goal is to create a 1+1=3-type of experience. In other words, the combined experience should, ideally, be greater than the sum of the individual parts. When building a pairing, consider a few easy-to-remember guidelines.
"When creating any beer & food pairing, the goal is to create a 1+1=3-type of experience. In other words, the combined experience should, ideally, be greater than the sum of the individual parts."

– Brian Reed, Master Cicerone®, Sly Fox Brewing Company
Match Flavor Intensities
Ensure that the flavor intensity of the food and the beer are relatively close to one another; otherwise, one element might overpower and prevent flavor relationships from shining.
Consider the inherent flavor intensity of your main ingredient by placing a numeric value on it. For example, a boneless/skinless chicken breast may start as a 2/10. Now consider the increase in intensity created by seasoning, then grilling the chicken. Lastly, take into account additional condiments, sauces or other flavorings. Perhaps the flavor intensity of the final dish lands at a 5/10. This is not an exact science, but rather a set of guidelines.
Next, do the same exercise with the beer. Consider variables like malt sweetness, hop intensity, roast character, carbonation level, ABV and specialty ingredients. Once you've broadly assessed overall flavor intensity of the beer, place a number on it and ask yourself, "are these numbers close?" If the numbers you've assigned are 5 and 6, then you're likely in the right area; but if they are 2 and 9, consider tweaking elements of the dish, or changing the beer.
The 3 C's of beer & food flavor relationships: Cut, Complement & Contrast
The goal of cutting (a.k.a. palate cleansing) is to help loosen chemical bonds created between your taste buds and compounds like fats, oils, salt and triglycerides. Once these compounds build up on your palate, the forthcoming bites become less and less impactful, even burdensome. Beer is uniquely suited for cutting due to its combination of moderate alcohol, variable bitterness and abundant carbonation.
Complementary flavors have similar elements that work to elevate one another – think the herbal component in a sauce working to highlight the subtly herbal hop notes in a German pilsner. Inversely, contrasting flavors work from opposite positions to elevate one another. Though complementary flavors are easy to understand, these relationships are typically less impactful than contrasts. In other words, think of complements as supporting the pairing, while contrasts are the showcase. Sweet + salty is typically more impactful than sweet + sweet.
Capitalizing on Fall Pairing Occasions
When considering pairings for seasonal beers, think about the occasions where they'll be enjoyed. Think about the memories drinkers aim to make during these occasions. Oktoberfest celebrations and harvest festivals are great places to start, but don't forget about everyday occasions – the opportunities that exist to help make a random evening feel special.
Menu/recipe inclusions, educating front-ofhouse staff to suggest pairings or special tapping events can all result in serious ROS increases, not to mention elevating products in the eyes of drinkers.
---
Check out a few of my favorite autumn beer style pairings…
Oktoberfest/Märzen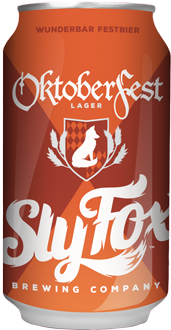 The toasty, caramelized malt of a traditional Märzen-style Oktoberfest Lager should lend a Maillard-driven, yet well-balanced contrast to a range of savory dishes. I particularly enjoy the contrast between slightly sweet, toffee-kissed malt and salty, smoked meat. Schweinshaxe, or roasted ham hock, is a classic, indulgent dish of Bavaria. If you're looking for more of a new-world angle, few beers pair more beautifully with Texas-style barbecue. Add a bit of peppery heat to the rub, beans on the side and you're in for a memorable meal. TRY: Sly Fox Oktoberfest
Festbier

As a style, Festbier has more in common with Bavarian helles-style lagers than Märzens. These beers are paler and display less caramelized malt character. Their ABV is somewhat elevated and they possess a stronger perceived bitterness. The additional hop bitterness and more subtle malt flavor lend themselves well to dishes that require a bit more palate cleansing. Schnitzel – a breaded and fried pork cutlet – provides a relatively mild protein but a needed cutting component. The crispy, fried exterior of the cutlet will highlight pilsner malt, while herbal hops add contrasting complexity. TRY: Paulaner Oktoberfest Bier
Pumpkin Ale
Despite misconceptions, what makes pumpkin beers desirable is rarely pumpkin. The warming complexity of autumnal spices is what gives drinkers those fall feels. Traditional mulling spices, like cinnamon, nutmeg, clove, allspice and ginger, can add welcomed warmth to a wide range of fruit-based desserts and rustic salads. One of my out-of-the-box favorites is to pair a spice-forward pumpkin beer with mushroom spätzle. The earthy, meaty character of mushrooms welcomes the complexity of floral, warming spice – add a mushroom gravy or cream sauce and you've got a wonderful, stick-to-your-ribs comfort pairing. TRY: Samuel Adams Jack-O