Dogfish Head's new hazy IPA with oat milk hits the bullseye of BFY flavor.
If you've gotten a coffee any time in the last few years, you might have been offered a dairy-free milk alternative by the barista: oat milk. Oat milk is creamy, full-bodied and silky-smooth, making it a top-notch coffee companion, whether or not you avoid dairy in your diet.  
But did you know that you can also use oat milk in… beer? It may sound strange, but coffee culture and oat milk inspired Dogfish Head founder Sam Calagione to create the first nationally distributed IPA brewed with oat milk: Hazy-O! 
"After hearing so many anecdotes about oat milk, I did some research," Calagione says, "And after seeing its skyrocketing popularity, I got to thinking: I bet this would be the perfect ingredient upon which we could build the recipe for an awesome hazy IPA."  
Oat milk is the second most popular plant-based milk, a category that reached about 14% of the total milk market last year. And while almond milk still reigns supreme in the segment, oat milk sales grew over 200% in 2020, thanks in part to the health and sustainability halos of the product. Combine that kind of growth and BFY credentials with hazy IPA – which, as Calagione notes, is one of the biggest styles in craft – and you've got a surefire winner.  
But brewing Hazy-O! wasn't as easy as dumping oat milk into the kettle. Calagione says that it took Dogfish Head over a year of "methodical experimentation and methodical drinking" to dial in the recipe.  
"Oat milk adds a unique characteristic to Hazy-O! that we were not able to replicate otherwise," he says. "Along with the addition of malted, rolled and naked oats, oat milk provides the beer with a silky-soft mouthfeel – and that mouthfeel actually makes it drink like a refreshing 5% ABV session IPA, rather than the 7.1% ABV powerhouse that it is."  
The final product is a fantastically balanced hazy IPA that avoids common pitfalls of the style while delivering on the tropical notes and mouthfeel that hazy fans crave. Hazy-O! has a strong aroma of pineapple, tropical and citrus notes – like a less sweet, more bitter piña colada – with hints of nutty oats and an overall lightness that belies its ABV.  
After testing the recipe with patrons at their Delaware properties, Dogfish Head knew they had a hit on their hands. In October 2020, they released Hazy-O! in limited-edition 16 oz. cans at their Rehoboth brewpub.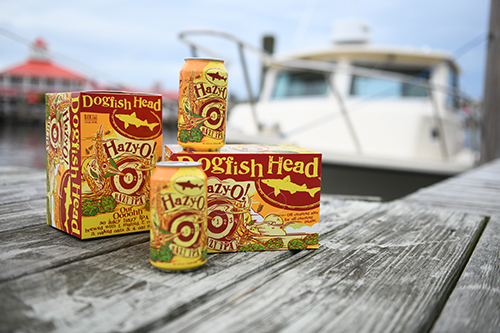 "The beer flew off our shelves," says Calagione. "It was that response from our coastal Delaware fans, as well as the exponential growth of both hazy IPAs and oat milk that allowed us to bring this beer to folks across America as a year-round SKU as quickly and as confidently as we did." 
Dogfish plans to take Hazy-O! all the way, line-pricing the beer with their "core 4" – SeaQuench Ale, Slightly Mighty, 60 Minute IPA and 90 Minute IPA – and including it in their new summer variety pack, The Box That Goes BOOOOM! The hazy IPA is also now available in 2/12-pack cans, in addition to 6-packs and draught. 
And it makes sense for the brewery to double down – not only is Hazy-O! a pitch-perfect hazy IPA, it has serious crossover potential. Since the beer is made with oat milk rather than lactose, the beer is a-okay for vegan consumers and those with lactose-free diets. 
"With Hazy-O!, we were able to create a true hazy IPA that can appeal to many different audiences," Calagione says. "It's a great addition to our existing lineup of active lifestyle-centric beers with a flavor profile that grabs the attention of not only wellness-conscious consumers, but also those who are lactose intolerant or vegan and of course, hardcore craft beer geeks."