Sweater weather is here, which means your customers will want the darker, maltier beers that fill the void of winter's chill and pair amazingly with comfort food – especially dessert! Most of these stellar selections are available year-round, but they make particularly wonderful additions to any holiday table.
Rich, creamy and so ruby-red it's black, this iconic stout is defined by harmony. Sweet counters bitter sip after sip as the malt perfectly complements a base of roasted barley. Defined by its bold combination of flavors and smooth, velvety texture, Guinness Draught Stout brings out the best in chocolate cake and beef stew. And due to its rich, coffee-flavored undertones, it makes for the perfect float when poured over chocolate or vanilla ice cream. At only 125 calories with a sessionable 4.2% ABV, this is a wonderful choice for holiday get-togethers.

Weyerbacher TINY
This Belgian-inspired Imperial stout weighs in at a hefty 11.8% ABV. You'll find big chocolate and roasted notes, balanced with the Belgian flavors from the Abbey yeast strain. The roastiness of this big brew contrasts nicely with earthy cheeses and blackened rib eye.

Yuengling Porter
First brewed in 1829, Yuengling Porter calls for a generous portion of caramel and dark roasted malts, which deliver a rich, full-bodied flavor and creamy taste with slight tones of chocolate evident in every sip. This one's great with grilled meats and you guessed it… chocolate. At 4.7% ABV, it's sessionable enough to enjoy a few while decking the halls this holiday season.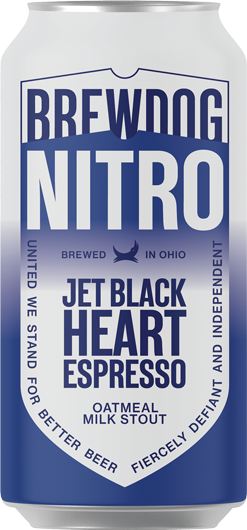 BrewDog Jet Black Heart
As dark as the name suggests, BrewDog's nitro milk stout offers roasty malt flavors of coffee and chocolate bound to a decadent, full-bodied richness at a modest 4.7% ABV. Flaked oats and wheat add to the velvet mouthfeel, while the carbonation adds a honeycomb texture. Magnum and Sorachi Ace hops bring a berry and citrus fruitiness that amplifies the chocolate character of this creamy stout. Available from December through April, this one works wonders with aged Gouda, with the nuttiness of the cheese amplifying the beer's chocolatey notes.

Evil Genius Purple Monkey Dishwasher
Made famous by the Simpsons, the phrase "purple monkey dishwasher" existed long before it was used on the animated comedy. The saying portrays the distortion of facts when passed from person to person, like in the old school game Telephone. Evil Genius' robust porter, bearing the humorous name, starts with an American-style porter recipe, which is laden with notes of chocolate, sweet malts, caramel and molasses. It's then taken to the next level with an infusion of natural chocolate and peanut butter! The final beer is like a candy bar in a bottle that is deceptively quaffable despite its 6.7% ABV. This porter makes for a wonderful dessert beer, but also (obviously) pairs brilliantly with peanut butter cookies or anything chocolate.

Great Lakes Edmund Fitzgerald
This porter was brewed to honor the 29 crew members who lost their lives on the American Great Lakes freighter, the SS Edmund Fitzgerald, which tragically sank in a Lake Superior storm in November of 1975. Robust and complex at 6% ABV, Edmund Fitzgerald is brewed with rich roasted barley and bittersweet chocolate-coffee notes, making it the perfect match for oysters and chocolate desserts.

Allagash North Sky
This silky-smooth Belgian-inspired stout, weighing in at 7.5% ABV, balances light notes of fruit and sweetness with roasty malt. Inspired by late evenings spent around a crackling campfire, North Sky is brewed to merge lightness and darkness into a super-sippable stout. About this new beer that will be replacing Allagash Black, Rob Tod, founder of Allagash Brewing Co., told Brewbound, "From the can design to the creamy and balanced flavor profile, North Sky offers a connection to time and place." Try it with your grandma's famous oatmeal raisin cookies for a holiday treat you won't forget.